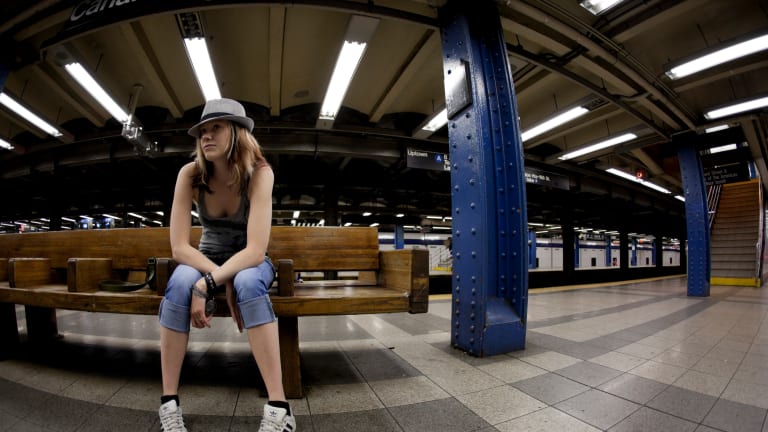 This Is Why Troubled Under Armour Must Arm Itself for a New Assault by Adidas
Adidas isn't joking around.
Adidas (ADDYY) is gaining ground in the U.S. market, and struggling Under Armour (UA) - Get Under Armour, Inc. Class C Report should be arming itself for the assault.
The German sportswear manufacturer, made famous by rappers donning the signature three stripes, has made a stunning comeback in the past couple of years, most recently by notching record sales in 2016. Sales in 2016 reached €19.3 billion ($20.7 billion), up 18% on a constant currency, the company said on Wednesday. Underlying net income came in at €1.019 billion, up 41%.
Adidas, which is the largest sportswear manufacturer in Europe, increased its 2017 outlook as well. Executives see sales increasing between 11% and 13%, and operating margins improving to between 8.3% and 8.5% from 7.7% in 2016. Net profit is expected to rise as much as 20% to €1.225 billion.
The stock surged 8.17% in Frankfurt on Wednesday morning, hitting its highest level in more than 10 years, to change hands at €173.15. The move extended the three-month gain past 20%, outpacing the 8.54% gain for Nike (NKE) - Get NIKE, Inc. Class B Report and far ahead of the 39% slide for Under Armour.
Jim Cramer sat down recently with four market experts to talk about how to play the Trump tax plan. Click here to check out their recommendations.
In a bid to outrun its competitors, Adidas is taking a page out of Zara-owner's Inditex's (IDEXY) book, focusing on turning over styles more quickly and getting models to the market more faster. "Adidas has set itself the goal to become the first true fast sports company," it said in its annual statement.
To do so, Adidas is opening a second Speedfactory in Atlanta. Its first Speedfactory in Ansbach, Germany will start mass production this year.
The company is aiming to increase the share of "speed-enabled" products to at least 50% of net sales by 2020, in 2016 15% of total sales were generated by "speed" designs. These models will be priced 20% higher than the regular range, so the plan is expected to have a positive impact on the company's profitability.
Adidas is the fastest-growing brand in the U.S. but remains under-represented in the world's largest sporting goods market, the company said on Wednesday. In 2016, sales in North America grew by 24%, and by 29% in the fourth quarter, making it the company's best-performing region.
The company will continue to invest "over-proportionately into the U.S. business", including into personnel, infrastructure, marketing and point-of-sale systems.
The company will also focus its energy on the Adidas and Reebok brands and along with its golf units. Reebok also had a solid 2016, with sales up 6% compared with last year, reflecting double-digit sales increases in the Classics category and mid-single-digit growth in the training and running categories, Adidas said.
It is this trend towards retro that is boosting running shoe sales, according to Jefferies analyst Randal Konik. "Athough Adidas's retro concentration may be waning slightly, increased interest in the brand as a whole has fueled some near term growth in their running category driven by the Ultra boost, NMD, and AlphaBounce," he wrote. 
Meanwhile, Wall Street has been questioning Under Armour's business like never before. 
Under Armour's stock has fallen 46.56% over the past 12 months as retail headwinds like the closure of The Sports Authority, and the subsequent liquidation sales that flooded the market with discounted items, took a toll on the bottom line. The company broke its own impressive streak of 26 consecutive quarters of at least 20% revenue growth, reporting growth of just 12% in the fourth quarter.
Not helping matters for Under Armour: backlash by noted brand spokespeople such as NBA star Stephen Curry and actor Dwayne "The Rock" Johnson to pro-Trump comments from Under Armour founder Kevin Plank. 
"Future revenue gains will likely necessitate heavy investments in direct to consumer, footwear, and international; these areas are central to Under Armour's growth story and therefore, cannot be abandoned," cautions Deutsche Bank analyst Paul Trussell. "Moreover, with the core North American apparel business slowing [for Under Armour] and initiatives to re-accelerate growth likely taking time to take hold, we believe these growth drivers have become more important than ever," he added.