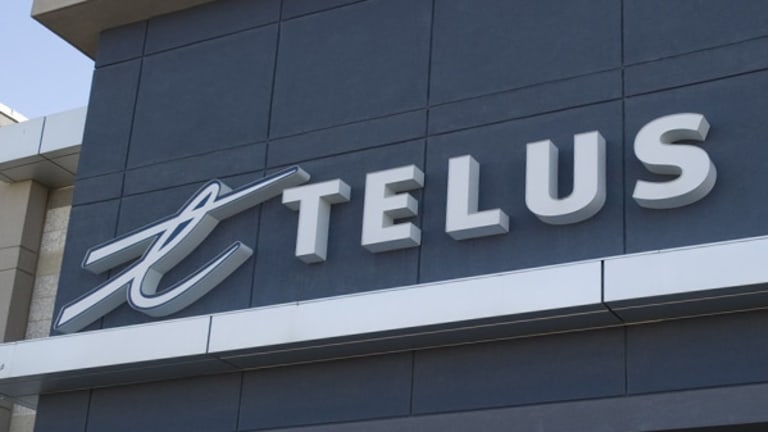 This Ignored Telecom Stock May Be the Cure for the Dividend Blues
Canadian wireless carrier Telus offers a high yield and a bargain valuation.
Looking for a reasonably priced stock with a decent dividend yield?
It is getting to be a tall order.
Spooked by volatile markets, investors have piled into "stable" income investments this year, utilities chief among them. For the year to date, the benchmark Utilities Sector SPDR Exchange-Traded Fund has gained more than 17%, a rise that has lowered its yield to 3.1% from 3.7%.
But there is still one place to find attractive income opportunities, and it is somewhere few Americans think to look: Canada.
Many U.S. investors see Canada only as the home of the depressed Alberta oil sands. But there is a lot more to the country's economy than that.
Outside the energy sector, there are plenty of superb investments, including dividend-paying stocks trading at attractive prices.
Better yet, many of these companies trade on U.S. exchanges.
Case in point: Telus (TU) - Get Free Report , which has 8.4 million wireless subscribers, 1.6 million high-speed Internet users, 1.4 million land line connections and 1 million television subscribers across Canada.
Telus shares sport a forward price-earnings ratio of 15.8, a discount to the company's two main Canadian competitors, BCE, at 17.3, and Rogers Communications, at 18.9.
Buying Telus gives investors a 4.2% dividend yield and a record of strong payout growth. The company often hikes its quarterly dividend twice a year and has done so at a 13% annualized clip over the past five years, in Canadian dollars.
By contrast, its U.S. cousins, AT&T and Verizon Communications, have increased their payouts by 2.3% and 3.2% annualized, respectively, over the same time frame.
Those who follow the Canadian telecommunication business know that Telus' wireless operation will soon face tougher competition in its western Canadian stronghold after cable provider Shaw Communications bought upstart wireless carrier Wind Mobile. Shaw Communications plans to upgrade Wind Mobile's outdated 3G network and widen its coverage area, which is limited to major Canadian cities.
But even with Shaw Communications' backing, Wind Mobile will have a tough time stealing customers from Telus and the other incumbents.
The so-called big three are miles ahead in terms of network coverage and speed, with each one boasting a 4G LTE network that covers more than 95% of Canada's population.
That would be a tough gap to close, given the investments that all three continue to make. In its second-quarter earnings report, Telus upped its full-year capital spending target to C$2.85 billion from C$2.65 billion, in part to get set for the coming 5G standard.
What's more, Telus knows how to hang on to and get more revenue out of its customers. In the second quarter, it put up a 0.9% wireless churn rate -- the percentage of users who canceled their service -- besting the two other major Canadian wireless companies as well as AT&T, Sprint and Verizon Communications.
This wasn't the only favorable figure Telus posted during the quarter.
Average revenue per wireless user ticked up 1.4% year over year to $64.38, also outpacing its Canadian rivals and marking the 23rd-straight quarter of growth. That helped increase overall revenue by 1.5%, to C$3.15 billion.
Adjusted earnings per share gained 6.1%, to C$0.70.
The bottom line? This under-appreciated income star is firing on all cylinders and can easily handle the new competition headed its way.
The time to buy Telus is now.
---
Telus is a great buy for steady income, but here is a way to pocket an even more reliable income stream, a guaranteed $67,548 a year, without buying a single stock One trader used this simple strategy to build a $5 million fortune, starting with just $5,000. Click here to discover this hugely profitable system and start collecting thousands of dollars in free money every month.
This article is commentary by an independent contributor. At the time of publication, the author held no positions in the stocks mentioned.