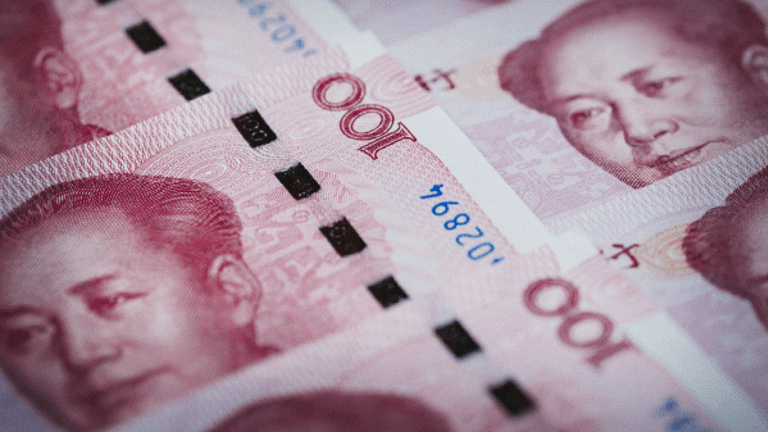 Publish date:
This Financial Signal Indicates that China's Troubles Are Growing
The country's currency reserves just plunged, a stark indication that it is time to bet against that economy.
The country's currency reserves just plunged, a stark indication that it is time to bet against that economy.
Many investors haven't heard that China's central bank said Tuesday that its foreign-exchange reserves fell by $12.3 billion to $2.998 trillion last month.
That puts China's reserves below the psychologically significant threshold of $3 trillion. In 2014, reserves stood at $4 trillion.
It is yet another alarm bell that the world's second-largest economy is heading for trouble, a trend exacerbated by the growing threat of a trade war. President Donald Trump's China-bashing and "America First" protectionism is likely to bring the two countries to economic if not military conflict.
One way way to profit from this unfolding dynamic is through the Global X China Financials Exchange-Traded Fund  (CHIX) - Get Report.
As the Trump administration likes to lament, China retains a tight grasp on the value of its national currency, the renminbi. During China's rise as an economic superpower, the country restrained the value of the renminbi even as massive amounts of money flooded into the Middle Kingdom to buy inexpensive clothing, gadgets, televisions, toys and other consumer goods.
China's central planners kept the country's currency artificially low by storing huge amounts of money denominated in other currencies. A devalued currency boosts the attractiveness of manufactured goods sold overseas by making them cheaper
The problem is, concerns about China's indebted banking sector and slowing economy are compelling companies and families to ship their money out of the country for safety. They are either investing the cash or parking it.
Foreign-exchange reserves are considered a vital financial cushion during crises, and China faces mounting trouble. This situation poses a rare opportunity to reap a quick profit.
A time-proven method for making money is to capitalize on imbalances in the global financial system. Shorting Global X China Financials Exchange-Traded Fund could help investors make a killing from China's worsening financial instability.
The most salient concern in China right now is the country's debt.
In China's mercantile economy, state-run banks are the biggest lenders. China's economic policymakers racked up a colossal amount of debt through ill-conceived expenditures on infrastructure projects to kick-start growth.
The result is excess capacity in flagging industries and an army of "zombie" enterprises that are kept alive through debt-financed subsidies. A day of reckoning is at hand.
China's total debt is projected at about $28 trillion, a mind-boggling amount greater than that of Germany or the U.S. China's corporate debt accounts for about 160% of the country's gross domestic product, twice the U.S. level.
As the economy sputters, this corporate debt is souring.
The McKinsey Global Institute reported that the non-performing loan ratio of China's debt is on course to soar to 15% in 2019 from 1.7%, boosting the annual cost of servicing that debt.
In this overvalued stock market, it is tough to find anything that isn't too expensive. Many analysts are calling for a correction this year, as overbought stocks finally catch up with their weak earnings prospects.
But investors can exploit China's economic missteps by shorting the Global X China Financials ETF. With net assets of $27.66 million, this fund is a bellwether for China's financial sector.
The ETF focuses most of its portfolio on financial services stocks such as Agricultural Bank of China,Bank of China, China Construction Bank and Industrial and Commercial Bank of China. These institutions will plunge if China's financial difficulties deteriorate this year, which Tuesday's foreign-reserves announcement seems to indicate.
The ETF generated a total return of 18.81% in 2014, but total returns over the past two years are instructive. The fund declined 6.22% in 2015 and 4.83% last year.
Expect that trend to continue this year. Get ahead of the curve before a full-blown China-U.S. trade war erupts and makes China's economic danger worse.
---
Warren Buffett reaped $4.9 billion by making this one small change to his investment strategy. It's the closest you'll ever get to NEVER losing money while investing. I made $185 every day over 1,586 days doing this. Is it time for a change that will lead to more money in your pocket? Get the full details here.
John Persinos is an investment analyst at Investing Daily. At the time of publication, he owned none of the stocks mentioned.