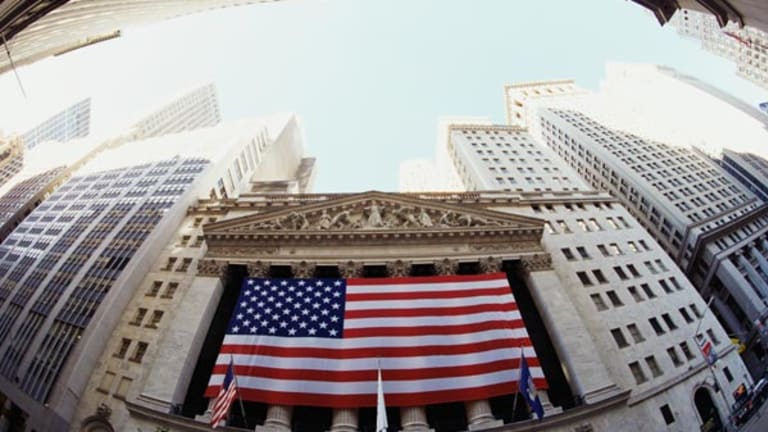 This Dow Dividend Stock Could Rise 51%
The drugmaker is just waiting to break out, and 2011 may be the year. Analysts are behind it all the way.
BOSTON (TheStreet) -- Large-cap value is the place to be in 2011. As the U.S. and global economies pick up, cheap multinational companies will likely see their share prices pop. Among the cheapest are Dow stocks, trading at peer discounts. Value-focused Morningstar awards just two Dow stocks its highest five-star rating: Cisco and Pfizer (PFE) - Get Report. The research firm says Pfizer's stock could rise 51% to $26 as fundamentals improve.
Pfizer's stock has fallen 5% in 2010, despite being a consensus value pick on both the buy- and sell-side. It is the largest global drug company, having acquired
Wyeth
in October 2009. Pfizer's size, with 2009 revenue of $70 billion and a market value of $139 billion, affords it economies of scale. It has a large portfolio of patented drugs, providing what Morningstar refers to as a "wide economic moat," or sustainable competitive advantages.
Many investors have doubted the strength of the pipeline, but Pfizer has roughly 100 drugs in various developmental stages and more than 300 discovery projects pending. Morningstar estimates that it will have 30 Phase III, the last stage of Food and Drug Administration approval, candidates by 2011.
As is the case with any multinational, emerging-market exposure is critical to success. Pfizer has the strongest drug salesforce in the so-called BRIC nations, or Brazil, Russia, India and China. Its stock commands a forward earnings multiple of 7.5, a book value multiple of 1.5 and a sales multiple of 2.1, attractive 37%, 69% and 38% discounts to pharmaceutical-industry averages.
Uncertainty plagues Pfizer's potential investors, who are unsure how the company will handle patent expiry on several of its blockbuster drugs in the coming years. In 2011, Pfizer will lose exclusivity on cholesterol drug Lipitor, which currently represents 16% of annual sales. Furthermore, depression treatment Effexor, ophthalmology medication Xalatan and erectile-dysfunction drug Viagra will all surrender patents in the next few years, hampering revenue.
The acquisition of Wyeth will produce cost savings and growth as will the purchase of
King Pharmaceuticals
, a pending $3.3 billion buyout announced in October, as many of Pfizer's top drugs lose revenue to generics. Pfizer predicts at least $200 million of cost synergies by 2013 resulting from the King acquisition. Current risks to Pfizer's stock include an increasingly stringent FDA and a managed health-care system with greater bargaining power.
Still, Morningstar considers Pfizer undervalued. If cost-cutting is more successful than anticipated, it could offset margin compression from loss of patent exclusivity. Further, it's not only possible, but also likely, that one or several of Pfizer's pipeline candidates will turn out to be blockbuster pharmaceuticals. At the early stages, it's difficult to tell which. Morningstar is optimistic about an ALK inhibitor for cancer due out next year and a JAK inhibitor for rheumatoid arthritis, which is currently in Phase II, but with very promising trial results.
Sell-side analysts echo Morningstar's optimism. Of those covering the company, 20, or 71%, advise purchasing its shares, six recommend holding and two suggest selling them. A median target of $20.48 implies 18% of upside in the next 12 months.
JPMorgan
expects Pfizer's stock to rise 38% to $24.
Jefferies
predicts a gain of 27% to $22.
UBS
forecasts a climb of 21% to $21.
Citigroup
, on the other hand, ranks Pfizer "hold" with a $17 target, implying that it is marginally overpriced.
The abrupt departure of CEO Jeff Kindler earlier this month ruffled already concerned investors. Ian Read, who has more than 30 years of internal experience, has taken the helm, and 2010 earnings projections and cost-cutting priorities remain intact. Pfizer held $23 billion of cash and equivalents at quarter's end, leaving further room for acquisitions, buybacks or payout increases. The company currently pays a quarterly dividend of 20 cents, translating to a 12-month yield of 4.6%. The stock has a three-year dividend growth rate of negative 15% and a five-year growth rate of negative 1%. Pfizer halved its dividend amid recession, but has since boosted the payout.
-- Written by Jake Lynch in Boston.
RELATED STORIES:
4 Undervalued Tech Stocks to Rise At Least 53%
Become a fan of TheStreet on Facebook.
Disclosure: TheStreet's editorial policy prohibits staff editors, reporters and analysts from holding positions in any individual stocks.