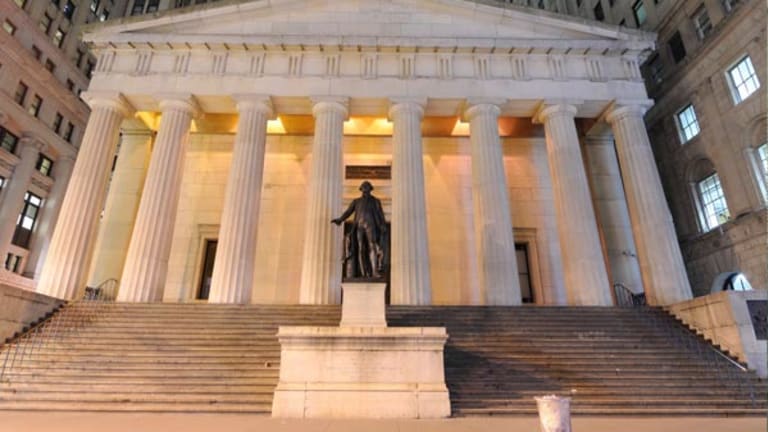 TheStreet.com Ratings: Week's Best, Worst Tech Funds
Being long IBM and H-P was the place to be; semis, not so much.
This week the Dow Jones Industrial Average closed above the 12,000 mark for the first time. Technology led the way, as the Dow's best gainer was IBM (IBM) - Get Report, up 6.09% for the week after posting stronger-than-expected third-quarter results on Wednesday.
Despite the swirling "pretexting" controversy,
Hewlett-Packard
(HPQ) - Get Report
displaced
Dell
(DELL) - Get Report
as the world's largest PC maker, with an increase in third-quarter sales of 15% and was the sixth-best Dow component, adding 2.97%.
Near the other end of the Dow spectrum was
Intel
(INTC) - Get Report
, which gave back 1.86% in a week notable for weak earnings and/or guidance from chip makers and chip-equipment makers such as
Novellus Systems
(NVLS)
and
Linear Technology
(LLTC)
.
For the week ended Oct. 19, the Philadelphia Stock Exchange Semiconductor Index was down 4.7%. Over the same period, the technology funds we rate shed an average of 0.67%.
Funds holding semiconductor stocks such as Intel were hit especially hard. An exchange-traded fund (ETF) tops our list of worst technology funds this week. With an 89.26% concentration of semiconductor stocks, the
iShares Goldman Sachs Semiconductor Index Fund
(IGW)
was pummeled for 3.55%. Its top holdings as of Oct. 18 include Intel at 9.97%,
Motorola
(MOT)
(which also posted disappointing results) at 9.13%,
Texas Instruments
(TXN) - Get Report
at 8.29% and
Applied Materials
(AMAT) - Get Report
at 9.5%.
The story with semiconductors can be summed up in two words: "price war."
Advanced Micro Devices
(AMD) - Get Report
, IGW's eighth-largest holding, was chopped down by 14.9% this week, as the lower prices needed to compete with Intel hurt profitability.
The
(FDCPX) - Get Report
Fidelity Select Computers Portfolio , which topped our best-performing list this week, did so by having Hewlett-Packard and IBM as two of their top four holdings. While the fund's third-largest holding is Intel, that decline was more than made up for by its top position in
Apple Computer
(AAPL) - Get Report
, which soared ahead by 4.96% after reporting stellar earnings of its own.
Meanwhile,
Google's
(GOOG) - Get Report
revenue grew an amazing 70% to nearly $2.7 billion in the third quarter.
The Fidelity fund doesn't own Google, but companies with Google relationships are positioned to do well. Eric Schmidt, Google CEO, announced that he was "just recently put on the Apple board" for "closer collaboration in the future."
Looking at the long list of funds in our worst-performer table and at two from our best-performer table that earned our lowest possible rating of E-, it is important to note that our rating model ranks funds on a risk-adjusted return basis. Technology funds, in general, tend to be more volatile than the overall market and are therefore judged to be riskier investment choices. There is a place for them in a diversified portfolio, but be sure not to overdo it.
Kevin Baker became the senior financial analyst for TSC Ratings upon the August 2006 acquisition of Weiss Ratings by TheStreet.com, covering mutual funds. He joined the Weiss Group in 1997 as a banking and brokerage analyst. In 1999, he created the Weiss Group's first ratings to gauge the level of risk in U.S. equities. Baker received a B.S. degree in management from Rensselaer Polytechnic Institute and an M.B.A. with a finance specialization from Nova Southeastern University.