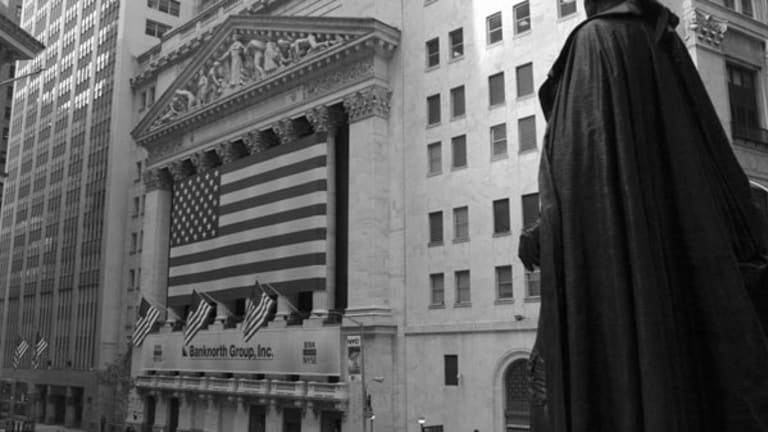 TheStreet.com Ratings: Week's Best, Worst Consumer Funds
Weakness in the retail sector reminds investors of the nature of 'cyclical' investments.
In this Halloween week, investors were spooked by
Wal-Mart's
(WMT) - Get Walmart Inc. Report
prediction of flat sales in November and generally weaker-than-expected October retail sales. The news cast a pall over the holiday shopping season and related investments.
Wal-Mart shares dropped five trading days in a row, giving up 6.7% through Thursday's close. Over the same period, other retailers joined in the selloff including:
Federated Department Stores
undefined
, down 8.0%;
Target
(TGT) - Get Target Corporation Report
, down 3.9%;
Best Buy
(BBY) - Get Best Buy Co., Inc. Report
, off 3.1%;
The Gap Stores
(GPS) - Get Gap, Inc. (GPS) Report
, which lost 4.9%;
Sears Holdings
(SHLD)
, down 6.2%, and
Bed Bath & Beyond
(BBBY) - Get Bed Bath & Beyond Inc. Report
, which fell 3.7%.
All of these retailers are members of the consumer cyclical sector, and serve as a reminder that "cyclical" means what goes up by being sensitive to the economy goes back down, too. Third-quarter U.S. gross domestic product growth, at 1.6%, was the slowest pace in more than three years.
Nonfarm productivity came in unchanged for the third quarter, ushering in predictions of inflation and higher interest rates. With unemployment tight at 4.4%, companies that raise wages may have to increase prices for their products to avoid cutting into profits, sparking more inflation.
This is not good news for an economy in which consumers already have tapped the cash out of their home equity, and payments on variable-rate home loans are headed higher.
By looking at the domestic stock funds that have at least 25% exposure to the consumer cyclical sector, which includes retailing, it was an ugly week. On average, the group shed 2.42% of its value from Oct. 26 through Nov. 2.
Funds with the least exposure to U.S. retail and other consumer cyclical industries gave up the least ground.
Funds on our worst-performing list had been enjoying a late summer run.
(RYRCXL)
The Rydex Series - Retailing Fund climbed 17.5% from July 21 to Oct. 26 before giving back 3.37%. Its largest holding is Wal-Mart and it also includes large blocks of
Home Depot
(HD) - Get Home Depot, Inc. (HD) Report
, Target, Best Buy and Sears Holdings. The other fund with a "who's who" list of retailers is the
(FSRPX) - Get Fidelity Select Retailing Report
Fidelity Select Retailing Portfolio. Both of these funds may be in for a rough time if Scrooge has his way this holiday season.
Speaking of which, Wal-Mart announced Wednesday that an entire shipment of T.M.X. Elmo dolls have gone missing. This "nonlaughing" matter is not good news to the eager holiday shoppers who camp out waiting for these deliveries of one of this season's hottest gifts.
The last factor that must be considered when issuing pre-holiday prognostications is how the complete acceptance of Internet purchasing impacts the big-box retailers.
Yahoo!
(YHOO)
Shopping alone claims 70 million product offers from 65,000 merchants on their revamped site.
A study by Yahoo! revealed that consumers want great deals on peer reviewed products that they can find quickly and easily. Internet price comparisons do create competitions for the lowest cost goods. This type of price war is great for consumers, but bad for many traditional retailers.
Kevin Baker became the senior financial analyst for TSC Ratings upon the August 2006 acquisition of Weiss Ratings by TheStreet.com, covering mutual funds. He joined the Weiss Group in 1997 as a banking and brokerage analyst. In 1999, he created the Weiss Group's first ratings to gauge the level of risk in U.S. equities. Baker received a B.S. degree in management from Rensselaer Polytechnic Institute and an M.B.A. with a finance specialization from Nova Southeastern University.