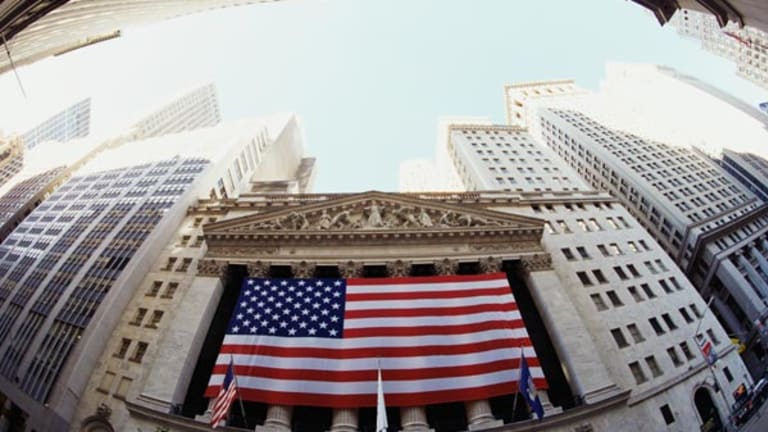 TheStreet.com Ratings: Two Index Funds to Own Now
These small- and mid-cap offerings help you best the averages at minimal expense.
There's an old saying that's never been more applicable than now: "If you can't beat the benchmark, be the benchmark."
With the abundance of index funds now available, investors have a wealth of ways to generate market-equivalent returns while holding down expenses. So, hypothetically speaking, your index fund investments can keep up with the market while you're having a candle-light dinner with the financial equivalent of Tropical Storm Ernesto swirling around your home.
Both of the mutual funds I will discuss today are from the
Vanguard Group
, one of the families we've designated as an
"Ultra" fund family for a keen eye on keeping expenses low for fund holders.
The two funds -- one a small-cap, one a mid-cap -- share several things in common: They track major indices, neither charge front- or back-end loads, and both have diversified holdings, which should help them weather any economic storms. And, of course, either (or both) would make a good core holding around which to build your diversified mutual fund portfolio.
Of course, being Vanguard funds, they keep expenses low. The Vanguard
(VISVX) - Get Vanguard Small-Cap Value Index Inv Report
Small-Cap Value Index Fund has an expense ratio of 0.23%. This is significantly lower than the average expense ratio of 1.55% for the 1,222 small-cap funds we rate. The
(VIMSX) - Get Vanguard Mid-Cap Index Inv Report
Vanguard Mid-Cap Index Fund has a similarly low expense ratio of just 0.22%, also well below the average expense ratio of 1.45% for the 777 mid-cap funds rated by TheStreet.com Ratings.
Let's look at the funds, and then look at whether now's a good time to make an investment.
We've assigned the Vanguard Small-Cap Value Index Fund an overall investment rating of "A." It tracks the Morgan Stanley Capital International (MSCI) US Small Cap Value Index, which is a subset of the value companies from the MSCI US Small Cap 1750 Index. Vanguard describes its strategy as a "passively managed, full-replication approach."
Through June 30, the fund has a one-year return of 12.6%, beating 63% of its small-cap competitors; it really shines in the longer run, outpacing 82% with a three-year annualized return of 20.9%.
As of July 31, the fund had a heavy concentration of REITs, banks and insurance companies, with financials the heaviest-weighted sector at 37.8%, followed by industrials at 14.5% and consumer discretionary at 12.3%.
The top three holdings are REITs:
Camden Property Trust REIT
(CPT) - Get Camden Property Trust Report
,
Federal Realty Investment Trust REIT
(FRT) - Get Federal Realty Investment Trust Report
and
Reckson Associates Realty Corp. REIT
(RA) - Get Brookfield Real Assets Income Fund Inc of Benef. Interest Report
.
In the current real estate market, renting is becoming comparatively more attractive than buying, improving the outlook for REITs, or real estate investment trusts. Additionally, banks expect to benefit from the
Fed's
pause in interest rates, and insurance companies are pushing through double-digit percentage increases in premiums charged.
But with a diversified portfolio of 979 stocks held by the fund, the top 10 holdings represent only 4.1% of net assets, and no holding makes up more than half of 1% of the fund. This limits the downside risk when individual companies run into trouble.
The median market cap for this fund's holdings is $1.6 billion.
With time and good fortune, the equities of the MSCI US Small Cap Value Index hope to graduate to the MSCI US Mid Cap 450 Index. And the fund that tracks this index is the Vanguard Mid-Cap Index Fund, which has an overall investment rating of B+.
As of July 31, its heaviest weighting was in financials at 20.7%, followed by consumer discretionary at 15.5%, and information technology at 13.5%. The stocks in both the MSCI US Mid Cap 450 Index and this fund have a median market cap of $6.1 billion.
The top three holdings are
Celgene
(CELG) - Get Celgene Corporation Report
,
American Tower
(AMT) - Get American Tower Corporation Report
and
ProLogis REIT
(PLD) - Get Prologis, Inc. Report
, but each accounts for less than 0.7% of net assets.
Over the last three years, this index fund beat 79% of its peers annually, averaging a 20.0% total return, including a 14.4% return in the last year ended June 30, which left behind 70% of its mid-cap peers.
So is this a good time to get into these funds? And what about large-cap index funds?
Our model says that yes, now's a good time to buy these funds. Both funds have risen above the crowd by keeping expenses low and returns high, while avoiding excess volatility. So, today we'll start "small" with these picks, but keep an eye out for articles about large-cap funds in the near future.
You could further improve your odds by using dollar-cost averaging for your accounts. Find a comfortable amount that you can invest each month and make automatic fund purchases. Over the long run, this built-in discipline can help you to add to your position when the market looks grim and help you avoid overcommitting your hard-earned dollars at the market top.
But do not attempt dollar-cost averaging in brokerage accounts where commission charges eat away at your return. Vanguard has a $50 minimum for each automatic electronic transfer, but it does not charge a fee for this service.
Kevin Baker became the senior financial analyst for TSC Ratings upon the August 2006 acquisition of Weiss Ratings by TheStreet.com, covering mutual funds. He joined the Weiss Group in 1997 as a banking and brokerage analyst. In 1999, he created the Weiss Group's first ratings to gauge the level of risk in U.S. equities. Baker received a B.S. degree in management from Rensselaer Polytechnic Institute and an M.B.A. with a finance specialization from Nova Southeastern University.