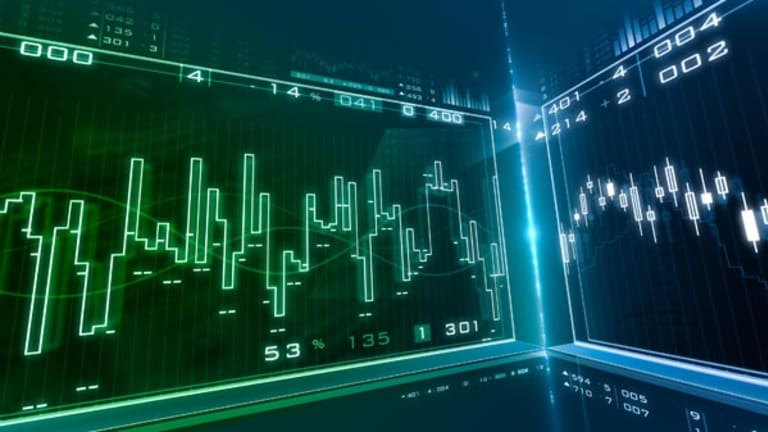 TheStreet.com Ratings: Transports Take Flight
A look at a top-performing sector this week, led by the Fidelity Select Air Transportation Portfolio.
This week, the
Dow Jones Industrial Average
climbed to a new closing high of 12,342.56. The Dow Jones Transportation Average set its high on May 10, at 5,013.67. From Thursday's closing price of 4881.57, this benchmark needs to add only another 2.71% to set a new high and confirm the bull market in stocks.
For the five trading days ended Thursday, Nov. 16, the
iShares Dow Jones U.S. Transportation
(IYT) - Get iShares US Transportation ETF Report
index fund, which tracks the Dow transports, gained 4.39%.
Another week like this one and the sky's the limit. The five funds we rate that have the highest concentration of transportation stocks averaged a total return of 4.88% over this period.
In an environment in which the price of crude oil has plummeted 28.7% in the last four months, it is no surprise that energy-sensitive airlines would get a boost. In the last five days alone, this black gold gave up 8%, reaching a new one-year low near $56 per barrel.
So it is also no surprise that the transport fund that is the biggest winner this week is the
(FSAIX) - Get Fidelity Select Air Transportation Report
Fidelity Select Air Transportation Portfolio, up 6.98%. This fund has landed double-digit returns over past three years and tacked on another 24.69% for the year to date.
Among its largest holdings are
US Airways Group
(LCC)
, up 23.9% over the last five trading days;
AMR
(AMR)
, the parent of American Airlines, up 17.4%;
UAL
(UAUA)
, United's holding company, up 19.4%;
JetBlue Airways
(JBLU) - Get JetBlue Airways Corporation Report
, up 14.1%; and
Southwest Airlines
(LUV) - Get Southwest Airlines Co. Report
-- the laggard in the airline group --adding just 6.8%.
The big news in the airline industry, aside from cheaper oil, is the offer by US Airways to buy bankrupt
Delta Air Lines
undefined
for $8.76 billion. While the hostile bid received a cold response from Delta management, the company's creditors may have another opinion.
The possible resculpting of the competitive landscape adds to the speculation on which other airlines also soon may be on the auction block.
The growth story continues, as American pilots are negotiating with their employer to set contract terms on a new route from Dallas to Beijing. This would help the carrier compete with United and
Northwest Airlines
(NWACQ)
, which offer a combined 49 weekly flights to China. American estimates it would serve 144,463 additional passengers in the first year alone, if it can get U.S. Transportation Department approval, expected during the first quarter of 2007.
Southwest Airlines also was in the news this week. It surpassed American as the top U.S. carrier in August, carrying 8.7 million passengers in that month. As the most profitable U.S. airline, Southwest decided to use $400 million of its $2.3 billion in cash and securities to buy back its own stock. This would be on top of the $300 million in stock the company already bought back this year.
The second transportation fund on our top-performing list is the
(RYCNX) - Get Rydex Transportation C Report
Rydex Series Transportation Fund. The fund has significant holdings of the major airlines, but its top five stocks held are all involved in shipping. The top two holdings are
United Parcel Service
(UPS) - Get United Parcel Service, Inc. Class B Report
and
FedEx
(FDX) - Get FedEx Corporation Report
, both of which expect to benefit from their ability to raise shipping prices.
The next three largest holdings are railroads:
Burlington Northern Santa Fe
(BNI)
,
Union Pacific
(UNP) - Get Union Pacific Corporation Report
and
Norfolk Southern
(NSC) - Get Norfolk Southern Corporation Report
.
TheStreet.com Director of Research Rudy Martin noted the advantages of two of these rail companies in his
recent article on three railroad stocks. The third stock in his story,
CSX
(CSX) - Get CSX Corporation Report
, is also a top 10 holding of the fund.
So if Dow Theory holds true and the transports confirm the industrial bullishness by reaching new highs, this sector once again will have been a good barometer of economic activity.
Kevin Baker became the senior financial analyst for TSC Ratings upon the August 2006 acquisition of Weiss Ratings by TheStreet.com, covering mutual funds. He joined the Weiss Group in 1997 as a banking and brokerage analyst. In 1999, he created the Weiss Group's first ratings to gauge the level of risk in U.S. equities. Baker received a B.S. degree in management from Rensselaer Polytechnic Institute and an M.B.A. with a finance specialization from Nova Southeastern University.