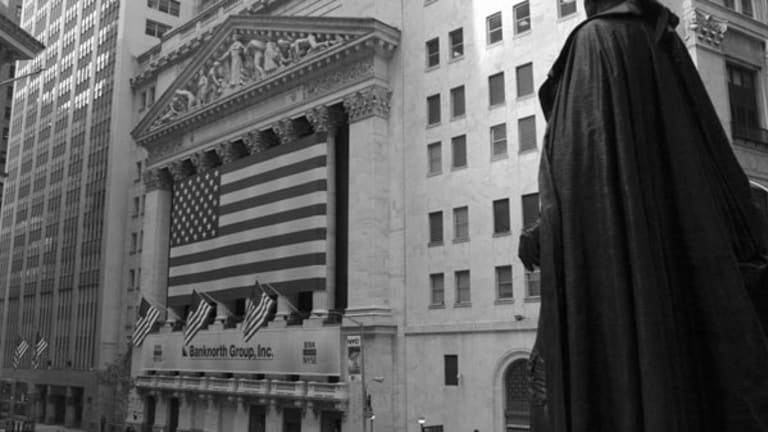 TheStreet.com Ratings: Top 10 Large-Cap Stocks
Vulcan Materials, Lockheed Martin and Kimco Realty are tops on this week's list of large-cap stocks.
Each weekday, TheStreet.com Ratings compiles a list of the top 10 stocks in five categories -- fast-growth, all-around value, large-cap, mid-cap and small-cap -- and publishes these lists in the
Ratings section of our Web site.
This list, updated daily, is based on data from the close of the previous trading session. Today we look at large-cap stocks. These are stocks of companies with market capitalizations of more than $10 billion that rank near the top of all stocks rated by our proprietary quantitative model, which looks at more than 60 factors.
In addition, the stocks must be followed by at least one financial analyst who posts estimates on the Institutional Brokers' Estimate System. The stocks are ordered by their potential to appreciate.
Today begins with
Vulcan Materials
(VMC) - Get Vulcan Materials Company Report
, which produces, distributes and sells construction aggregates, asphalt and ready-mixed concrete. Vulcan has been rated a buy since August 2006. The company is expected to benefit from the recent acquisition of
Florida Rock Industries
( FRK), which strengthens its presence in certain high-growth markets and delivers cost synergies. In addition, the company has displayed a strong financial performance, which led to improved returns for shareholders.
Lower-than-expected increases on state highway construction spending and a continued decline in private, nonresidential construction constitute the principal risk to the buy rating. Unfavorable weather patterns could also hurt the supply and demand of construction aggregates.
Defense contractor
Lockheed Martin
(LMT) - Get Lockheed Martin Corporation (LMT) Report
has had a buy rating since January 2005. The positive rating is due to impressive EPS growth, solid stock performance, notable return on equity and good cash flow from operations.
These strengths outweigh the company's low profit margins.
Rated a buy since March 2005,
Kimco Realty
(KIM) - Get Kimco Realty Corporation (KIM) Report
has interests in more than 1,000 neighborhood and community shopping centers. It has shown a wide range of strengths, including steady revenue growth, solid stock performance, compelling growth in net income and reasonable debt levels by most measures.
These strengths outweigh the company's somewhat disappointing return on equity.
Prologis
(PLD) - Get Prologis, Inc. Report
is a real estate investment trust that owns, manages and is developing 2,340 properties in North America, Europe and Asia. The company has warranted a buy rating since February 2005 and has a significant presence in about 80 markets around the globe. Prologis also completed a number of savvy acquisitions in 2006, situating it to expand its revenue base and meet the future needs of customers worldwide.
The company's buy rating could be at risk if it is unable to lease its properties on economically favorable terms. Business would also be hurt by oversupply or reduced demand in the global market.
Hotelier
Marriott
(MAR) - Get Marriott International, Inc. (MAR) Report
has earned a buy rating since February 2005. The company's strengths include widening operating margins and net income growth. The company is positioned to benefit from the continued addition of new properties and expansion of existing properties, in addition to surging worldwide tourism.
Since Marriott operates in more than 65 countries, it faces a number of uncontrollable risks to its buy rating, including a general slowdown of the economy, natural disasters, international terrorism or epidemics. It also must contend with fluctuations in currency rates and geopolitical instability.
Rated a buy since February 2005,
Rockwell Collins
(COL)
provides design, production and support of communications and aviation electronics for military and commercial customers. The company has shown improved net income growth, widening margins, positive net operating cash flow and acceptable debt levels.
Rockwell Collins' buy rating is subject to operational risks that include fluctuating oil prices resulting from volatility in the Middle East. Additionally, its dependence on U.S. government contracts for a major chunk of its revenue leaves it vulnerable to risks beyond its control, such as federal budget cuts. The company is also vulnerable to new airspace management technologies, which are continually improving and a potential threat to future sales.
Retailer
J.C. Penney
(JCP) - Get J. C. Penney Company, Inc. Report
has been rated a buy since November 2005. The company's strengths include strong earnings growth, propelled by its top-line and margin expansion. It has also shown superior return on equity. J.C. Penney's strategy to continue this growth, the "2005 to 2009 Long-Range Plan," involves expanding its range of exclusive and private brands, appealing to more-affluent customers, and the launch of at least 150 new "off-mall" stores, and making the shopping experience easier for customers.
Further increases of gasoline prices or interest rates could threaten the buy rating, as could the recent introduction of trendy new brands by competitors such as
Kohl's
(KSS) - Get Kohl's Corporation (KSS) Report
and
Target
(TGT) - Get Target Corporation Report
Oil and gas drilling contractor
GlobalSantaFe
(GSF)
has been rated a buy since March 2005. Among its impressive financial performance includes robust revenue growth, a very low debt-to-equity ratio, a steady pattern of notable EPS growth and expanding profit margins.
Though the company has a few minor flaws, TheStreet.com Ratings believes these are unlikely to have a significant impact on results.
Rated a buy since March 2005,
Garmin
(GRMN) - Get Garmin Ltd. (GRMN) Report
makes navigation, communications and information devices based on GPS technology. It has shown stellar revenue growth, notable return on equity, a two-year pattern of steady EPS growth and a minuscule debt-to-equity ratio.
Though no company is perfect, we do not currently see any weaknesses that are likely to detract from the generally rosy outlook.
Telephone titan
AT&T
, has rung up a buy rating since March 2006. This is based on a number of positive investment measures, including its robust revenue growth, EPS increases, widening profit margins, notable cash flow from operations and solid stock performance.
These pluses also outweigh the company's somewhat disappointing return on equity.