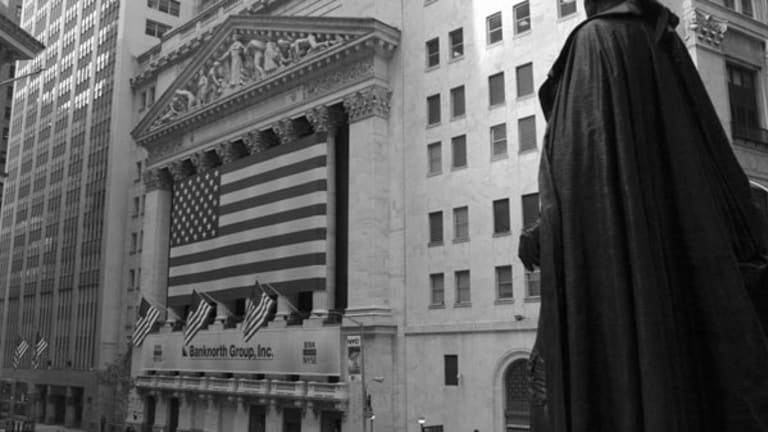 TheStreet.com Ratings: The Risks in Small Banks
There are still plenty of small institutions, and they're often more vulnerable to profit pressures.
When it comes to banks, bigger often means safer.
Despite rapid consolidation that has drastically reduced the ranks of small independent banks over the past decade, there are still 3,500 of these institutions with $100 million or less in assets. And these small fries are by far the most vulnerable when profits come under pressure or loans sour.
Earlier this month the Federal Deposit Insurance Corp. announced its first bank closure in more than 2 1/2 years -- the $15.8 million Metropolitan Savings Bank in Pittsburgh. It's not clear what went wrong; the FDIC gave virtually no indication, other than to say that the 115-year old institution was operating in an "unsafe and unsound manner."
But Metropolitan's profits had been under pressure for many years. It had been rated D- (weak) by TheStreet.com Ratings since 2001. For the first nine months of 2006, the most recent period for which data are available, the bank only earned a profit of 0.14% on its operating assets, down from a five-year high of only 1.8% in 2004. This is compared to a current industry average of 2.07%.
The bank's year-over-year profits were down 87% from a paltry $120,000 for the first nine months of 2005 to an even paltrier $16,000 for the same period in 2006.
Metropolitan had more than doubled its loan portfolio since 2001, but couldn't translate this into meaningful profits. As interest rates rose in 2005 and early 2006, the bank's interest-rate spread -- the difference between what it pays on deposits vs. what it charges on loans, divided by average earning assets -- was squeezed down to 2.8% by the third quarter of 2006 from a high of 3.8% at year-end 2004.
Rising interest rates squeezed interest spreads across the banking industry, but average spreads had leveled off by the second quarter of 2006 at 3.5%.
Our ratings take into account a number of factors, including capitalization, profitability, asset quality, liquidity and five-year stability of operations. But the methodology also penalizes smaller banks for the simple reason that they are inherently riskier, accounting for the vast majority of failures. Of the 41 banks that have failed since 1997, only 11 have had more than $100 million in assets and only four have had more than $1 billion in assets.
Interestingly, Metropolitan was primarily a residential mortgage lender but reported no nonperforming loans on its books as of Sept. 30, 2006. With mortgages making up 79% of the bank's loan portfolio and foreclosures on the rise, this is noteworthy. More information may be forthcoming as regulators pour over the assets of the bank, something bank officials reportedly would not cooperate with before the seizure.
All of this is not to say that small banks are necessarily bad -- they often play an important role in the local community. But the rise in nonperforming loans will continue threatening banks that already have borderline financial strength.
Small banks with low ratings, and interest spreads that are already lower than the current industry average and declining, include the following:
Our ratings run on a scale from A+ (excellent) to E- (very weak), where institutions with a D+ or lower rating are considered vulnerable and those with a C- or higher rating are considered secure.
Melissa Gannon is director of insurance and bank ratings for TheStreet.com Ratings, formerly Weiss Ratings, where she directs the operations of the company's insurance and bank ratings division.
In keeping with TSC's Investment Policy, employees of TheStreet.com Ratings with access to pre-publication ratings data must pre-clear any potential trade through the legal department, and are prohibited from trading any security that is the subject of an unpublished rating revision until the second business day after the rating is published.
While Gannon cannot provide investment advice or recommendations, she appreciates your feedback;
to send her an email.