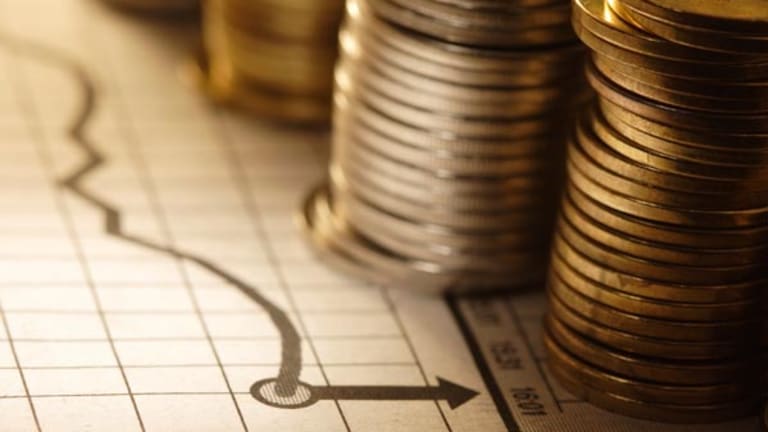 TheStreet.com Ratings Initiates Coverage of 30 Mutual Funds
Only four merit a 'buy' rating with grades of B- or better.
TheStreet.com Ratings has initiated coverage of 99 open-end stock mutual funds that accrued a sufficient track record of risk and performance data by the end of October. After eliminating multiple share classes, these represent 30 unique funds.
Only four of the 30 funds rank in the "Buy" range of funds with grades of B- or better. The
(TCMSX) - Get VOYA Funds Trust Small Cap Growth Fd Cl I Report
TCM Small Cap Growth Fund (TCMSX) is the best of the quartet with an initial rating of A. The fund has returned 26.39% for the year ended Oct. 31, 2007. Some of the fund's largest holdings include
McDermott International
(MDR) - Get McDermott International, Inc. Report
,
Washington Group
( WNG),
Ansys
(ANSS) - Get ANSYS Inc. Report
and
Callaway Golf
(ELY) - Get Callaway Golf Company Report
.
Also doing well, the
( CHV)Cullen High Dividend Equity C (CHVCX) returned 16.63% over the same period, earning a B+ rating. As of Sept. 28, 2007, the fund had an average dividend yield of 3.84%. Big name holdings include
Vodafone
(VOD) - Get Vodafone Group Plc Report
,
Chevron
(CHV)
,
Verizon
(VZ) - Get Verizon Communications Inc. Report
and
Bristol-Myers Squibb
(BMY) - Get Bristol-Myers Squibb Company Report
.
Up 17.02% in the last year, the
(SVOAX) - Get SEI Insti Mgd Tr U.S. Managed Volatility Fund Report
SEI U.S. Managed Volatility Fund was awarded a B rating. The fund tries to achieve capital appreciation and a low level of volatility. Based on our various risk measures, such as standard deviation and drawdown, the fund has done well at keeping volatility low, but is only average when it comes to generating capital appreciation.
Lastly, the
(TCLTX) - Get TIAA-CREF Lifecycle 2020 - Retirement Cl Report
TIAA-CREF Lifecycle Fund 2020 starts off with a rating of B-. This is a fund of funds where the assets are invested in a diversified portfolio of TIAA-CREF Institutional funds with a targeted split of 60% equities and 40% fixed income. As of Sept. 30, 2007 the fund had 65.2% in equities. The fund returned 14.90% for the year thru the end of October and benefited from lower volatility.
Research Methodology
TheStreet.com Ratings condenses the available fund performance and risk data into a single composite opinion of each fund's risk-adjusted performance. This allows the unbiased identification of those funds that have historically done well and those that have underperformed the market. While there is no guarantee of future performance, these investment ratings provide a solid framework for making informed, timely investment decisions.
All the funds listed below have either reached their three-year anniversary or are investor share classes of existing institutional funds for which the fund companies have submitted three years of pro-forma results.
Funds rated A or B are considered "Buy" rated based on a track record of higher than average risk-adjusted performance. Funds at the C level are rated as "Hold," while underperformers at the D and E levels our model ranks as "Sell."
For a detailed definitions of what each level of our rating levels mean, click
here.
Kevin Baker became the senior financial analyst for TSC Ratings upon the August 2006 acquisition of Weiss Ratings by TheStreet.com, covering mutual funds. He joined the Weiss Group in 1997 as a banking and brokerage analyst. In 1999, he created the Weiss Group's first ratings to gauge the level of risk in U.S. equities. Baker received a B.S. degree in management from Rensselaer Polytechnic Institute and an M.B.A. with a finance specialization from Nova Southeastern University.