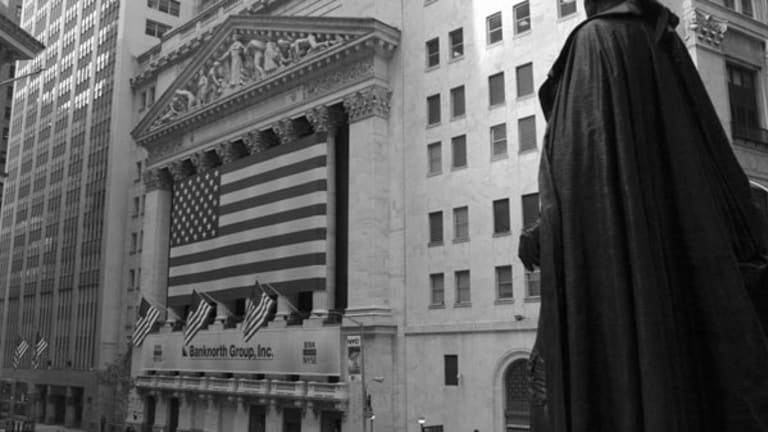 TheStreet.com Ratings: Financial Funds
None lost money this week, but the underperformers owned insurance stocks.
This week, the
Dow Jones Industrial Average
hit another intraday record high at 12,529.88 and finished with a strong year.
U.S. consumer confidence as measured by the Conference Board rose to a value of 109 instead of an expected drop. Also bucking the trend, sales of previously owned homes advanced 0.6 percent in November according to the National Association of Realtors.
These factors go to prove that buyers will come out of the woodwork if prices are low enough. Consumers responded to holiday sales, coming in at the low end of positive expectations. I did my part Thursday evening to bolster holiday sales by trading in a non-functional 50" DLP 720P television and upgrading to a 57" DLP 1080P HDTV just in time for the bowl games.
In housing, it remains a buyers' market for real estate, with the median home price falling 1.1% in the last month and 3.6% below this time last year to a level of $217,200 for an existing home.
There is also good news on the inflation front. The worries that the U.S. would have high inflation and a recession proved to be doubly wrong. Over the last year, the import price index, producer price index and consumer price index have measured inflation rates of just 1.2%, 0.9% and 2.0%, respectively.
Economic pundits are declaring that after 17 incremental increases of the fed funds rate, from June 30, 2004, through June 29, 2006, the
Federal Reserve
has engineered the proverbial "soft landing."
It is not possible to know whether the Fed's next move will be up or down. Nevertheless, for financial firms, the relative stability of interest rates since June has lead to strong stock returns in the third and fourth quarters of 2006.
Although mortgage applications are down 6.5% in the last year corresponding to the paucity of new home sales, the mortgage refinancing rate for residents holding onto their homes is running 13.2% above last year.
Over the five-trading-day period from Thursday, Dec. 21, through the close Dec. 28, the financial mutual funds we rate gained an average of 0.92%.
First on the list of top performers is an open-end stock fund, the
FBR
undefined
Small Cap Financial fund. Its median market capitalization of equity holdings comes in at $934.8 million, with the weighted average market cap a bit higher at $1.67 billion. Just over 65% of these holdings are savings & loans, with 24% banks, 5.2% REITS, and 5.0% diversified financial services.
The largest holdings include
FirstFed Financial
undefined
,
Hudson City Bancorp.
(HCBK)
,
Washington Federal
(WFSL)
,
BankUnited Financial
undefined
and
Downey Financial
(DSL)
.
If instead you prefer closed-end funds, take a look at the
John Hancock
undefined
Financial Trends Fund. It is comprised of 60.5% banks, 21.3% diversified financial services, 14.2% insurance and 4.1% savings and loans. The portfolio has a median market cap of $13.3 billion. But because it is a gathering together of some of the largest companies in this sector, the weighted average is much higher at $45.8 billion.
At the front of the line of heavyweights are
Bank of America
(BAC)
,
Wachovia
(WB)
,
Wells Fargo
(WFC)
,
Citigroup
(C)
and
US Bancorp
(USB)
.
Returning 1.21% for the five-trading-day period ended Thursday, Dec. 28, 2006, is an exchange-traded fund,
iShares S&P Global Financials Sector Index
(IXG)
. Unlike the FBR Small Cap Financial fund, which is 100% invested in U.S. stocks, and John Hancock Financial Trends, which is 96.7% invested in the U.S., the iShares S&P Global Financials has just 40.6% of its assets in U.S. equities.
This ETF focuses on even larger securities, with a median market cap of $62.0 billion and a weighted average market cap of $82.4 billion. About half (51.9%) of the fund is made up of banks, with another 21.6% in diversified financial services, 20.3% in insurance and 4.5% in real estate. Citigroup, Bank of America,
HSBC Holdings
(HBC)
,
American International Group
(AIG)
,
JPMorgan Chase
(JPM)
and
UBS
(UBS)
are the largest six holdings.
In this favorable week for financial mutual funds, none of the financial funds we rate lost money. One interesting similarity among these underperformers is a higher concentration of insurance stocks.
Century
(CENSX)
Shares Trust has a 40.8% allocation to insurance and, of course, the
Fidelity
(FSPCX)
Select Insurance portfolio is heavily weighted toward insurance equities at 95% of assets.
Both funds have AIG as their largest holding and a large holding of
UnitedHealth
(UNH)
.
Please stay physically and fiscally safe this weekend. Have a happy new year!
Kevin Baker became the senior financial analyst for TSC Ratings upon the August 2006 acquisition of Weiss Ratings by TheStreet.com, covering mutual funds. He joined the Weiss Group in 1997 as a banking and brokerage analyst. In 1999, he created the Weiss Group's first ratings to gauge the level of risk in U.S. equities. Baker received a B.S. degree in management from Rensselaer Polytechnic Institute and an M.B.A. with a finance specialization from Nova Southeastern University.