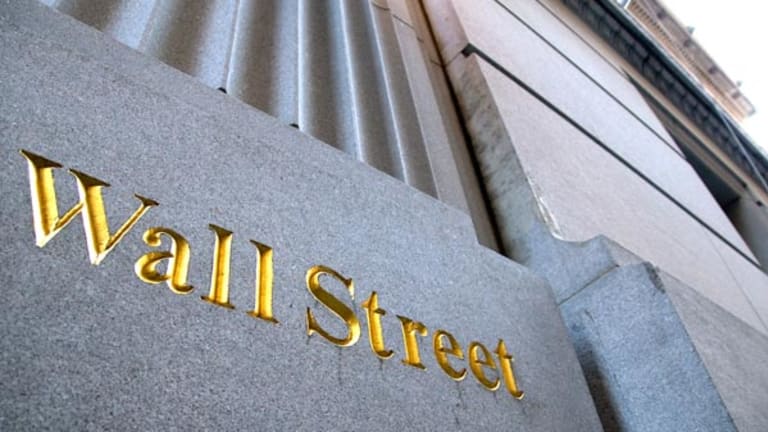 TheStreet.com Ratings: Fallen Angels Look Up
Citigroup, GE and AIG are still growth fund favorites that you may want to consider.
Each holiday season, the media's focus turns toward retail, consumer electronics and Internet stocks. There's endless discussion of the latest new products and where to find the best bargains. The debate over the relative merits of Microsoft (MSFT) - Get Microsoft Corporation Report and Sony (SNE) - Get Sony Corp. Report products fills many pages in the weekend papers as well as at this site, for example.
Here we present the investor's equivalent of a Cyber Monday sale, with three fallen angels, or more accurately, three former fast-growing highfliers:
General Electric
(GE) - Get General Electric Company Report
,
Citigroup
(C) - Get Citigroup Inc. Report
and
American International Group
(AIG) - Get American International Group, Inc. Report
.
While the
Spyders ETF
(SPY) - Get SPDR S&P 500 ETF Trust Report
appreciated 9.9% over the last 52 weeks, these solid large-cap stocks were overlooked by investors this year, rising a mere 1% over the same period, on average.
GE, Citigroup and AIG have several things in common. Their recent financial performance has lagged historic earnings growth. All three have developed new strategies to grow their businesses that have not been fully implemented. And almost by definition, as big companies with global franchises, they move slowly. But once they do, the changes can drive growth substantially.
GE, the largest of the three, is down 1.8% over the last 52 weeks. In November 2005, the company announced the sale of its reinsurance business to Swiss Re for $8.5 billion. Soon afterward, it raised its dividend by 14% and announced share repurchases. While these developments initially boosted the stock, it has drifted lower for most of 2006. But sluggish earnings have made this company a hard sell to the steady-growth investors it traditionally courts.
Our ratings process gives GE high marks for solvency. Other positives include a 2.8% dividend yield and the prospect for a 14%-17% increase in earnings over the next year. But the company's overall rating is dragged down by its less-than-stellar return on invested capital -- an issue senior management is keenly aware of.
The 2006 fourth-quarter and 2007 full-year earnings are both expected to be up on the year for the first time in almost two years. All of GE's business segments, including infrastructure, finance, industrial, health care and NBC Universal, are expected to contribute. Look for management to affirm Wall Street's positive view for next year's earnings during their upcoming meeting with analysts on Dec. 12.
Fallen Angels
A look at Citigroup, GE and AIG
Source: TheStreet.com Ratings
The next largest fallen angel is Citigroup, which has risen only 1.3% during the last 52 weeks. Like GE, Citigroup gets solid marks from our ratings process for solvency. Citigroup also carries a slightly above-average dividend yield of 3.9% at the current $50 price level.
Early this year, the
Federal Reserve
finally lifted a yearlong ban on large U.S. acquisitions, citing improvement in Citigroup's internal control systems. The delay has certainly hurt results. Net income was up only 2% over the last 12 months, vs. a three-year compound average growth rate of 15%. With the consensus forecast calling for only a mid-single-digit increase in earnings per share for 2007, investors may be asking when the company's various initiatives for internal growth will start to pay off.
So why is the stock attractive? The consensus forecast discounts the company's guidance that things should begin to turn in the middle of next year. If management can persuade analysts of this, or if the company starts to generate double-digit earnings growth before 2008, the stock should rise quickly. In the meantime, the strong dividend provides a floor for the share price. Expect to hear more after the company holds a meeting with investors and analysts on Dec. 14 at 8:30 a.m.
Last but not least is AIG, which is up 2.1% over the last 52 weeks, having substantially recovered from a low reached in August. Like GE and Citigroup, AIG gets a high score from our ratings model for solvency. Given the company's low top-line revenue growth over the last 12 months, the only driver of net earnings growth has been consistently improving profit margins.
Thanks in part to this year's weaker-than-expected hurricane season, the company's domestic and foreign general insurance operations both posted underwriting profits, pushing nine-month net income up 5.7% to $10.6 billion. Because property-casualty insurance represents 43% of AIG's revenue, this improvement should flow to the bottom line, fuelling earnings growth.
The one negative is that AIG's dividend doesn't provide much support for the company's share price. Its dividend yield is a meager 0.9%.
What's keeping AIG shares back? Perhaps investors are waiting for the company to post another quarter of solid results. Passing the one-year anniversary of the company's $1.6 billion settlement with state and federal regulators in February 2006 also should go a long way toward helping investors feel comfortable about adding to their holdings of the company's stock. And AIG has yet to announce the result of a new capital allocation model that it will use to boost its capital efficiency.
The company will present an overview of its domestic life insurance and retirement services operations on Dec. 4.
Where did we find these three angels? In the most unlikely of places -- the most popular holdings of the top-rated open-end growth funds we rate.
The table above contains the 12 stocks that appear most frequently in the holdings of actively managed funds we rate that claim to employ growth strategies. This includes funds that list aggressive growth, growth or growth and income as their investment focus. While these funds hold a number of smaller stocks, it was surprising how many large-cap holdings they had in common.
Given that underperformance of the top three names on the list, you might assume that the fund managers expect their earnings growth to pick up. If you agree, then this may be the opportunity to add the stocks to your own shopping list for a year-end portfolio review.
Rudy Martin is the director of research for TheStreet.com Ratings. In keeping with TSC's Investment Policy, employees of TheStreet.com Ratings with access to pre-publication ratings data must pre-clear any potential trade through the legal department, and are prohibited from trading any security that is the subject of an unpublished rating revision until the second business day after the rating is published.
In keeping with TSC's Investment Policy, employees of TheStreet.com Ratings with access to pre-publication ratings data must pre-clear any potential trade through the legal department, and are prohibited from trading any security that is the subject of an unpublished rating revision until the second business day after the rating is published.
While Martin cannot provide investment advice or recommendations, he appreciates your feedback;
to send him an email.