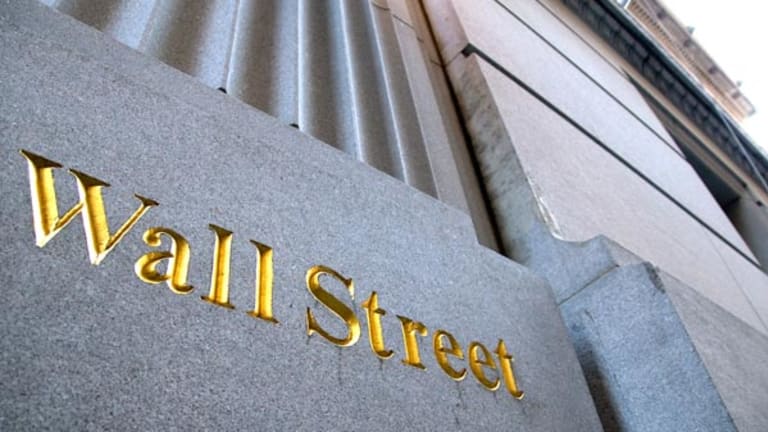 TheStreet.com Ratings: Best Large-Cap Dividend Stocks
Here are 16 growth and income giants for your portfolio.
Last Wednesday we published an article on tobacco stocks and the investment opportunity in Altria (MO) - Get Altria Group Inc Report for both growth and income investors.
On Thursday, Altria's management reiterated its intention to distribute 100% of its remaining shares of
Kraft
( KFT) within 120 days of the Jan. 31, 2007 board meeting. It also spoke of new products, an improving environment in Europe, and untapped opportunities in China and emerging markets. The stock is up nicely after many rainy days for investors.
All of this good news begs the question: Are there other stocks that can reward shareholders for being patient through hard times?
We consulted our stock ratings model to find additional large-cap stocks that pay dividends and might be appropriate for a longer-term equity-income portfolio.
To make this very selective list, we set a minimum market capitalization of $10 billion. This filters out smaller, more volatile investments. Because we're looking for both income and growth, the stocks must have a dividend yield of over 2%. But the dividend yield cannot exceed the company's projected growth in earnings per share. Granted, this knocks out some high payout stocks, but it assures that management is focused on growing the business, not liquidating profits. No income trusts with their tax problems here.
The idea is that brand-name stocks with attractive cash dividends, solid earnings and good prospects for future growth can provide the foundation for a recession-resistant portfolio.
Finally, to qualify for this list, the stocks must have an overall rating of at least A-, meaning they are in the top 10% of all the stocks we rate. (Our stock rating model still views the stock market as attractive. As of Nov. 17, the distribution for the 5,959 stocks we rated was 38% buy, 31% hold and 31% sell, with a slightly positive upward bias for the overall market.)
Here, in order of their dividend yield, are the 16 stocks that fit this profile and meet our stable-value investment criteria.
It's no surprise that the list starts with a now familiar consumer stock, Altria. This company also gets high marks from our ratings model for sustained earnings, high solvency and low stock price volatility. Altria, along with another tobacco company,
Reynolds American
(RAI)
, regularly appears on TheStreet.com Ratings' weekly Top 40 Best Large Cap Buy List.
Although Altria's total return to shareholders, including dividends, has lagged its industry peers, the company has announced a number of restructuring moves to put this lazy capital to work more effectively. Note that when you buy Altria shares you also get 88% of food company Kraft and 28% of the LSE-listed brewer
SABMiller
.
The company may also spin off 100% of its Philip Morris International operations to shareholders as a special dividend in the near future -- but not until the Kraft dividend is successfully completed.
For those looking for an immediate income boost, the next-best opportunities on the list are high-quality utilities, a staple in every yield-oriented portfolio. These include
American Electric Power
(AEP) - Get American Electric Power Company, Inc. Report
,
Dominion Resources Inc
(D) - Get Dominion Energy Inc Report
,
Firstenergy Corp
(FE) - Get FirstEnergy Corp. Report
,
FPL Group
(FPL) - Get First Trust New Opportunities MLP & Energy Fund Report
, and
Entergy
(ETR) - Get Entergy Corporation Report
.
But clearly the top utility to consider is
Scottish Power
(SPI) - Get SPI Energy Co Ltd Report
, which has solid earnings and is in merger talks. While the ADR has rallied, the market hasn't priced in the full potential of a sale or merger of this company. Scottish Power's leading suitor,
Iberdrola,
is a Spanish utility with a keen interest in acquiring two other small valuable Iberian utilities,
Fenosa
and
Gas Natural
.
Teaming up with Scottish Power would put a large enough part of the combined companies' overall operations outside of Spain to increase its financial flexibility. That's because, if it acquires Scottish Power, future acquisitions would fall under the jurisdiction of the European Commission as opposed to the more restrictive Spanish regulators. So the proposed deal could be the start of a much larger and better financed operation and certainly makes Scottish Power a worthwhile addition to the portfolio -- even at current prices.
Yet even without such a deal, our ratings model likes Scottish Power's strong dividend, income growth and very low price volatility.
The ratings model's favorite stock on the list, after Altria, is
Bank of America
(BAC) - Get Bank of America Corp Report
, which earns high marks for its solvency, dividend yield and total return to shareholders. The other financials on this list,
Wells Fargo & Co
(WFC) - Get Wells Fargo & Company Report
and
Lincoln National Corp.
(LNC) - Get Lincoln National Corporation Report
, have also grown through acquisitions. Both also possess conservative balance sheets, great consumer franchises and are well-positioned to accumulate assets and make opportunistic acquisitions.
In addition, on this equity-income list are two telecommunications companies,
AT&T
and its acquisition partner
Bellsouth Corp.
( BLS); two pharmaceutical stocks,
AstraZeneca Plc
(AZN) - Get Astrazeneca PLC Sponsored ADR Report
and
Wyeth
( WYE); and two defensive industrials,
Waste Management
(WM) - Get Waste Management, Inc. Report
and
Emerson Electric
(EMR) - Get Emerson Electric Co. Report
.
Despite the broad range of companies on the list, it's noteworthy that two sectors are not represented: energy and technology.
Big energy stocks are the cornerstone of many individual long-term portfolios and appear in the portfolios of several top-rated mutual funds. Despite their popularity, however, our growth and income screen did not select leading energy companies like
Chevron
(CVX) - Get Chevron Corporation Report
because they lack strong earnings growth or high payouts.
Less surprising is the fact that no technology stocks made this list. Don't expect cash dividends from
Oracle
(ORCL) - Get Oracle Corporation Report
or
Apple
(AAPL) - Get Apple Inc. Report
, both of which are rated highly by our model, as they both reinvest all earnings back into their business.
So next time someone boasts about a 15.7% 52-week return on the S&P 500 SPY ETF or 17.7% 52-week return on the Dow Jones DIA ETF, tell them about the average 28.2% 52-week return for these 16 top-rated equity income stocks -- the growth and income giants from TheStreet.com Ratings.

Find ex-dividend dates, amounts, and yields -- by company -- with TheStreet's Dividend Calendar >>
Rudy Martin is the director of research for TheStreet.com Ratings. In keeping with TSC's Investment Policy, employees of TheStreet.com Ratings with access to pre-publication ratings data must pre-clear any potential trade through the legal department, and are prohibited from trading any security that is the subject of an unpublished rating revision until the second business day after the rating is published.
In keeping with TSC's Investment Policy, employees of TheStreet.com Ratings with access to pre-publication ratings data must pre-clear any potential trade through the legal department, and are prohibited from trading any security that is the subject of an unpublished rating revision until the second business day after the rating is published.
While Martin cannot provide investment advice or recommendations, he appreciates your feedback;
to send him an email.