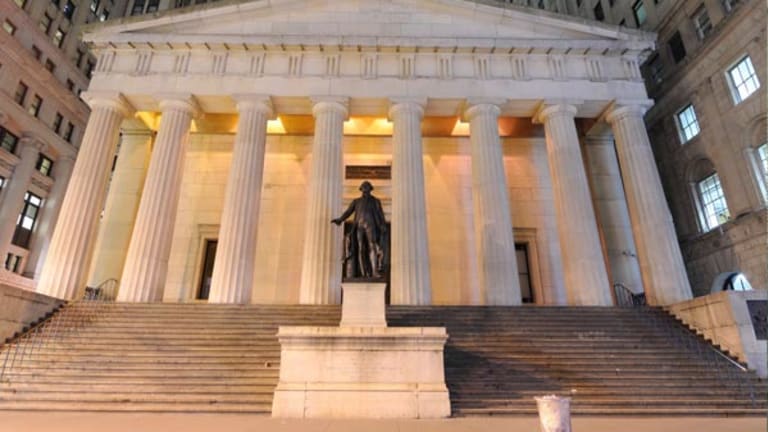 TheStreet.com Ratings: Altria's Distraction Discount
Big Tobacco's making a comeback, so why has Altria been left out?
Tobacco stocks are finally getting some positive surprises, but not all of them are benefiting equally.
Last week, California voters turned away Prop 86, an initiative that would have quadrupled that state's cigarette taxes to the highest level nationwide. With this recent win and the removal of class-action status from a $145 billion industry lawsuit in July, investors now have reason to believe that big tobacco stocks are headed for a big comeback.
These brand-name stocks are gaining popularity in core investment portfolios and with value-buyers. So even if you do not smoke, you should be happy if mutual funds you hold own these stocks. As the chart below shows, most of the stocks in the tobacco group have already posted substantial gains of 25%-40% year to date:
Reynolds American
(RAI)
is up 39%,
UST
(UST) - Get ProShares Ultra 7-10 Year Treasury Report
is up 39%,
British American Tobacco
(BTI) - Get British American Tobacco PLC Sponsored ADR Report
is up 26% and
Carolina Group
(CG) - Get Carlyle Group L.P. Report
is up 43%. The one exception is
Altria Group
(MO) - Get Altria Group Inc Report
, which has lagged with a 12% year-to-date return as of last Friday.
The price action for Altria does not seem right. As the holding company for Phillip Morris, the manufacturer with the largest market share (40%) and a growing global franchise, Altria would appear to have the most to gain from improving legal, business and regulatory trends in tobacco, assuming it can get Wall Street and investors to give it a closer look.
But Altria is a collection of different businesses, and some argue that this is a distraction to investors. It owns a sizable food business,
Kraft
( KFT), which represents one-third of its revenue and earnings. Altria also owns the tobacco-related operations of Philip Morris International, Philip Morris USA and Philip Morris Capital Corp., in addition to a 28.7% interest in
SABMiller
, the world's second-largest brewer.
Altria pays out between $6 billion and $7 billion in dividends annually to shareholders. Even though Altria receives some dividend support from Kraft, which pays out $1.5 billion in dividends (88.6% of which go to its parent company) the food business could be responsible for its stock selling at a discount.
Things could change early next year, however. Altria has announced a plan to give current shareholders a special dividend of some or all of the 88.6% of Kraft it still owns. The Altria board meets in January and may authorize a full distribution of the KFT. If so, then for each share of MO you own you might get 0.886% share of KFT.
What is this worth and why all the fuss about unlocking value?
We came up with three simple value scenarios -- $87 a share, $92 a share and $102 a share -- to illustrate the upside potential of the distribution. Granted, this is not a full-fledged asset valuation that takes into account every line of business, nor does it factor in recapitalization, special assessments, other major legal moves or potential ventures. So no guarantees here -- just an example of how to go about valuing a special dividend of shares from a public company.
The $87 scenario -- business as usual. This takes that $31 pro-rate ownership of KFT ($34.80 close) and adds it to two-thirds of the businesses that remain at Altria. Using the 2006 estimated EPS for the Altria remainder, plus a 6% growth factor times the average 14.5 price-to-earnings tobacco company multiple, we arrive at $87 per share ($31 for the KFT distribution plus $56 for the MO remainder) for both shares. This represents only a modest $7 pickup from Monday night's $80 closing price and should scare those speculative hedge fund investors with options above $90 per share at the January 2007 horizon.
The $92 scenario -- cooking at Kraft. This scenario assumes an internal restructuring at Kraft that invigorates top-line growth and/or improves profitability. There are easily dozens of companies with less than a $4 billion market value -- about a third of KFT's market value -- that are still fundable at low leverage ratios to keep costs down. Management could also contribute its ownership of a brand line in exchange for shares in a larger, more viable operation, as MO did in 2002 with its Miller brewing business. Nonetheless, with a full public ownership KFT management could certainly pursue a wide range of alternatives, too.
While our stock model has rated Kraft a "buy" since March of this year, the model assigns low points to the company's historic income and cash flow growth. It also indicates that return on capital is average compared with industry peers, and below the
S&P 500
average. KFT shares do not really merit a premium valuation based on recent performance. Although no company is perfect, with flat-to-down consensus earnings estimates for 2007 EPS vs. last year, this is really not an overly compelling buy recommendation from our model on the KFT shares.
We reach $92 by taking the stock model's target price of $41 and valuing the KFT distribution at $36 per MO share. This assumes a 7%-8% earnings growth factor valued at 20 times price-earnings, at the average for a normal operating food company.
The $102 scenario -- smoking with Philip Morris. As the uncertainty of world-class legal action decreases, investors should be willing to pay premium valuations for a company that can earn returns on equity that exceed the S&P 500 and have significant business in China and around the world.
In addition to the value created with the KFT distribution, this scenario also assumes a revaluation of MO based on solid 5%-6% earnings growth and a modest price-to-earnings multiple expansion to 17 times, similar to UST multiples.
What are the risks?
There is still substantial risk in this deal. Kraft has not announced a real recovery strategy. Wall Street is generally neutral on the company near term. It is a fair assumption that, unless the new plans calls for significant acquisitions that boost growth, many shareholders, both individuals and institutions, will want to sell the company's stock upon receiving it. Also, some shareholders own MO for the dividend and may have trouble keeping it in portfolios where yield on investment is the deciding factor.
If KFT and its dividend payments are gone, what financial flexibility is left at MO?
The risk of an Altria dividend-cut appears minimal. Near term there is likely to be a strain on corporate cash flow, but this appears very manageable. Altria has raised its dividend 39 times in the last 37 years. There should still be adequate dividend coverage. Currently, Altria is paying out $6.7 billion in dividends annually, or 63% of its current earnings. In the meantime, the best way for Altria to increase dividend coverage is to boost real earnings power in its core tobacco businesses and not make dilutive acquisitions with its remaining resources.
Our more objective stock ratings model agrees on the possibilities of higher valuations and continuing dividend payments. Altria, along with Reynolds American, regularly appears on our weekly Top 40 Best Large Cap Buy List, the screen that looks at those stocks with more than $10 billion in market cap. The ratings model gives Altria very high marks for efficient use of capital and low stock-price volatility. Although there is some concern about low returns to shareholders historically and anemic top-line and operating income growth, the future does look brighter for this stock than it has in a long time.
On Thursday, both Altria and Reynolds American management are scheduled to present at a Morgan Stanley/Dean Witter conference for institutional investors in New York. Expect to hear more good things about these stocks as the understanding about this industry becomes more positive.
Rudy Martin is the director of research for TheStreet.com Ratings. In keeping with TSC's Investment Policy, employees of TheStreet.com Ratings with access to pre-publication ratings data must pre-clear any potential trade through the legal department, and are prohibited from trading any security that is the subject of an unpublished rating revision until the second business day after the rating is published.
In keeping with TSC's Investment Policy, employees of TheStreet.com Ratings with access to pre-publication ratings data must pre-clear any potential trade through the legal department, and are prohibited from trading any security that is the subject of an unpublished rating revision until the second business day after the rating is published.
While Martin cannot provide investment advice or recommendations, he appreciates your feedback;
to send him an email.