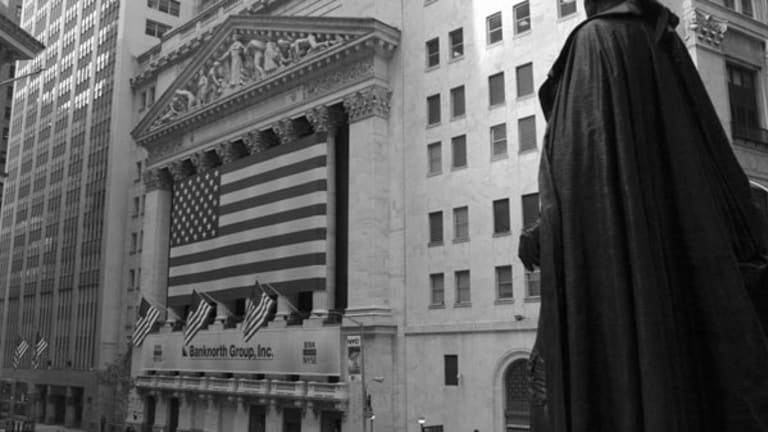 TheStreet.com Initiates Ratings on 19 Mutual Funds
These funds reached their three-year anniversaries in July.
TheStreet.com Ratings initiated coverage of 19 open-end mutual funds that accrued a track record of three years of risk and performance data at the end of July.
Three of the funds that opened for business in July of 2004 received our top rating level of Excellent.
The best of the bunch is the A+ rated
Julius Baer
(BJGQX)
Global Equity Fund A (BJGQX). The fund favors large-cap stocks highly diversified across both geography and sectors. U.S. stocks account for only 37.2% of assets, with France at 7.7%, Germany at 6.6%, U.K. at 6.4%, Switzerland at 4.2%, and 39 other countries spanning the globe. None of the more than 400 holdings represents more than 2% of the value of the fund.
The fund's best-performing U.S. holdings over the last year include
Juniper Networks
(JNPR) - Get Report
, up 138.81%;
IntercontinentalExchange
(ICE) - Get Report
, up 125.70%;
Millicom International Cellular
(MICC)
up 111.89%; and
Apple
(AAPL) - Get Report
, up 92.36%.
We awarded an initial rating of A-, "Excellent", to two funds, both of which specialize in predominantly U.S. mid-cap stocks. The sector concentrations could not be more different, however. Avoiding overlapping holdings in your portfolio of mutual funds may help you to avoid the heartburn of excess volatility.
The
Aston
(ABMIX) - Get Report
Optimum Mid Cap Fund I's (ABMIX) biggest holdings are 14.2% in media, 10.4% computers, 6.9% telecommunications, 6.3% health care products, 5.3% electronics and 4.7% transportation stocks. This fund cleaned up with its holding of
Dow Jones
(DJ)
, which soared on the buyout by
News Corp.
(NWS) - Get Report
.
On the other hand, the
Rice, Hall James
(RHJVX)
Mid Cap Portfolio (RHJVX) has 12.8% in retail, 8.5% pharmaceutical, 6.2% semiconductor, 6.0% chemical, 6.0% software, and 5.2% commercial services. This fund's best-performing holdings over the last 12 months are
GameStop
(GME) - Get Report
, up 132.73%;
Nalco Holdings
(NLC)
, up 51.5%;
Noble
(NE) - Get Report
, up 48.34%;
Ansys
(ANSS) - Get Report
, up 42.10%; and
BJ's Wholesale Club
(BJ) - Get Report
, up 38.73%.
Research Methodology
TheStreet.com Ratings condenses the available fund performance and risk data into a single composite opinion of each fund's risk-adjusted performance. This allows the unbiased identification of those funds that have historically done well and those that have underperformed the market. While there is no guarantee of future performance, these Investment Ratings provide a solid framework for making informed, timely investment decisions.
The funds listed below have either reached their three year anniversary or are additional share classes of existing funds for which the mutual fund companies have submitted three years of pro-forma results.
Funds rated A or B are considered "Buy" rated based on a track record of higher than average risk-adjusted performance. Funds at the C level are rated as "Hold," while underperformers at the D and E levels our model ranks as "Sell." To find out the detailed definitions of what each level of our rating levels mean, click
here.
Kevin Baker became the senior financial analyst for TSC Ratings upon the August 2006 acquisition of Weiss Ratings by TheStreet.com, covering mutual funds. He joined the Weiss Group in 1997 as a banking and brokerage analyst. In 1999, he created the Weiss Group's first ratings to gauge the level of risk in U.S. equities. Baker received a B.S. degree in management from Rensselaer Polytechnic Institute and an M.B.A. with a finance specialization from Nova Southeastern University.