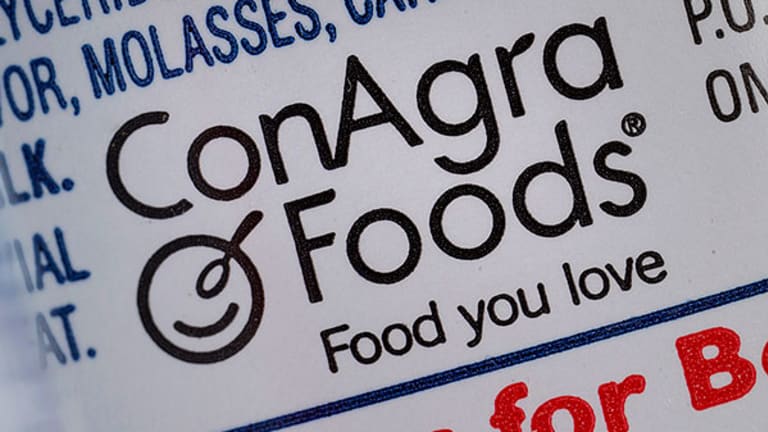 These 3 Packaged-Food Giants Just Don't Get It
The old business recipes aren't working at these packaged-food companies.
NEW YORK (Real Money) -- This morning I passed a billboard on top of the 2-3 subway entrance: "Fresh tilapia, $7 special," from Whole Foods (WFM) . It said loads about what's happening in the food industry right now.
I cannot recall a time when what's happening could be more obvious and I can't think of a time when a whole industry could be so obtuse. I am talking about the organic and natural wave that's embedded in the country, vs. what we are hearing in the last 24 hours from the likes of ConAgra (CAG) - Get Conagra Brands, Inc. Report , Kellogg (K) - Get Kellogg Company Report and Campbell Soup (CPB) - Get Campbell Soup Company Report .
On the one hand, the greatest natural and organic company of the age is trying to lure you in with tilapia, and judging by the Whole Foods earnings this week, the come-on is working.
On the other hand, judging by the dramatic shortfalls from these old-line packaged-food concerns, there has to be an acceptance that what they are doing won't work. They can write "new and improved," they can come up with tweaks of their current products, but in the end, as they say, the dogs won't eat it, and that's all that matters.
Go look at the tired brands from ConAgra, Kellogg and Campbell. They reek of our parents' pantries. ConAgra's almost a Saturday Night Live parody of brands. The kind that we used to see snapped up on Supermarket Sweep, when they couldn't find the hams!
Now I am incredibly conscious that every single one of these companies totally understands that they have to be natural and organic. But what they don't understand is that their brands are too tied to the old days to create the growth Wall Street wants.
These stocks have become total fixed-income vehicles, and if that's satisfying to them, I get it. They can keep taking out costs, buying back shares -- if they have the capital -- and eke out some dividend boosts and hope that interest rates stay low so their stocks don't go down all the time and, instead, kind of run in place.
But I like growth, and it's no secret that the best part of the growth of these companies is way behind them.
In fact, the only part of any of these three companies that is a keeper is Bolthouse Farms, the delicious fresh protein drinks and salad dressings. The latter are all that I buy these days. Yet, when you go to Campbell Soup's website you don't see anything about Bolthouse. In fact, if you put the name in the search tab of the site, it comes back, "We're sorry, your search yielded no results. Please check that all words are spelled correctly."
Made me wonder -- are they afraid people will realize that Bolthouse is owned by Campbell and therefore we won't buy it?
At least General Mills (GIS) - Get General Mills, Inc. Report is willing to list the brands of Annie's, its recent natural and organic acquisition, on its Web site. And its big push right now is to say that Cheerios are gluten free.
Again, though, these old-dog companies want to tell you their stuff isn't as bad for you as you think. Everything's defensive in nature.
Compare these companies to Hain Celestial (HAIN) - Get Hain Celestial Group, Inc. Report and Whitewave (WWAV) , the two great growth companies in the food business. They grow at double digits. They meet the unmet needs of parents everywhere who want to feed their kids good, good-tasting, good-for-you food.
At one time, they could have been bought for a song by any of the old-line companies, and they could still be purchased, but it will kill their precious discipline that we don't even care much about.
Still, the only answer for these companies is to buy either Hain or Whitewave and just plain reinvent themselves on the fly. Otherwise there will just be one quarter after another of disappointment mixed with an occasional upside surprise because they have lowballed guidance.
Are they smug? Are they satisfied? Are they clueless? Or are they desperate?
Maybe a little bit of all?
And you know what they really are? One word: irrelevant.
Editor's Note: This article was originally published  on Real Money at 12:21 p.m. EST on Feb. 13.
Action Alerts PLUS, which Cramer co-manages as a charitable trust, has no positions in the stocks mentioned.