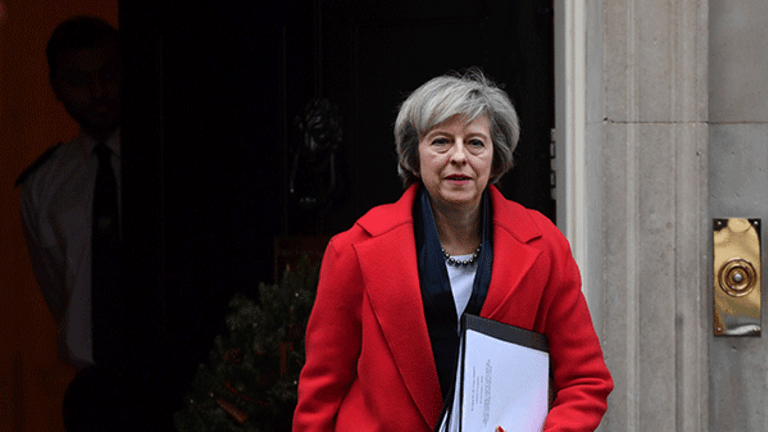 Theresa May's Brexit Balancing Act Faces Tough Test in Florence Speech
U.K. Prime Minister Theresa May must balance EU demands with domestic political pressures in key Brexit speech in Florence
U.K. Prime Minister Theresa May is expected to reveal the most significant concessions in Britain's contentious Brexit negotiations with the Europe Union Friday in a speech that could re-start the stalled talks or potentially trigger her exit from government. 
May's efforts to deliver the kind of separation she promised in a speech earlier this year have been largely unsuccessful, with negotiations between London and Brussels deadlocked over the ultimate cost of Britain's exit and the rights of EU citizens living in the United Kingdom. Her authority at home has also suffered since she called a disastrous snap election that eroded her Conservative Party's parliamentary majority and destabilised her position as leader of the country.
With those twin pressures intensifying -- both in the form of public irritation of her perceived intransigence in Brussels and a potential leadership challenge at home  -- May will need to deliver a powerful speech today in Florence at 3:00 pm local time that appeases both constituencies while still leaving her room to manoeuvre on each side.
"The UK's departure from the EU is inevitably a difficult process, it is in all of our interests for our negotiations to succeed," advanced text of May's speech indicates "The eyes of the world are on us but if we can be imaginative and creative about the way we establish this new relationship ... I believe we can be optimistic about the future we can build for the United Kingdom and for the European Union."
Media reports suggest the Prime Minister will offer to pay as much as £10 billion ($11.9 billion) a year for a two-year transition period from 2019 that will ease allow British businesses to access the European Single Market and promise to enshrine the rights of U.K.-based EU citizens into British law.
The two concessions, May is hoping, will persuade EU leaders to allow negotiations to move forward and discuss future trade ties, something Brussels has insisted cannot happen until Britain agrees to pay the so-called "Brexit bill" of as much as £100 billion. 
The £20 billion that could be on offer today, however, doesn't cover that ultimate request, and it may not be large enough to convince the EU's chief negotiator, Michel Barnier, to change his tact.
However, it could be significant enough to cause May trouble at home, where Boris Johnson, a charismatic politician in charge of Britain's foreign policy has set out his stall for a potential leadership challenge with a 4,200 manifesto in London's Telegraph newspaper earlier this week.
Johnson, one of the leading voices of last year's "Leave" campaign, is opposed to the idea of paying for single market access and previous said the EU could "go and whistle" if it expected to receive a massive sum of cash from the British taxpayer.
Should May be seen to offer too much to Brussels for too little in return, Johnson may feel emboldened enough to challenge May for the Conservative Party leadership at its conference next month in Manchester.
On the flip side, if May offers too little to Brussels, and Brexit talks falter further, her ability to lead the negotiations will be increasingly questioned both in her own party and among the broader electorate, potentially triggering yet another snap election that would further destabilise the country's faltering economy.