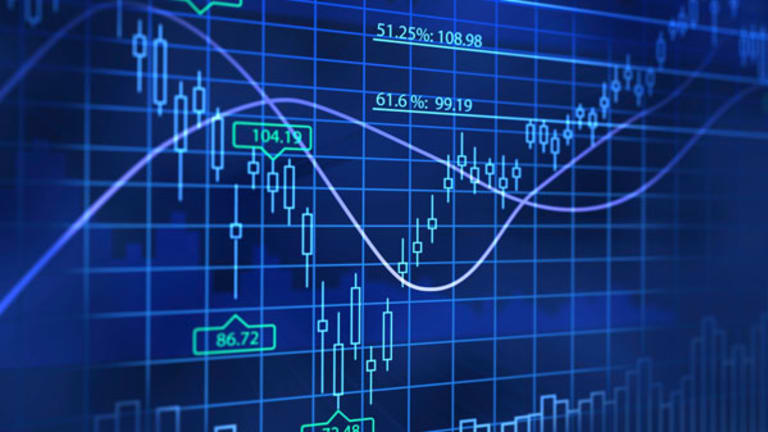 There's Still Time to Buy Virtu, the Trading Platform That Never Seems to Lose
If you're an active trader, chances are you despise market makers. But now that a highly profitable Virtu Financial has come public, you can share in the riches, too.
If you're an active trader, chances are you despise market makers. But now that a highly profitable Virtu Financial has come public, you can share in the riches, too.
NEW YORK (TheStreet) -- How would you like to have a trading system that posts only one losing day in six years?
It seems far-fetched, but the electronic trading firm Virtu Financial (VIRT) - Get Report, which has already gained nearly 20% since its initial public offering Wednesday, stated in its filings that it's platform suffered only one losing day in 1,485 trading days.
Shares of New York-based Virtu, which raised $314 million in its IPO, were up 61 cents, or  2.8%, at $22.79 around 11 a.m. EDT Friday.
To many people, Virtu may seem evil because it gets lumped in with a group of market players known as "high-frequency trading" firms. These firms are often blamed for causing market flash crashes, or for scalping hard-working Americans by sniffing out big stock orders from their mutual funds, to trade ahead of them, so they get lousier prices on their orders.
Indeed, Virtu had to cancel plans for an IPO last year after the publication of Michael Lewis's book Flash Boys, which sharply criticized high-frequency trading. But as an investor, you can relax on this front. Although Virtu carries risk as a big market player involved in lots of trades -- an astonishing 5.3 million a day last year -- industry insiders say it's not one of the bad boys in the space.
"Out of all of them, from good to bad, Virtu would be on the top of the good list," says Eric Scott Hunsader, who passionately documents the sins of high-speed trading. Hunsader is a software developer at Nanex, a market data feed provider.
Put another way, a far greater percentage of Virtu trades stem from passive market making instead of sniffing out orders in dark pools to trade ahead of them, says one former trader who asked not to be identified.
Virtu makes markets by programming algorithms to buy and sell huge amounts of stocks, bonds, exchange-traded funds, currencies and commodities around the globe. It trades more than 11,000 securities on more than 225 exchanges in more than 34 countries. The results are striking.
Revenue grew 18% to $723 million last year, from 2012. Yet operating expenses were basically flat, so net income shot up 119% to $190 million.
"The most impressive thing, if you ask anyone on the industry, is the amount of volume they do for the number of employees they have," says a former high-frequency trader.
At the midpoint of its offering price, or at $18 a share, you can buy this kind of growth at a decent price, says Kathleen Smith, an IPO expert with Renaissance Capital, which manages IPO-focused ETFs like Renaissance IPO ETF (IPO) - Get Report and Renaissance International IPO (IPOS) - Get Report.
At $23, Virtu stock trades for close to 10 times operating cash flow, compared to an average of around 11-12 for its peer group, which includes companies such as Intercontinental Exchange (ICE) - Get Report, CME Group (CME) - Get Report, NASDAQ OMX I:IXIC and KCG Holdings (KCG) .
First, the number of shares traded electronically has expanded by 15.8% a year since 2004, according to the World Federation of Exchanges, and this transformation is not over yet. Virtu will continue to capture a piece of the ongoing growth in electronic trading.
One area ripe for this change: the trading of derivatives such as interest-rate swaps. Virtu can also continue to expand into new countries. And there's room to grow via acquisition, points out Tom Taulli, author of the book High-Profit IPO Strategies and the blog IPO Playbook.
Virtu also and sells market-surveillance, risk-management, order-routing and trading systems to buy-side investors. "They are offering this service to some mutual funds, and this will be a growth area for them," says Hunsader.
Virtu will no doubt get dinged for having a complex, four-tiered class structure that gives insiders tight control. But as Amazon (AMZN) - Get Report and Google (GOOGL) - Get Report have demonstrated, this share structure can be help shareholders when founders remain in charge. Founder-run companies tend to outperform, as Amazon and Google clearly demonstrate.
Virtu was founded by Vincent Viola, a former a former New York Mercantile Exchange chairman, and he's now chairman at Virtu. CEO Douglas Cifu has been with the company since it was founded in 2008.
One knock on Virtu Financial is that it has a history of siphoning off cash to early investors and executives via special dividends, says James Angel, professor of finance at Georgetown University's McDonough School of Business. And most of the proceeds from the IPO will go to early investors who are cashing out and executives.
Using IPO funds to cash out early investors doesn't do much for anyone who buys now in the open market. From here, though, the company promises to pay out more than half of its profits in the form of a dividend to shareholders, says Smith.
Next, trading firms have a history of blowing up. But Virtu claims it is always well-hedged and market neutral, and that it locks down trading algorithms when they are losing -- or making -- too much money, to minimize risk.
Finally, we probably haven't seen the last of the instantaneous market meltdowns blamed on HFT. When the next flash crash happens, Virtu shares will no doubt get hit as market participants clamor for greater regulation of electronic traders.
But given Virtu's multiyear history of producing consistently winning trades and rapidly growing profits, and its relatively benign reputation, you can expect any hit to Virtu's stock in this scenario to just a flash in the pan.
This article is commentary by an independent contributor. At the time of publication, the author held no positions in the stocks mentioned.