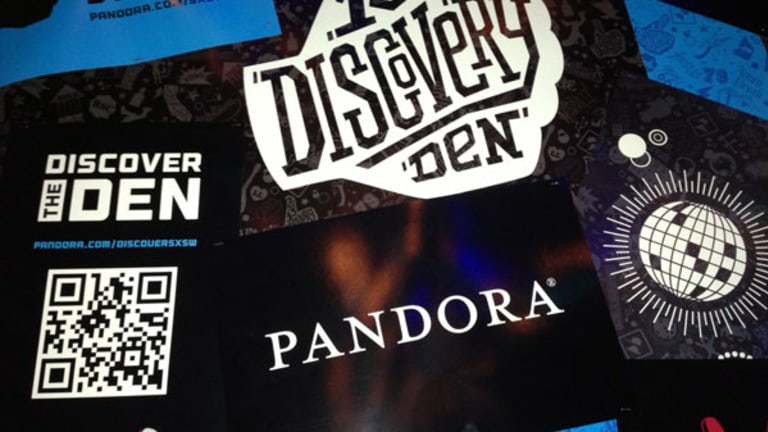 There's No Guarantee Apple and Google Will Crush Pandora
Standalone streamers such as Beats Music and Songza can only put the hurt on Pandora if Apple and Google properly leverage these assets.
NEW YORK (TheStreet) -- I'll never forget how readers ridiculed me when I was bullish Pandora (P) at prices in the neighborhood of $10 through late 2011 into 2012 and 2013. During those times, I checked myself quite a bit. Just to make sure I wasn't operating certifiably inane.
I do the same today. Bearish Pandora from the upper $30s, seeing that bearishness to around $22 a share and watching the stock rebound largely on takeover speculation. So, for every article I write lamenting Pandora's static business plan and lack of focus on data or diversifying the user experience, I counter myself. Most of that reflection doesn't see the light of day because -- in the shell of a nut -- I just don't see it happening.
However, in this article I will present one plausible scenario that could prove my bearishness wrong.
Two things inspired the decision to take this approach in this article.
One, a well-reasoned take at Seeking Alpha, which included this sane and logical Pandora-related optimism:
Rather than the other streaming music services, Pandora competes for revenue against terrestrial radio broadcasters ... Most market estimates project the terrestrial radio market to be a $15-17bn market, 70-80% of which is local. This is why Pandora is building out a local ad sales force, to compete for this revenue.
And, two, the recurring thought that, even though they could, Apple (AAPL) - Get Apple Inc. Report and Google (GOOG) - Get Alphabet Inc. Class C Report might not do what's necessary to dominate Internet radio and all it entails. I tunneled that trajectory of thought after receiving an email from a reader with respect to Google's buyout of Songza:
You know Google just collects these companies and doesn't do anything with them. They're not going to be a player in the streaming space any more than they already are which is nil. Songza will be itself and not grow to its full potential because they're no longer desperate and that's that. The Google way for everything but search is long slow pointless development.
If they were to integrate YouTube and Google Play and Songza somehow, to make it a total consumer experience -- or put it all into a driverless car platform even -- that would be great. But it seems like there's no commitment to that, to making anything but search work in a competitive way. They just set stuff up to watch it spin.
And songza - yeh, good idea, whatever. The whole thing strikes me as phht.
And that's really the deal. The business of poaching revenue from broadcast radio companies such as Clear Channel (something I was talking about in 2011) might be good enough to sustain Pandora over the long haul. All else equal, I'm a fan of that business. However, all else is not equal. As deals such as Spotify/The Echo Nest, Apple/Beats and Google/Songza, not to mention Cumulus Media (CMLS) - Get Cumulus Media, Inc. Class A Report/Rdio, the playing field ceases to be level.
A large part of my Pandora bearishness -- probably the majority of it -- hinges on all of the above, but particularly Apple and Google, doing the right thing with their now diverse and expansive streaming radio platforms.
I'm convinced if Apple and Google properly integrate Beats Music and Songza, they can leave Pandora behind. Or at least critically ding it. I'm convinced that Apple/Beats and Google/Songza as well as Spotify/The Echo Nest, not to mention Twitter (TWTR) - Get Twitter, Inc. Report, can move first on building music-based data businesses while Pandora stands still. But, as the excerpt from the reader email opines, there's no guarantee the big companies especially will make any of this a priority. They might not move the space forward the way I think they can (and will), which leaves a lot more breathing room for Pandora than my recent takes offer.
--Written by Rocco Pendola in Santa Monica, Calif.
Rocco Pendola writes for
TheStreet
. He lives in Santa Monica. Disclosure: TheStreet's editorial policy prohibits staff editors, reporters and analysts from holding positions in any individual stocks.