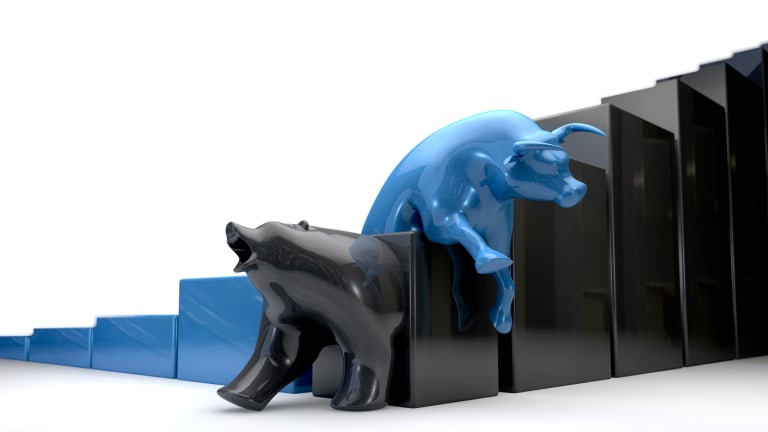 There's a Crack in Small- and Mid-Cap Stocks so Take Heed
Small- and mid-cap stocks have held up for a while, and the bulls have held sway. Since these stocks tend to crack before large cap stocks, Wednesday's weakness bears watching.
NEW YORK (Real Money) -- For quite a while mid-cap and small-cap stocks have been holding up quite well.
As long as they have held up, the have bulls seemed to hold sway because broad-market strength is a sign that money is not flowing out of the market. But small- and mid-cap stocks tend to crack before large-cap stocks falter because investors typically go to large-cap stocks when they become uncertain.
For example, look at this daily chart of the iShares Russell 2000 (IWM) .
There's a clear trend break that's taken the index down below the 50-day moving average, which has been a key source of support over the past few months. On Wednesday, April 30, the small-cap index was down as much as 1.5%, which is pretty substantial considering that it also broke support.
There's also a breakdown in the SPDR S&P MidCap 400  (MDY) . Furthermore, the Dow Jones Transportation Average is also weak and testing the early April low, though support was holding on Wednesday. As you know, the transports have been sluggish for a while, which has been bothersome.
About 50% of listed stocks remain above their 40-day moving average, which was also the case back on April 17 when the S&P 500 bounced. Caution is the watchword. Tops are processes, not events. Despite claims to the contrary, no one can identify the exact top of the market in real time (other than in March 2000, when the bubble obviously burst). But Wednesday's weakness in the mid-cap and small-cap stocks is new. And that bears watching.
Editor's Note: This article was originally published on Real Money on April 30 at 11:44 a.m. EDT.
This article is commentary by an independent contributor. At the time of publication, the author held no positions in the stocks mentioned.