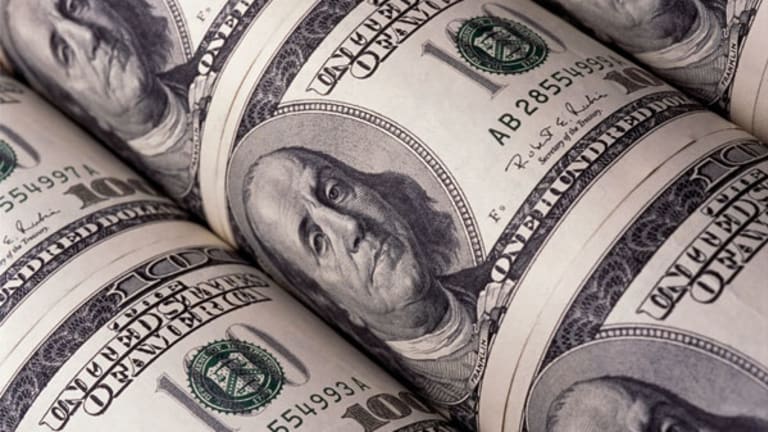 There You Have It; The Day's Trades: Doug Kass' Views
Doug Kass shares his thoughts on whether there's any there, there, and reveals some recent trades.
Doug Kass shares his views every day on RealMoneyPro. Click here for a real-time look at his insights and musings.
There You Have It!
Originally published May 19 at 2:59 p.m. EST
"There is no there there."
- Gertrude Stein
This week--both on the downside AND upside--we have seen the disruptive impact of late day ETF rebalancing and Quant strategies (e.g. risk parity and volatility trending) on the the US stock market.
If you are on the right side of the markets its terrific--if not, not so much!
To me, more than ever, price is no longer truth--and the charts you are looking are as much fugazi as truthful.
Volatility is likely now back so consider reducing your "VAR" (value at risk) and overall exposure as the market rips higher--because the sort of swings we have seen this week could become more commonplace.
There is no there there.
And, enjoy the weekend.
Thanks for reading my Diary today and during the entire week.
Position: None.
Today's Trades

Originally published May 17 at 1:29 p.m. EST
I post this in the interest of full disclosure.
As always I trade around my positions--and I did a lot of that!
In the fullness of time I beileve the markets are heading lower as expressed in my opening missive.
I covered my entire SPDR S&P 500 ETF Trust (SPY) - Get SPDR S&P 500 ETF Trust Reportshort at around $237.60. (A bit of premature eradication given the " dip of death" after my cover!)

I sold my June ProShares UltraShort S&P500 (ETF) (SDS) - Get ProShares UltraShort S&P500 Report calls for a small profit.
I moved from medium sized to small size SPDR Gold Trust (ETF) (GLD) - Get SPDR Gold Shares Report --taking a very nice profit in only a few days.
I covered my Micron (MU) - Get Micron Technology, Inc. Reporttrading short (and last week's Trade of the Week) for a small loss. I should have been more patient as the shares got hit right after I covered!
I added to the following longs: Energy Select Sector SPDR (ETF) (XLE) - Get Energy Select Sector SPDR Fund Report , Allergan (AGN) - Get Allergan plc Report , Macy's (M) - Get Macy's Inc Report and Nordstrom JWN (new position).
I am offering out shorts on six individual equities.
I am "eyeing" a bond short, as/if the 10-year US note yield moves towards 2.20%.
No small apartment on Mosholu Parkway in Da' Bronx today--in the largest one day drop since September!
I remain net short.
Position: Long SDS large, SQQQ large, GLD, XLE, AGN large, M, JWN small; Short QQQ small.
Action Alerts PLUS, which Cramer manages as a charitable trust, is long AGN.