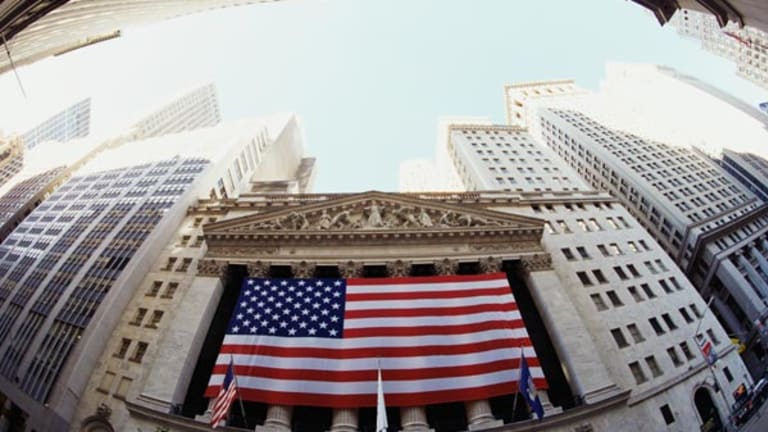 The Week's Best and Worst Mutual Funds
Teva boosts Amidex35 Israel; Northern Dynasty Minerals drags down Ameritor Security Trust.
It's crucial for investors to be in the best-performing mutual funds to suit their investment strategies. TheStreet.com Ratings analyzes mutual funds by investment classes so investors know which ones are performing well -- and which are not.
Below is our recap of the best and worst performers in a variety of open-end mutual fund classifications for the week ending Oct. 4. All total-return figures and stock-price movements were computed over that Wednesday-to-Wednesday period.
Large-Cap
The top-performing large-cap fund was the
(AMDEX) - Get AMIDEX35 Israel E Report
Amidex35 Israel Mutual Fund (AMDEX), which grew 2.9%. Its top holding,
Teva Pharmaceuticals
(TEVA) - Get Teva Pharmaceutical Industries Limited Sponsored ADR Report
, advanced 2.8%. With a drubbing of 5.8% for the
(TAGRX) - Get JHancock Fundmntl Large Cap Core A Report
John Hancock Large-Cap Equity Fund's (TAGRX) largest position of
British Energy Group
(BGY) - Get BlackRock Enhanced International Dividend Trust of Benef Interest Report
on the recent reversal in energy prices, the fund lost 2.4% of its value.
Mid-Cap
The
(AFMAX)
AFBA 5Star Mid Cap Fund (AFMAX) rose 2.2%; its largest holding,
Checkfree
(CKFR)
, moved up 2.1%. The
(ADJEX) - Get Azzad Ethical Report
Azzad Ethical Mid-Cap Fund (ADJEX) fared less well, down 1.3%, as holding
Questar
(STR)
gave up 2.1%.
Small-Cap
The
(BUFSX) - Get Buffalo Small Cap Investor Report
Buffalo Small-Cap Fund (BUFSX) improved by 2.2%, bolstered by a 4.4% bump in
WMS Industries
(WMS) - Get Advanced Drainage Systems, Inc. Report
. On the downside,
(ASTRX)
Ameritor Security Trust Fund (ASTRX) slid 2.7% as its position in Canada's
Northern Dynasty Minerals
(NDM)
was cut by 11.3%.
Aggressive Growth
Insider buying by a
Goodrich
(GR)
director added 2.2% to the stock and 2.1% to the
(HCMAX) - Get Hillman Value Report
Hillman Focused Advantage Fund (HCMAX). The
(NCAPX)
New Century Opportunistic Portfolio (NCAPX), a fund of funds, slipped 1.4% as its largest fund holding,
iShares Goldman Sachs Natural Resources Index Fund
(IGE) - Get iShares North American Natural Resources ETF Report
, gave back 3.4%.
Growth
(NVLCX)
The Wells Fargo Large Company Growth Fund (NVLCX) rose 2.9%; its biggest holding,
eBay
, skyrocketed 10.3%. On the other hand,
Ceradyne's
(CRDN)
delinquency in financial reporting cost that company's stock 6.5%, and the
(OBEGX) - Get Oberweis Global Opportunities Inv Report
Oberweis Emerging Growth Fund (OBEGX) 1.9%.
Growth & Income
An appreciation of 3% in
Morgan Stanley
(MS) - Get Morgan Stanley (MS) Report
pushed the
(NEFOX) - Get Natixis Oakmark A Report
IXIS-Harris Associates Large Cap Value Fund (NEFOX) higher by 1.6%. The
(NCCPX)
New Century Capital Portfolio (NCCPX), another fund of funds, fell 1.0% as crude prices pushed down its holding of
iShares Dow Jones US Energy Sector Index Fund
(IYE) - Get iShares U.S. Energy ETF Report
by 2.7%.
Index
The
(RYVYX) - Get Rydex NASDAQ-100 2X Strategy H Report
Rydex Dynamic OTC Fund (RYVYX), which aims to return twice as much as the
Nasdaq 100
, popped 2.7% as
Microsoft
(MSFT) - Get Microsoft Corporation (MSFT) Report
edged 1.8% higher. The Azzad Ethical Mid Cap Fund, which also topped the mid-cap decliners, was down by 1.3% as 4.1% was pumped out of
Noble Energy's
(NBL) - Get Noble Energy, Inc. (NBL) Report
value.
Sector
Pumped by
Google's
(GOOG) - Get Alphabet Inc. Class C Report
3.2% ascent, the
(INPIX) - Get ProFunds Internet UltraSector Inv Report
ProFunds Internet UltraSector ProFund (INPIX) jumped 5.5%. As the Dow Jones Precious Metals Index headed in the other direction by 6.4%, the
(PMPIX) - Get ProFunds Precious Metals Ultra Inv Report
ProFunds Precious Metals UltraSector ProFund (PMPIX), which tracks 150% of the index return, was slashed by 9.6%.
Value
The
(MBOVX) - Get M Funds Inc Business Opport Value Report
Business Opportunity Value Fund (MBOVX) climbed 2.5% with the help of a 3.6% boost engineered by
Biogen Idec
(BIIB) - Get Biogen Inc. Report
. The John Hancock Large-Cap Equity Fund, which was also the large-cap loser, shed 2.4% as its second-largest holding of
Agnico-Eagle Mines
(AEM) - Get Agnico Eagle Mines Limited Report
became 11.4% more undervalued.
Emerging Market
The
(NECAX)
ING Emerging-Countries Fund (NECAX) rose 1.7%, and its top holding of
Partner Communications
(PTNR) - Get Partner Communications Co. Ltd. Sponsored ADR Report
jumped by 6.5%. A 1.7% dip in
Samsung Electronics
helped scrape 0.7% off the Templeton Institutional Fund's
(TEEMX)
Emerging-Markets Series (TEEMX).
Editor's Note: Over a three-year period, funds in sectors tend to move together, but they can diverge greatly in week-to-week performance. As this article focuses on one-week returns, it is not intended to agree with our ratings that examine time periods of as long as three years. Therefore, it is likely that either the winners or losers may disagree with our longer-term outlook. As a fund being up or down in any given week is not a reason to buy or sell that fund, please be sure any potential investment fits your long-term portfolio goals.
Kevin Baker became the senior financial analyst for TSC Ratings upon the August 2006 acquisition of Weiss Ratings by TheStreet.com, covering mutual funds. He joined the Weiss Group in 1997 as a banking and brokerage analyst. In 1999, he created the Weiss Group's first ratings to gauge the level of risk in U.S. equities. Baker received a B.S. degree in management from Rensselaer Polytechnic Institute and an M.B.A. with a finance specialization from Nova Southeastern University.