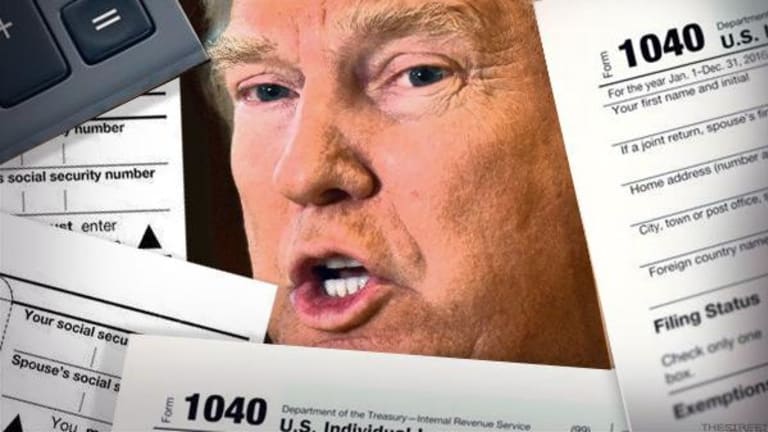 Week Ahead: Tax Reform or ... Bust
As Trump and the GOP pivot from their Trumpcare debacle to tackle tax reform, a repeat of their missteps could trigger the expected correction. Here's what to look for.
Campaigning in 2016, presidential candidate Donald Trump declared: "Obamacare. We're going to repeal it, we're going to replace it, get something great. Repeal it, replace it, get something great!"
Trump also asserted: "Everybody's got to be covered."
Surveying events in Congress this past week brings to mind the catchphrase of the Saturday Night Live character Emily Litella: "Nevermind."
In the week ahead, keep an eye on two sectors: financial services and health care.
You can expect volatility among bank stocks, as Republican effectiveness on tax reform comes under merciless scrutiny. Conversely, with uncertainty over Obamacare repeal off the table, the health industry should breathe a sigh of relief. Hospital and managed care stocks, in particular, are positioned to rally.
Friday's drama on Capitol Hill was a watershed moment for investors.
President Trump and House Speaker Paul Ryan suffered a humiliating defeat Friday afternoon shortly before the market closed, when Ryan was compelled to pull the American Health Care Act (AHCA), otherwise known as "Trumpcare." It was increasingly apparent that the widely hated AHCA was well short of the votes needed to pass. A chastened Ryan said Friday: "Obamacare is the law of the land."
Now Team Trump turns to tax reform, but Wall Street is nervously asking: can Trump deliver on any of his promises? Trump sold himself as a master negotiator, the consummate practitioner of the "art of the deal," but after Trumpcare's disastrous demise, investors aren't so sure.
The messy political wrangling over Trumpcare this past week has weighed on stocks. The S&P 500 (SPY) - Get SPDR S&P 500 ETF Trust Report closed the week down 1.23%, with bank stocks among the hardest hit. The benchmark Financial Select Sector SPDR ETF (XLF) - Get Financial Select Sector SPDR Fund Report closed on Friday with a loss of 3.36% for the week.
Since Nov. 9, the upward momentum in stocks has been driven by optimism over Trump's pro-business policies, especially his vow to slash corporate and personal income taxes. Indeed, a key component of Trumpcare was a reduction in taxes for the wealthy.
Yet the market has fallen in recent weeks as investors start to worry that perhaps the emperor in the Oval Office is wearing no clothes.
Trump's team is now chomping at the bit to tackle tax reform. The president was mocked by Democrats for saying "nobody knew health care could be so complicated." He will discover that changing the tax code is complicated, too. Perhaps more so.
The financial community is waiting to see if the president has the political clout and skills to get the job done. So far, the signs aren't encouraging. In the meantime, stocks that are integral to Obamacare's managed care controls are likely to soar in coming days.
These health sector equities include Molina Healthcare (MOH) - Get Molina Healthcare, Inc. Report , which jumped 4.64% on Friday after it became obvious that Trumpcare was dead. Molina operates health plans for millions of Americans eligible for Medicaid, Medicare and other government-sponsored programs.
Also on Friday, major for-profit hospital operators posted the following big gains: Community Health Systems (CYH) - Get Community Health Systems, Inc. Report (+7.40%), Tenet Healthcare (THC) - Get Tenet Healthcare Corporation Report (+9.66%), LifePoint Health (LPNT) (+3.50%), HCA Holdings (HCA) - Get HCA Healthcare Inc Report (+3.45%), and Universal Health Services (UHS) - Get Universal Health Services, Inc. Class B Report (+2.58%). The S&P 500 was down 0.08% for the day.
Brace yourself for market choppiness in the days ahead. If tax reform runs into trouble, the overvalued stock market will probably head south.
It's Not the "Next Big Thing." It's the ONLY Thing.
Forget Facebook and the one billion people who log in to their accounts every day... Forget Netflix and the 10 billion hours of video users stream every quarter... And forget Amazon and the one trillion files customers have stored in its "cloud"... These corporate giants (and thousands like them) depend on ONE company to survive. And even though you've probably never heard its name, it may be the most exciting - and profitable - tech investment in decades. Click here for the full story.
John Persinos is an analyst with Investing Daily. At the time of publication, he owned none of the stocks mentioned.