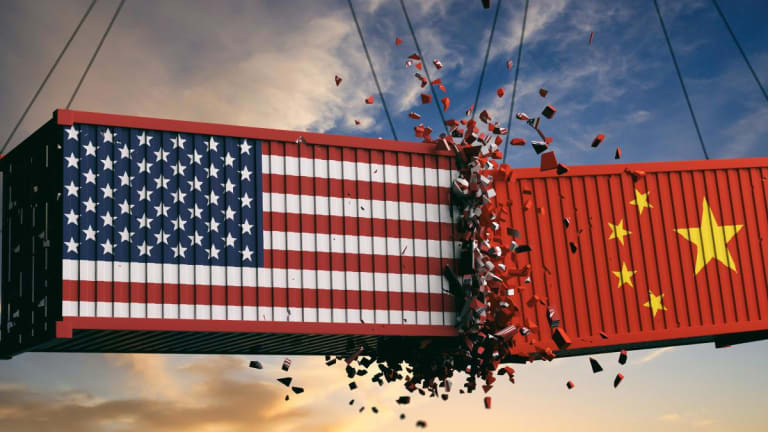 The View From Asia: Trump-Xi Deal Is Just a Temporary Truce
Still, the agreement has eased immediate fears, which were undoubtedly unsettling investors in Asia.
It was over Argentinian steak that Chinese President Xi Jinping and his U.S. counterpart President Donald Trump hashed out a trade truce in Buenos Aires over the weekend. But it is Chinese factory owners who will be most relieved.
Xi and Trump agreed for a ceasefire in their increasingly fraught war, meaning U.S. tariffs will not raise from 10% to 25% on Jan. 1, as planned, with further talks to hash out future trade to come.
Here in Asia, we are well aware that this is only a temporary truce. Hostilities have only been suspended for 90 days. Trump continues to play both roles in the good cop/bad cop routine with Xi, sweet talking Xi in person. That kind of "face" goes down very well in China, where both the government and the people at large are desperate for recognition on the world stage.
No doubt, the agreement has eased immediate fears, which were undoubtedly unsettling investors in Asia. Emerging markets in particular have been paying a heavy price, more so as investors try to reduce risk than because of any direct effects from the trade war.
I'm writing this from Jakarta, and the Indonesian rupiah has been shaken like a palm-oil plant in a typhoon by potential disruptions to economic growth in the region, as well as U.S. interest rates rising. Earlier this year, the rupiah sank to levels last seen during the Asian financial crisis 20 years ago.
The central Bank Indonesia has raised rates six times this year, for a total of 175 basis points since May. It says it cannot avoid raising interest rates to defend the currency, and as regional peers such as the Philippines and India do the same.
The rupiah has shot up, however, in the last month as geopolitics and trade tensions looked a little more settled. Indonesian companies have way less U.S. dollar debt than in 1998, the last currency low, when many buckled or went bankrupt trying to service overseas borrowing.
There's a green wave that washed over Asian equity markets on Monday. Stocks were up across the board, and particularly in China, with the CSI 300 up 2.8% at the close. The other major gainers are Hong Kong, with the Hang Seng up 2.6%, and Singapore, where the Straits Times is up 2.3%, both city states are major finance and service providers to exporting manufacturers through the region.
Vietnam's manufacturers are the biggest beneficiaries if Chinese companies face difficulties shipping out of the region. Yet the very small Ho Chi Minh Stock exchange is up 2.7% for Monday. Korean stocks show an advance of 1.8%, and the major Japanese indexes, the Nikkei and the Topix, both are up 1.3% at the end of trade.
One of the most noteworthy stocks to watch on China trade is Samsonite International (HK:1910) (SMSOF) , up nearly 6% on Monday. The luggage maker, now based in Hong Kong despite its storied U.S. history, imports 80% of the cases that it sells in North America from China.
Samsonite is still down 33% since the start of last year. The other main driver of future growth will be Chinese tourism, which continues to boom globally, and in Asia in particular.
Lenovo Group (HK:0992) (LNVGY) is also worth putting on the trade-war watch list. The computer maker has rallied 56% since April, and are up a "modest" 2% after Monday trade. But it also remains well below half off its 2015 highs, and is a tech stock that's currently moving in the right direction.
Power tools maker Techtonic Industries (HK:0669), which manufactures the brands Milwaukee Tool, Empire and Homelite, is a US$10.5 billion company heavily exposed to China-U.S. trade. Its shares are up 7% in response to the weekend's news, and could benefit from follow through for some time to come.
Trump's actions on trade have unpredictable effects. U.S. tariffs were due to affect US$200 billion worth of trade, while Beijing has already responded with its own duties on US$60 billion in American imports.
The first batch of US$50 billion in tariffs imposed by Trump already, in effect since August, affected mainly Chinese machinery and electronic parts. The second round is weighted toward consumer goods such as cosmetics, textiles, tissues and suitcases.
Exports in Asia have already tumbled as trade tensions tightened, and sentiment has been quite pessimistic. Nomura's leading index of Asian exports, looking at eight forward-looking factors, fell to its lowest level in two years for December. The signs point to a prolonged downturn - three China-linked factors are propping up the index due to front-loading ahead of higher tariffs, some now in effect, some delayed.
The pace of Asian growth is still the envy of much of the rest of the world. But it is slowing, forecast at 5.8% for 2019 by the Asian Development Bank, which would be the slowest pace since 2001.
Growth in China is already at its lowest level since the Global Financial Crisis. Its 6.5% rate for this year is due to fall to 6.0% in 2019, as forecast by Oxford Economics. That would be the slowest rate since 1990 -a quarter of a century - after which it will only continue its rapid descent.
Trump was busy in Buenos Aires, also signing the revamped version of NAFTA, the United States-Mexico-Canada Agreement, which is due to be ratified next year. Together with separate side deals that Trump has struck with both Mexico and Canada, the new NAFTA doesn't change much, mainly affecting the automobile industry, but these revised trade agreements are unsettling for multinationals planning for future growth.
Here in Asia, the most-noticeable first impact is on Chinese factories. Already contending with rising labor costs, production facilities on the crowded, developed east coast are shuttering as manufacturers move plants inland.
My factory-owning friends and contacts in Hong Kong are shuttering plants in Guangdong Province and searching for hinterland sites. Rule changes in the way that industrial land is treated in Guangdong are allowing for factories to be converted to "industrial offices" if they service a manufacturing operation - and offices can charge much higher rents. So speculators are buying industrial sites in the hope they can rezone and reposition the land.
The prospect of higher tariffs for goods made there is encouraging companies to shift production to neighboring Vietnam. Manufacturers with existing operations in both China and Vietnam are expanding the Vietnamese facilities; those who were looking to relocate operations within China now do so across its borders.
I'll have more investment ideas from Asia as the fallout unfurls. Investors in this part of the world were starting to favor China stocks with heavy exposure to domestic consumption. The latest developments reignite hope for companies with sales farther afield.
At the time of publication McMillan had no position in the securities discussed.
This column originally appeared on Real Money, our premium site for active traders. Click here to get more great columns like this.