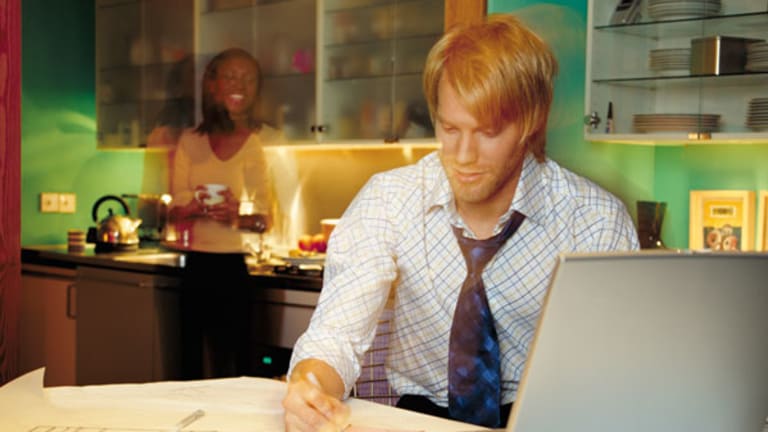 The Ugly Outlook for Big Tech
In a few weeks, the gloom of second-half realities will be sinking in. So rotate into energy and basic materials.
Editor's Note: Jon D. Markman writes a weekly column for CNBC on MSN Money that is republished here on
TheStreet.com.
Over the next month, investors' focus will turn from the ethereal to the concrete as reports of companies' second-quarter earnings -- and guidance for the second half -- replaces speculation on the direction of interest rates.
While the first week or two of earnings season may tease out traders' animal spirits, by the end of July it will probably feel like concrete is actually weighing down the mood as higher interest rates, rising energy costs and softening consumer and business spending poison second-half forecasts, even if second-quarter numbers are themselves not so bad.
This is a classic case of being careful what you wish for, as investors have prayed recently that the economy has slowed enough to encourage the
Federal Reserve
to curb its campaign to carpet-bomb inflation by raising interest rates.
Early reports suggest U.S. economic growth has probably slowed to 2.5% annually from its torrid first-quarter pace, which should make Fed governors pause by September. That's supposed to be good news, but if true, it means we're probably only halfway through a period of adjustment to lower expectations -- and lower share prices.
Why Technology Looks Tapped
So far, it looks as though technology companies are in line to suffer disproportionately in the transition to a less expansive second-half outlook, while energy and basic-materials companies' forecasts will provide a strong counterbalance. Of course, results will vary widely, but even the companies with the strongest fundamental stories are likely to struggle as investors exhibit their lack of confidence in the future by allowing price-to-earnings multiples to shrink to two-decade lows.
How deep have expectations already sunk? According to Thomson Financial data, analysts have slashed technology companies' outlook by a third in the past three months, which is a ton. On April 1, second-quarter earnings growth was expected to come in at 15% year over year; now growth is expected to come in at 10%.
The skid is largely a result of remarkably poor execution at increasingly complex large technology companies: Of the 72 tech companies in the
S&P 500
, 39 have had their estimates cut since April 1.
The trend is ugliest for the old warhorses, as
Microsoft
(MSFT) - Get Microsoft Corporation Report
,
Intel
(INTC) - Get Intel Corporation Report
and
Dell
(DELL) - Get Dell Technologies Inc. Class C Report
amount to two-thirds of the total of estimate reductions.
Consensus estimates on Intel have fallen to 14 cents a share from 22 cents since April 1, while Microsoft estimates are down to 30 cents a share from 34 cents and Dell is down to 32 cents a share from 39 cents.
One of the most reliable indicators of future price performance over the 2003-05 bull market was rising earnings estimate revisions, so this trend of negative revisions at big-cap tech, which has been going on for a while, is quite worrisome and shows no signs of reversing. Negative estimate revisions tend to snowball, as analysts never seem to cut enough at any given time, so they have to keep cutting.
Moreover, historically, investors themselves are slow to react to downward revisions. A few relevant examples: Intel guided its second quarter down on April 19, complaining of high inventory levels at companies, but the stock didn't really start to crack hard until May. Microsoft guided down on April 27 and shares have fallen 17% since, while Dell guided down on May 8 and shares have fallen 10% since.
Lost Confidence
While good news tends to be priced into stocks quickly, bad news often lingers in investors' minds before catalyzing a decision to sell. That is why the topping formations on a stock chart take so long to develop among onetime favorites like the big techs. Investors keep hoping that the bad news will end soon, and bid them cautiously up during the week or two before earnings are actually released. That makes the shares fall all the harder once grim news -- in this case, a sour second-half outlook -- is actually dispensed.
One way to recognize when the market is really losing confidence in stocks is to observe the decline in the "multiples" of earnings that they are willing to pay. And this is one of the most worrisome trends of all for tech fans. Let me explain.
When investors are confident that companies are going to do much better in the future than the present, they are willing to pay more for every penny of earnings. The baseline standard for growth investors is a multiple on earnings that is equal to a company's growth rate.
Take a company whose earnings are growing at 15% a year. Investors ideally would pay 15 times next year's earnings for the stock. If the company earned $1 a share last fiscal year and everyone agreed it will earn $1.15 a share next year, the 15 times multiple would yield a price target over the next year of $17.25.
If investors were really, really certain that the 15% growth would be achieved, and there was reason to hope for 20% growth or more, they would be willing to give it a higher earnings multiple. Enthusiasm could lift the multiple to 25 times or even 30 times, yielding a price target of $34.50 instead, even if the actual earnings number remained the same.
Rising earnings multiples are the secret sauce that drives great bull markets, but when the movie plays in reverse, multiples "contraction" is also the hidden depressant that saps stock-price appreciation even when actual earnings results seem fine.
Right now, the price-earnings-multiple movie is definitely in rewind mode. According to Thomson Financial data, the S&P 500's 12-month forward price-earnings multiple stands at 13.7, which is the lowest for the broad market since 1995 and represents a 4.2% decline from a year ago.
Since the market has actually slipped more than its forward earnings have (the S&P 500 is down 6% since mid-May, vs. a 1% increase in earnings projections), you can see that fear of the future is really taking hold. Another way to put it is that risk tolerance has vanished as investors fret on two fronts: that the Federal Reserve is falling behind in its battle against inflation and that its medicine is killing the economy.
Price-earnings multiples have fallen the most in technology, energy, utilities and basic-materials stocks for very different reasons. Tech multiples have contracted over worries about corporate and consumer spending, while energy multiples have contracted over worries that oil and gas companies can't do much with windfall profits gained in the past year because there are so few new places to explore.
Ready to Rotate
My conclusion is that the fears over future growth for technology companies are well-founded while fears over energy and materials companies' ability to grow are misplaced. Materials companies, in particular, have seen earnings estimates double over the past three months, from an expectation of 7% growth on April 1 to expectations of 17% growth today, according to Thomson data.
The next week is typically very positive for tech companies, so if you agree, then consider selling tech stocks by the third week of the month and rotating the money into the dozens of undervalued energy and materials companies with high StockScouter ratings.
In energy, a few names are
Halliburton
(HAL) - Get Halliburton Company Report
,
Smith International
( SII),
Berry Petroleum
(BRY) - Get Berry Corporation (bry) Report
,
XTO Energy
( XTO) and
Arch Coal
(ACI) - Get Albertsons Companies Inc. Class A Report
.
In materials, consider
Aracruz Celulose
(ARA) - Get American Renal Associates Holdings, Inc. Report
,
Allegheny Technologies
(ATI) - Get Allegheny Technologies Incorporated Report
,
NS Group
(NSS) - Get NuStar Logistics L.P. 7.625% Fixed-to-Floating Rate Subordinated Notes due 2043 Report
,
Florida Rock Industries
( FRK) and
Freeport-McMoRan Copper & Gold
(FCX) - Get Freeport-McMoRan Inc. Report
. All are rated 9 or 10 by StockScouter.
At the time of publication, Markman owned shares of Microsoft and Dell, although positions may change at any time.
Jon D. Markman is editor of the independent investment newsletter The Daily Advantage. While Markman cannot provide personalized investment advice or recommendations, he appreciates your feedback;
to send him an email.