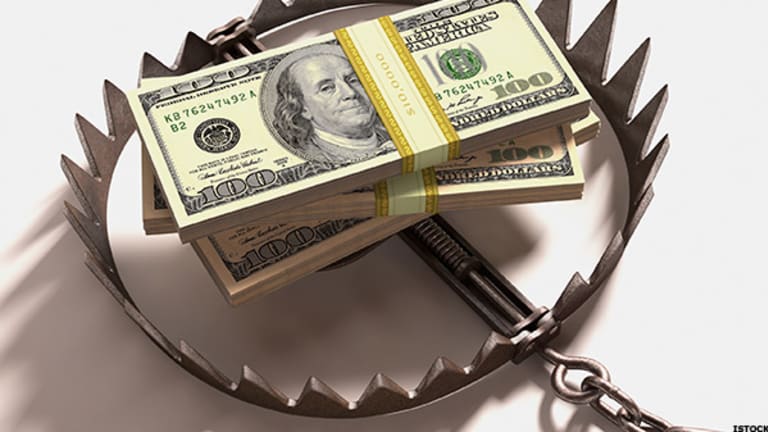 Publish date:
The Trump Bounce Gives Way to a Bear Trap
Donald Trump's election shocked the world and ignited stocks. Brace yourself for more surprises, as key market indicators turn negative.
Donald Trump's election shocked the world and ignited stocks. Brace yourself for more surprises, as key market indicators turn negative.
The 2016 presidential election resembled a spectacle staged by the World Wrestling Federation. Now that the jaw-dropping stupidity is over, investors face some hard truths.
Widely followed analysts are calling for an imminent correction that will usher in a prolonged down market, a gloomy assessment that looks more credible with each passing day. Some are even predicting a full-blown financial crisis in 2017, triggered by the bursting of the international bank debt bubble.
The giddy market rally that followed Donald Trump's surprise victory has fizzled, as the challenges ahead become more apparent.
A president is not a king, Trump's regal demeanor notwithstanding. Laws are crafted and passed in the national legislature and Trump's agenda will encounter many obstacles, even in the conservative GOP-controlled Congress. Consider his promised infrastructure-spending spree, which initially cheered the markets. As details come to light, this supposed Keynesian stimulus is starting to look like smoke and mirrors (if not crony capitalism).
Trump's proposed program isn't designed to directly fund new roads, bridges, water systems or airports. It's a privatization plan comprising tax breaks and subsidies for utility and construction companies. If history is any guide, many of these companies will be Trump businesses and partners.
What's more, Trump's infrastructure plan already is encountering resistance from Republican deficit hawks, who are insisting on spending cuts in other programs to offset the costs of the tax breaks.
However, investors can count on one assured growth opportunity: defense contractors will thrive under the new administration. The incoming commander-in-chief is inexperienced and girding for confrontation, a recipe for heightened international tensions.
America faces a multiyear boom in military spending, which makes aerospace/defense giants superb defensive growth plays. Your best bets are U.S.-based blue chips with close Pentagon ties, notably Lockheed Martin (LMT) - Get Report , Boeing (BA) - Get Report , Raytheon (RTN) - Get Report , and General Dynamics (GD) - Get Report . (Ret. Gen. James Mattis, Trump's pick for defense secretary, has close ties to General Dynamics.)
We also recommend high-quality gold investments, such as low-cost gold miner Goldcorp (GG) , as a jittery 2017 heralds a sustained mania for the yellow metal.
In today's "post-truth" political environment, conventional rules and facts don't seem to apply. But the spin doctors and misinformation gurus can't repeal the laws of finance. And these immutable laws are pointing to trouble ahead.
The bull market is more than seven years old, ancient by historical standards. Spawned in the spring of 2009 amid the ruins of the Great Recession, the current market upswing is the second longest in U.S. history, surpassing the winning streak that stretched from 1949 to 1956. We're long overdue for a correction.
Additional red flags for a market correction include high trading volumes, extreme volatility, and excessive valuations. Stocks over the past 10 years have sported a trailing price-to-earnings ratio (P/E) of 15; they now hover at a trailing P/E of about 25.
Another warning sign is bad breadth, which occurs when fewer and fewer stocks are participating in the upswing. It usually means that the major indices are at a peak, because a minority of companies is driving overall market performance. Analysts are expressing concern that equity breadth has been declining over the past couple of months.
To be sure, U.S. economic growth has remained on track, but the recovery is on course for a cyclical pullback. In the week ahead, keep an eye on these economic reports, which will provide clues as to the recovery's momentum:
Monday: Gallup U.S. Consumer Spending Measure; PMI Services Index; ISM Non-Manufacturing Index; Labor Market Conditions Index. Tuesday: Factory Orders. Wednesday: MBA Mortgage Applications; Gallup U.S. Job Creation Index; Consumer Credit. Thursday: Jobless Claims; Bloomberg Consumer Comfort Index. Friday: Consumer Sentiment.
Another bright spot for investors is the apparent end of the corporate earnings recession. According to research firm FactSet, the estimated earnings growth rate for the S&P 500 (SPY) - Get Report in the fourth quarter of 2016 is 3.3%. If this projection comes to pass, it would mark the first time the companies of the index have witnessed year-over-year growth in earnings for two consecutive quarters since Q4 2014 and Q1 2015.
This sanguine projection comes on the heels of a strong third-quarter earnings performance. As of Dec. 2, with 99% of the companies in the S&P 500 reporting earnings for the third quarter, 72% have reported earnings above the mean estimate. Adding to the rosy earnings picture is the rising price of oil, in the wake of OPEC's recent production curtailment accord.
To be sure, there's still good news to go around. But you should remain cautious. Even if a market calamity isn't around the corner, key indicators are turning negative. Whether you love Trump or hate him, don't get caught up in unwarranted euphoria and overpay for stocks. Time-proven financial laws can't be ignored, no matter who occupies the White House.
Worried about a bear market? We've found a genius trader who makes this bold promise: "If I don't deliver 24 triple-digit winners in the next year...I'll give up $1,950." His top-tier trading service reeled off twenty-four triple-digit winners in less than a year, along with more than thirty double-digit winners thrown in for good measure. And he racks up these profits in up or down markets. Get the details here.
John Persinos is an editorial manager with Investing Daily. He's also an analystwith Virginia-based Teal Group, an aerospace/defense consultancy. At the time of publication, Persinos owned stock in Boeing and Raytheon.