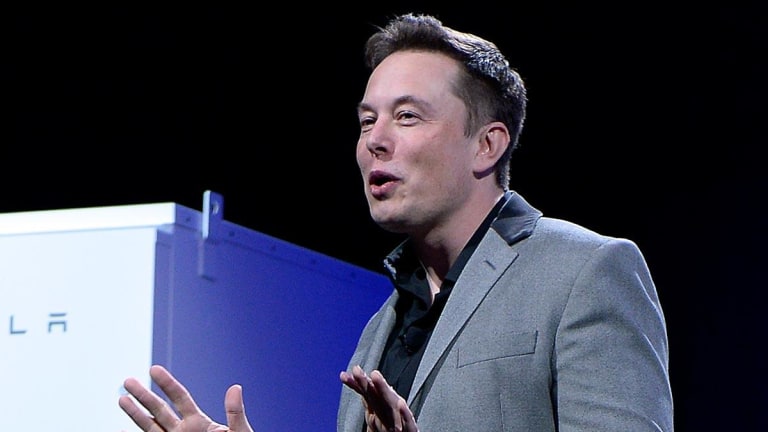 The Tesla Trade? There Is None!
An even more positive vibe would be that the firm's board seems to understand that Musk's leadership is anything but.
Can this Tesla (TSLA) - Get Report story get any more interesting?
For those of you who were following the short position that I initiated in this name in anger back on Tuesday, and did not catch my updates... I am now flat Tesla (TSLA) - Get Report . I bought back the shares yesterday morning for a pedestrian profit. While a more aggressive trader might have profited to a greater degree by holding out until late Thursday, this trader, who has managed to stick around for a few decades, was happy quite honestly to complete the trade effectively with his shirt intact.
The Elon Musk loving Twitter (TWTR) - Get Report crowd did not take very kindly to a well published trader shorting their favorite name near the top of its range. That crowd clearly does not understand what traders try to do for a living, and seems unable to comprehend that difference in opinion is what creates a market. So it is, when writing on a name that brings with it emotional baggage for the many, that one must accept that fact that the haters are waiting.
So, What Now?
On Thursday afternoon, Bloomberg News cracked a story that the Securities and Exchange Commission was increasing its already announced scrutiny of Tesla CEO Elon Musk's Tuesday tweet-storm regarding the privatization of his firm. Now, the SEC would look into whether or not Musk's tweet inferring information on funding was meant to be factual. This is in addition to what we already knew the SEC was looking at, which would include public dissemination of information covering manufacturing goals and sales targets. Bear in mind that SEC inquiries are common, and this does not mean anything in the way of a formal investigation is on the way.
Investors must understand that while many of us might not like it, the use of social media as a means for communication between a corporation and the public is not likely under scrutiny. This method of communication would find shelter under a prior ruling made after Netflix (NFLX) - Get Report CEO Reed Hastings used Facebook (FB) - Get Report as means of such communication back in 2012. The sticking points there would be that the firm must have already alerted the public that said firm is likely to communicate in this way, and that access must not be restricted.
The potential problem would be that the firm had not disclosed any sources for the financing of such a large deal. All they had done was issue a statement by the board indicating that the matter had been discussed.
Why Is Tesla Rallying Overnight?
After last night's close, CNBC reported that Tesla's Board of Directors would confer with financial advisers to discuss the "process to explore" what Musk had unveiled through Twitter on Tuesday. The most important part of what was reported last night is the following. The board is likely to ask the firm's CEO, Chairman, and largest shareholder to recuse himself from this review and hire his own team of advisers.
The positive vibe here is that the ball might just be rolling toward privatization. An even more positive vibe would be that the firm's board seems to understand that Musk's leadership is anything but. The man is obviously a genius, but is prone to erratic and questionable behavior. Character traits that are not helpful at times like this.
The Trade
I have been asked by followers this week about playing one of my favorite games... selling out of the money puts regarding Tesla. Are you guys crazy? I play that game in names that I am comfortable buying in lots of 100 shares at discounted levels that I have already decided would provide risk/reward probabilities that line up in my favor. Can you say that here?
Can any investor really with any confidence at all say that they think the firm will not go private at a significant premium? This stock has proven many of us wrong before. On the other side of that coin, can any among us honestly predict what comes of the SEC inquiry? Once the Feds are involved, I find some other place to speculate. For me, this one is over and out.
Facebook is a holding in Jim Cramer's Action Alerts PLUS member club. Want to be alerted before Jim Cramer buys or sells FB? Learn more now.