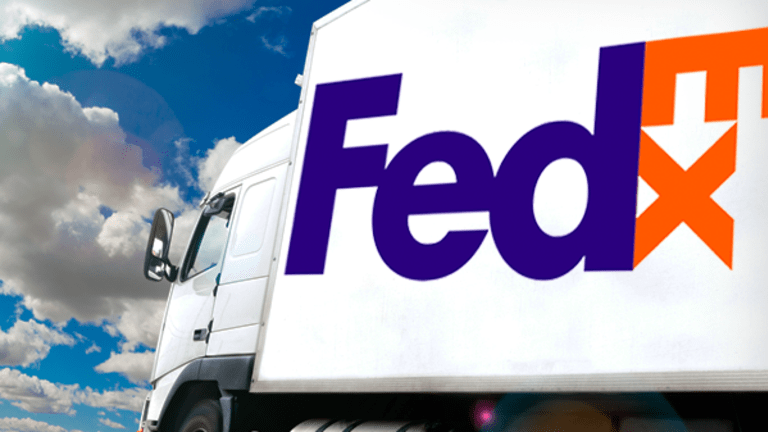 Publish date:
The Surprising Rise of Bellwether FedEx: Behind The Numbers
FedEx is widely viewed as a proxy for the overall economy and its latest earnings guidance provides optimism for increasingly discouraged investors.
FedEx is widely viewed as a proxy for the overall economy and its latest earnings guidance provides optimism for increasingly discouraged investors.
Cognitive dissonance is gripping the stock market, as post-election exuberance over Trump's pro-business promises collides with a darkening political reality. However, the upbeat prospects of one stock, in particular, should give investors hope for growth in 2017: FedEx FDX.
Despite the delivery giant's earnings miss on Wednesday, management's rosy guidance saved shares from tumbling. As the broader market seesawed throughout the day, FDX shares rose 2.13%. Let's examine why FedEx is a good buy now and a reliable barometer of the global economy's health.
FedEx encompasses four segments managed collaboratively under the umbrella of its universally recognizable logo:
FedEx Express, the world's largest overnight delivery company, offers time-certain delivery within one to three business days; FedEx Ground provides low-cost, small-package ground delivery service to every business address in the U.S. and Canada, as well as residential delivery to nearly 100% of U.S. residences; FedEx Freight handles less-than-truckload freight services; and FedEx Services provides other companies with sales, marketing, and technology support.
For more than three decades, FedEx has been synonymous with express delivery, an activity that moves in tandem with business expansion. Indeed, the company's familiar brand name has become a generic term for overnight delivery. But rather than rest on its laurels, FedEx has executed shrewd strategic moves that further distance itself from competitors such as UPS UPS.
With a $52.21 billion market cap, FedEx last year put its sizable cash war chest to good use acquiring rival TNT Express in a $4.8 billion deal integrating the rivals' respective strengths. FedEx is the world's largest air express network, and TNT is a vast European road network. The move expanded FedEx's room for growth and created a global transportation and logistics behemoth.
FedEx on Wednesday delivered an ostensibly lackluster earnings scorecard. The company's third-quarter fiscal 2017 (ended Feb. 28, 2017) earnings per share (EPS) on an adjusted basis of $2.35 missed the consensus estimate of $2.63. Earnings declined 6.4% on a year-over-year basis. The main culprit: rising fuel costs.
Quarterly revenues increased 18.1% year over year to $14.99 billion, topping the $14.95 billion consensus estimate.
But here's the real story: management expects robust fourth quarter operating results. The company forecasts EPS in the range of $11.85-$12.35, excluding TNT Express-related integration expenses and other costs. As FedEx adjusts to rising fuel costs by calibrating its fuel adjustment surcharges, the company's solid fundamentals will hold it in good stead.
With a trailing 12-month price-to-earnings ratio of 28.79, FedEx's valuation is in line with UPS (27.52) and far cheaper than XPO Logistics (XPO) - Get Report (90.25).
The average analyst expectation is that FedEx will rack up year-over-year earnings growth of 10.6% in the current quarter, 11% in the next quarter, 11.1% in the current year, 12.7% next year, and 11.28% over the next five years on an annualized basis.
As always the economy and stock market face several risks in 2017. The broad market is overvalued, and political uncertainty worsens daily under Donald Trump's tumultuous regime. However, there's enough good economic news like rising consumer confidence, improving business sentiment, and falling unemployment, to make a bullish case for bellwether FedEx.
I "Sold My Soul" For This One Irresistible Stock...
High-flying tech stocks have a nasty tendency to nosedive without warning. So much so that it's been nearly two decades since I've been tempted to buy one. But when I discovered this state-of-the-art facility just 4 minutes from my office, I couldn't help myself. This company has it all: explosive growth potential (with none of the risks that usually come with trendy tech stocks), steadily increasing dividend payments, and the buy-in of a group of Silicon Valley's top CEOs... Wouldn't you break your own rules for a piece of that action? Click here to tap into its $8.47/second income stream.
John Persinos is an analyst with Investing Daily. At the time of publication, he owned none of the stocks mentioned.