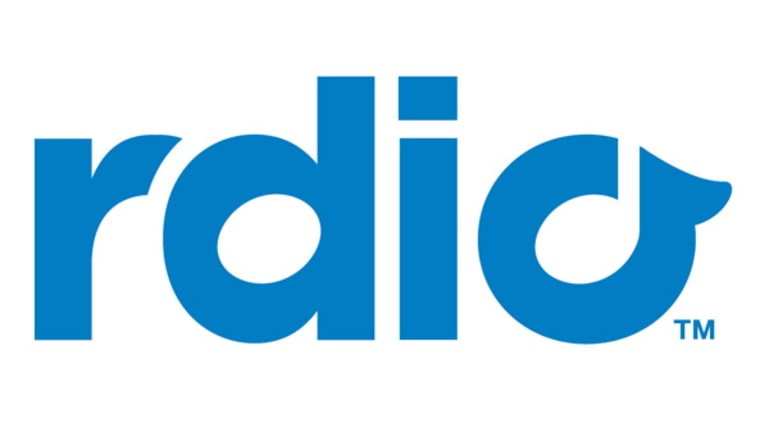 The Streaming Service I Wish Apple or Google Would Have Bought
It seems like a bonehead of a strategic move for streaming radio platform Rdio to partner with Cumulus Media, a dinosaur of a broadcast radio company.
NEW YORK (TheStreet) -- All signs point to the business of doing radio on actual radio stations as -- at best -- stagnant if not dying and, in some cases (e.g., AM Radio), already as good as dead.
According to the Radio Advertising Bureau, Q2-2014 "spot" sales (the commercials you hear on actual radio stations) were down 5% year-over-year and off 3% when comparing the first half of 2014 to the same period in 2013. Revenue from radio broadcast networks was flat and down 3% for the respective periods. To be fair, terrestrial radio has been able to cover those losses with impressive digital gains. But that's not the point of this article.
The point is why would a very good streaming radio company, Rdio, hitch a considerable portion (or maybe all!) of its wagon on the back of a dying industry playing catchup when so many other M&A and partnership opportunities exist? As Rdio takes its model in more of a "freemium" direction that's the question I'm pondering roughly one year after it decided to partner with Cumulus Media (CMLS) - Get Cumulus Media, Inc. Class A Report .
Apple (AAPL) - Get Apple Inc. Report purchased Beats Music. Now, the latter's CEO, Ian Rogers, runs iTunes Radio. Google (AAPL) - Get Apple Inc. Reporttook out Songza and, presumably, Songza will be better off for it. And I have long reckoned that Pandora (P) would be better off as part of a larger company with wider-ranging opportunity. So why would Rdio, a digital media company at heart, partner with Cumulus? It makes very little sense outside of the pipe dream Cumulus CEO Lew Dickey continues to sell:
This is the most exciting Internet radio product we've seen and provides a compelling complement to our nationwide broadcast radio platform.
Allow me to translate that euphemism: Yes. Rdio is fantastic. I've been saying that for quite a while. But, for Cumulus, it's a bailout; it's a turnkey digital strategy taking the place of what was a non-existent digital strategy. Rdio doesn't "complement" Cumulus's "nationwide broadcast radio platform" as much as it acts as a last ditch attempt to keep digital converts on the traditional dial as much as possible and, more importantly, help sustain Cumulus's pipeline of Johnny-come-lately digital revenue.
If you recall, Cumulus is the same company that, prior to going all-in with Rdio, cut a deal to make much of its broadcast radio programming available on competitor Clear Channel's iHeart Radio platform. This was the classic reactionary, we don't have an actual digital strategy move by Cumulus. We cannot conceive of our own way forward so we'll just get our content out there as much as possible and hope for the best. It's the false notion many traditional broadcasters have these days -- if we stream it, people will come.
So the Rdio deal is sweet. For desperate Cumulus and sullen terrestrial radio. But I don't see how Rdio benefits in a scenario where Cumulus pretty much adopts Clear Channel's strategy of obsessively using its broadcast radio stations to promote its digital product. In Clear Channel's case, its iHeart Radio ranks as one of radio's top ten "advertisers" each week because of the proliferation of iHeart promos on Clear Channel stations. Cumulus can (and is already doing) the same with Rdio. Again, great for Cumulus in some respects, but where's the upside for Rdio?
Cumulus gets equity in Rdio in exchange for the aforementioned promotion. I guess there's some value in bringing terrestrial radio listeners over to the Rdio platform, however should Rdio really require advertising on these stations to accomplish that goal? Aren't broadcast radio listeners, along with the rest of the free world, already either making the switch to digital and/or spending more time on digital platforms, often at the expense of traditional ones?
If Rdio was going to seek a relationship, you would think it would have made much more sense to knock down Apple and Google's doors. Maybe they did, but it just turned out that Beats and Songza were simply more attractive targets. From there, I would have knocked on everybody's door from Yahoo! (YHOO) to Pandora (P) to venture capitalists. Rdio needs money to continue to build out its technology and excellent user interface as well as effectively tell the world about it. At this juncture, it's relying on one of media's weakest links to help get it where it needs to go.
This tells me -- and this is pure, but I think well-reasoned conjecture -- that there's something "wrong" with Rdio. Why couldn't it find a strategic partner more formidable and tech-savvy/oriented than Cumulus? Why wasn't anybody else around last year to enter into a partnership with? It could be something innocent, but still concerning -- that tech companies and big investors just don't think another streaming music service can compete in a crowded space dominated by Pandora, Spotify and soon, thanks to Apple, Beats. Or it could be that tech companies and big investors just don't think Rdio can compete in a crowded space dominated by Pandora, Spotify and soon, thanks to Apple, Beats.
The distinction between those two otherwise similar sentences is important. And somewhere within that distinction we might someday find the answer to the question of why Rdio went with Cumulus as opposed to somebody, anybody else ... somebody anybody else with a future. Somebody like if not Apple, Google, Yahoo! or Pandora. 
--Written by Rocco Pendola in Santa Monica, Calif.
Rocco Pendola writes for
TheStreet
. He lives in Santa Monica. Disclosure: TheStreet's editorial policy prohibits staff editors, reporters and analysts from holding positions in any individual stocks.