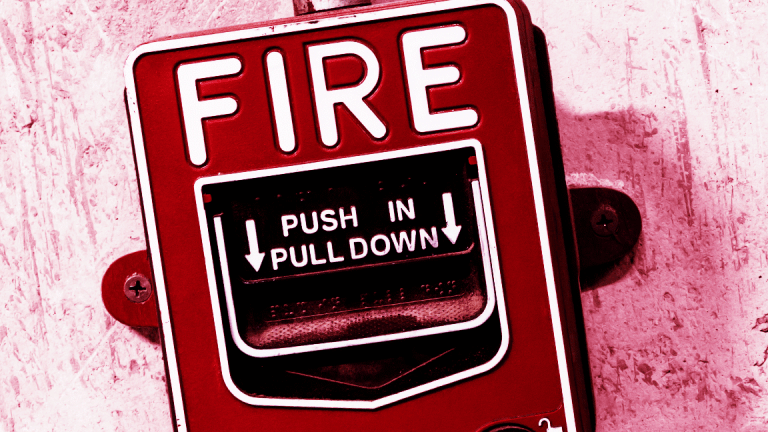 Allow me to rain on your parade.
Just trying to keep you in check with this data dump. The S&P 500 Information Technology Sector hovered around a record high on Monday as investors poured back into tech stocks such as Facebook (FB) - Get Facebook, Inc. Class A Report and Apple (AAPL) - Get Apple Inc. (AAPL) Report following upbeat first-quarter earnings. At 1,225, the S&P 500 Information Technology Sector is a stone's throw away from its March 12 record high of 1,233. Shares of Facebook and Apple have risen 13% and 7%, respectively, during the last month.
The popular NYSE FANG Index has added about $1.7 trillion in value since breaking back above the 100-day moving average in mid-April. How have the broader markets reacted despite these moves and easing trade tensions with China? With a collective yawn.
If this diverging action persists, it could be a bearish signal on the markets for this summer. After all, what better stocks to own than FANG names when we are in a mild U.S. recession. 
Sears is Still Dying 
Shout out to Susquehanna retail analyst Bill Dreher for injecting a dose of reality back into the situation at Sears. Shares of the near-dead Sears have skyrocketed 67% since a March 22 low as CEO/Chairman/Savior/Former BusinessWeek magazine cover-boy Eddie Lampert continues to pull rabbits out a hat -- in this case, offering up more financial lifelines (see tire deal with Amazon (AMZN) - Get Amazon.com, Inc. Report ) to Sears and using cleverly worded press releases to jack up the stock price.
The latest arrived on Monday, with news Sears had a formed a special committee to explore asset sales. This isn't new news -- ears has been exploring asset sales since it merged with Kmart in 2005. Still, the market cheered. Enter Dreher with this note on Monday afternoon: "Today's announcement may be an indication that SHLD's valuation on their assets is more reasonable and anchored in reality. In addition, it's highly likely an indication that Sears' cash crunch and liquidity constraints are becoming so severe that the company dearly needs to raise cash in order to stay open and finance their open to buy for Christmas and winter merchandise inventories."
Coming from someone who once did Dreher's job and considers himself a Sears financial statement historian, the analysis is spot on. Here is some research TheStreet performed on Sears.  
A Random Sprint Around Wall Street 
(1) Hearing from numerous people that the much-hyped Consensus crypto/blockchain conference in New York this week has been one part organized chaos, one part light on thought-provoking insights. St. Louis Federal Reserve Gov. James Bullard's speech was a snooze fest on Monday -- the fact it's published on the St. Louis Fed's website ahead of time made the speech almost useless. Bitcoin prices stayed relatively flat on the first day of Consensus, probably as the crypto crazies were lacking those key influencer comments that would send prices ripping higher. Twitter (TWTR) - Get Twitter, Inc. Report CEO Jack Dorsey's speech on Wednesday may be that fire-starter.
(2) Look at the battered General Electric (GE) - Get General Electric Company (GE) Report trying to become a growth stock. Shares of the struggling industrial giant will open near a two-month high after a bullish call by a Gabelli & Co. analyst. Year-end price target by analyst Justin Bergner: $21. Good luck with that one. GE shares up 11% over the last month.
(3) The future of eating out is all about voice ordering, the use of big data and better coffee, Panera Bread CEO Blaine Hurst told TheStreet. "Hey Alexa, buy me an egg white wrap and 15 coffees."
(4) Tuesday brings Jim Cramer's huge monthly call with Action Alerts PLUS members. Learn more about the call here.