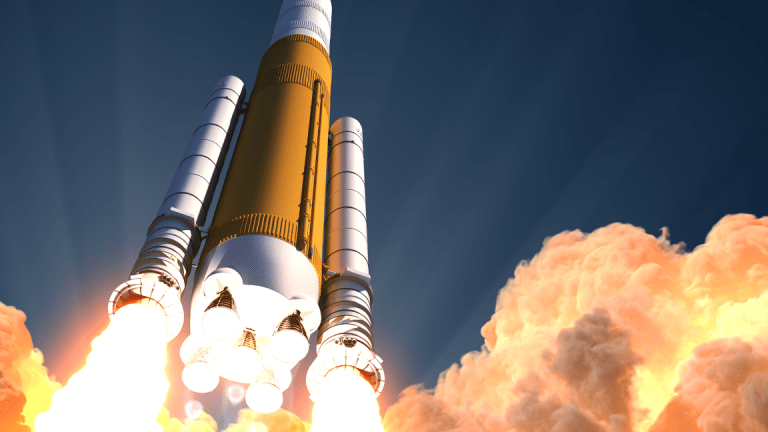 The Stock Market Has Every Reason to See a Fresh Rally
Investors will try to contain their emotions ahead of a long holiday weekend. But, with the dollar and oil hovering around highs concerns on the direction of stocks will likely persist.
The market has good reason to rally this week. 
Treasury Secretary Steve Mnuchin said Sunday that the U.S. would hold off on any tariffs against China as the two countries continue their talks. "We're putting the trade war on hold," Mnuchin said in a Fox News interview on Sunday. The Trump administration had planned to impose $150 billion in tariffs on Chinese goods, a threat that has left investors concerned about global growth prospects this year.
Dow Jones Industrial Average undefined futures spiked 235 points on Monday, the Nasdaq Composite undefined gained 50 points, and the S&P 500 Index undefined rose 17 points. 
Elon Musk Makes More Promises
Not a weekend seems to go by without more promises being made from embattled Tesla (TSLA) - Get Free Report CEO Elon Musk on Twitter. 
Musk tweeted over the weekend that the performance version of the Model 3 will go for roughly $78,000. The car is said to go from zero to 60 miles per hour in 3.5 seconds and has a driving rage of 310 miles.
Now if Musk can only get it through the assembly line profitably. 
Economic Indicators in Focus
The benchmark 10-year Treasury note yield, the U.S. dollar and oil prices will continue to dominate headlines and occupy space front-of-mind for investors heading into the week. The three have recently come together to create a thick air of uncertainty on Wall Street.
The dollar has climbed with oil prices in the last week, though the two typically are inversely correlated. At the same time, the 10-year Treasury note yielded as much as 3.1% this week, a move that could send shock-waves through equities as investors lose their nerve.
According to Voya Global Perspectives, "A strong dollar is a headwind to overseas sales and is causing some stress in emerging markets with high dollar denominated debt. And if oil prices get too high, consumer spending and sentiment could be adversely affected."
Analysts continued, "However, the biggest chunk of mystery meat on the investor plate has been rising interest rates. The 10-year UST yield soared to 3.10% before pulling back a bit. Rising yields can be attributed to economic growth, inflation expectations and the term premium for accepting risk and uncertainty over the life of the bond."
The U.S. dollar index climbed a little over 1% for the week. West Texas Intermediate crude futures rose about the same amount, while the 10-year yield jumped to a seven-year high.
Trump Still Planning on North Korea Meeting
In Washington, the topics of trade and of North Korea will continue to dominate. President Donald Trump told reporters he is still expecting to meet with North Korean leader Kim Jong Un on June 12 in Singapore, despite reports that North Korea was threatening to pull out of the summit.
Trump attempted to reassure North Korea that its leadership would remain in place even if the country abandons its nuclear weapons program, though he warned Kim that the country could be "decimated" if a deal isn't agreed upon at the historic diplomatic summit.
Also weighing on investors and market watchers is the future of a number of U.S. trade agreements. China said it did not offer to cut the U.S. trade deficit by $200 billion, as had been earlier reported. While Chinese leaders have said trade talks are "ongoing" and "constructive," no concrete deal has yet been reached.
At the same time, Nafta remains in the air. A May 17 deadline set by House Speaker Paul Ryan to work toward passing a new draft of the trade deal came and went without any legislative moves. With that, Congress will be unlikely to be able to pass any Nafta deals before midterm-elected officials make it to Washington.
While Canadian Prime Minister Justin Trudeau said the countries were feeling positive about talks, U.S. Trade Representative Robert Lighthizer said the group was nowhere close to a deal and negotiations will continue.
And on the Calendar...
The economic and earnings calendar is set to slow significantly. On Tuesday, earnings are expected from Hewlett Packard Enterprise Co. (HPE) - Get Free Report and the TJX Cos. (TJX) - Get Free Report .
Wednesday, earnings are on tap from L Brands Inc. (LB) - Get Free Report , Target Corp. (TGT) - Get Free Report and Tiffany & Co. (TIF) - Get Free Report . Earnings season for retailers has been mixed at best, reports TheStreet's Michelle Lodge.
On the economic calendar, new home sales statistics for April are expected at 10:00 a.m. ET. FactSet economists expect the figure to total 679,000 for the month, down from 694,000 in the previous month. Also on Wednesday, the Federal Reserve Open Market Committee will release the minutes from its latest meeting at 2:00 p.m. ET.
Thursday will bring existing home sales numbers for April. Economists expect a total of 5.572 million, up from 5.6 million a month earlier.
On Friday, the University of Michigan will release the latest consumer sentiment statistics for the month of May. Economists are looking for 98.8, in line with the index reading last month.
TheStreet presents on May 22: "How to Stomach Market Volatility." Hosted by Fisher Investments, the exclusive live webinar will give you the tools to successfully navigate market volatility and discuss why having a wealth manager is more critical than ever before. Quickly register for the event here.