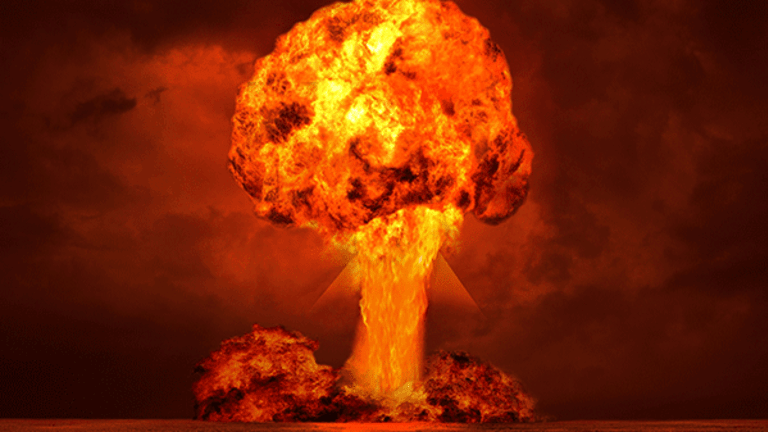 The Stock Market Could Still Blow Up, and These Two Sectors Hint at It Happening Real Soon
Look out below, investors.
Look out below, investors.
Don't get lulled into thinking the major market selloff on Tuesday was a one-off. 
Without question, the fact stocks didn't fall through a trap door on Wednesday was a feather in the caps of the bulls. All the elements were in place for a follow-through plunge: a vicious, cowardly attack out front of the U.K. Parliament, rising fears on the Trump/Ryan healthcare bill passing and a growing number of forecasters coming out from under their rocks to proclaim the bull market is about to die.
Not helping matters was a continued drumbeat of retail death stories such as Paylesspossibly closing 500 stores, Bebe (BEBE) on the verge of shuttering 170 stores and Sears Holdings' (SHLD) CFO spreading #fakenews in a new blog post that the retailer is a "viable" entity. It's not, especially after the language it slipped in its new annual report on Tuesday. 
So the setup for another re-trenchment was certainly in place. And here's the brutal reality: it continues to be in place, and the Dow Transports and financials are flashing warning signs hinting at just that happening in the not too distant future. The Dow Jones Transportation Average reached a high on March 1, spurred by optimism on the knock-on effect of a Trump stimulus plan. But the index is now down 5% so far this month as indications emerge that Trump won't be able to pass key legislation as quickly as the market expected.
As for the banks -- a leading group post election -- they were serious laggards on Tuesday's pullback. The Financial Select Sector SPDR ETF (XLF) - Get Report has shed about 4.3% over the last month. Bank stocks selling off despite the specter of higher interest rates is alarming, and suggests the U.S. economy may not get the "Trump Bump" this year and into 2018 the market has so hotly anticipated.
Remember, the moves across many areas of the stock market since Trump was elected have been fueled by multiple expansion, not companies smashing through earnings estimates and projecting bigger gains for the year ahead. With that as a backdrop, key areas of the market lagging and Trump failing to deliver anything but hot air thus far, having more cash on hand than the norm over the past year seems like a wise decision. 
Read This or You Lose Out
Tesla could be out of its mind: The electric automaker with the scorching hot stock price could be over-promising on its production goals, TheStreetreports. And it's not just Tesla (TSLA) - Get Report that could be over-promising, the entire electric car industry may be over-talking their books. 
Walmart continues to impress on tech: Along with more retailers dying being a constant this year, so has Walmart (WMT) - Get Report surprising in a good way with new tech initiatives. On Thursday, Walmart revealed a new app that will allow people to instantly upload their DVDs so they can be streamed on Apple (AAPL) - Get Report iPhones or Alphabet (GOOGL) - Get Report devices, as TheStreetfirst reported. All one has to do is scan the barcode on the DVD's case, boom. Take that, Netflix (NFLX) - Get Report and Amazon (AMZN) - Get Report . 
Nintendo has a new stockholder: Shares of video game console maker Nintendo (NTDOY) rose slightly on news asset manager BlackRock (BLK) - Get Report owns a 5.17% stake. With the new Nintendo Switch console being met with strong demand, the disclosure shouldn't come as a shocker. If there is anything I have learned from covering Nintendo through the years, it's that when the stock gets hot it tends to stay hot until something causes investors to reverse course. Nintendo's stock is up 23% in the last three months, but look for more gains in the short-term. 
The ugliest Rolex ever introduced at Basel World: This year's annual watch trade show could lay claim to being the one where the ugliest Rolex ever was introduced. Say hello to the new Yacht-Master, which is jam packed with 32 sapphires, eight tsavorites, and one diamond. Beyond awful. Expect this thing to fetch more than $24,000. 
Fossil is in deep trouble: As mentioned earlier in the week, Fossil (FOSL) - Get Report came out with more big plans for the smartwatch market at Basel World. Unfortunately, as TheStreetreported, the company is fighting an uphill battle with Apple and could be in big trouble. 
Jim Cramer and the AAP team hold positions in Apple and Alphabet for their Action Alerts PLUS Charitable Trust Portfolio. Want to be alerted before Cramer buys or sells AAPL or GOOGL? Learn more now.
(This article originally appeared at 9:00 ET on Real Money on Mar. 23, our premium site for active traders. Click here to get great columns like this from Jim Cramer and other writers even earlier in the trading day.)