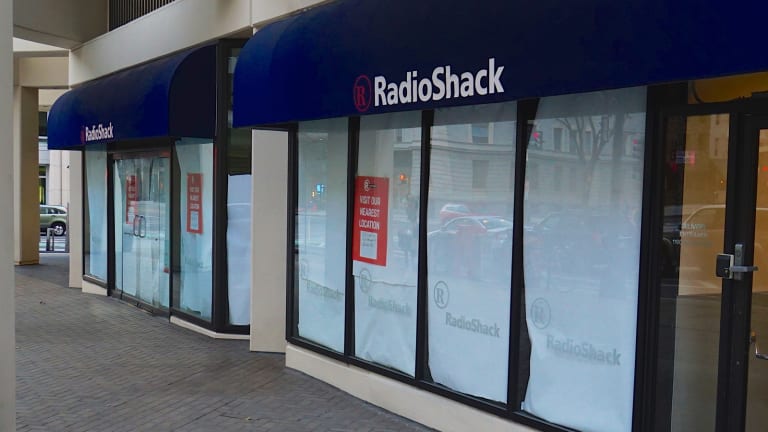 NEW YORK (TheStreet) -- The mostly forgotten RadioShack (RSH) name will stay etched on the front of 1,000-plus stores for now, but the brand is still likely to vanish within the year due to ongoing changes in how electronic gadgets are sold and what people are buying.
Reality often hurts, and in the case of beaten-down RadioShack, the reality is that its 2,500-square-foot stores are too small to sell smart TVs and connected home gear, while providing the intimate customer service needed to seal the deal with consumers, something its larger competitors can offer.
Best Buy
(BBY) - Get Best Buy Co., Inc. Report
has
into an adult amusement park for electronic gadgets that range from connected home products to 3D printing stations to smart TVs. For example, its vast sales floors are now jam-packed with the latest in TV technology from
Sony
(SNE) - Get SONY GROUP CORPORATION SPONSORED ADR Report
and
Samsung
, and the employees standing at their stations have spent over a year being retrained.
Target (TGT) - Get Target Corporation Report has begun to roll out renovated electronics and entertainment areas at 42 of its stores, with plans to revamp another 275 this year.
The enhanced sections include "discovery tables" that display featured items such as smart phones, Apple (AAPL) - Get Apple Inc. (AAPL) Report iPads and other tablets, and laptops. Eight TVs on a wall broadcast samples of music and movies exclusively available at Target, as well as interactive content. A dedicated section for kids that brings children's movies and video games together in one location has been added for the first time. By contrast, RadioShack's cweak financial state and space constraints mean it won't even be able to compete with Target, which doesn't view selling electronics as vital to its long-term survival.
But the physical space and human capital constraints of RadioShack don't seem to be fazing the brand's temporary consortium of white knights: Sprint (S) - Get SENTINELONE, INC. Report, Salus Capital and Standard General.
The reimagined stores are planned to have 1,000 items in stock, down sharply from the more than 4,000 that a typical RadioShack once stocked. The company will focus its inventory investment in things like phone chargers and private-label batteries that are some of the more profitable items a RadioShack tends offer.
Standard General, which is taking over 1,700 RadioShack stores across the country, is fighting a losing battle.
As the insides of RadioShack's stores are stripped down to bare-bones levels of inventory, the environment around the troubled retailer will continue to drastically change. Sprint will share space at more than 1,400 RadioShack locations, and have its name plastered throughout the stores via signage, along with controlling about one-third of the floor space to offer its smartphones and plans. 
It's an environment that is being dominated by an influx of brighter looking electronics fixtures at competitors, one-on-one customer service by sales staff trained to decipher confusing new technology, and shortly, the long-awaited Apple Watch that will lure the masses to the tech giant's retail store network.
If the 1,700 stores that will keep their lights on experience a lift in customer traffic and profitable sales, it would make it worthwhile for Standard General to pony up for the intellectual property rights. If there aren't gains on the top and bottom lines, Standard General could seek to exit the RadioShack locations, leaving Salus Capital holding a bag of worthless intellectual property and an outstanding balance of $150 million.
The RadioShack brand would then essentially be officially dead at some 1,700 stores.
This article is commentary by an independent contributor. At the time of publication, the author held no positions in the stocks mentioned.