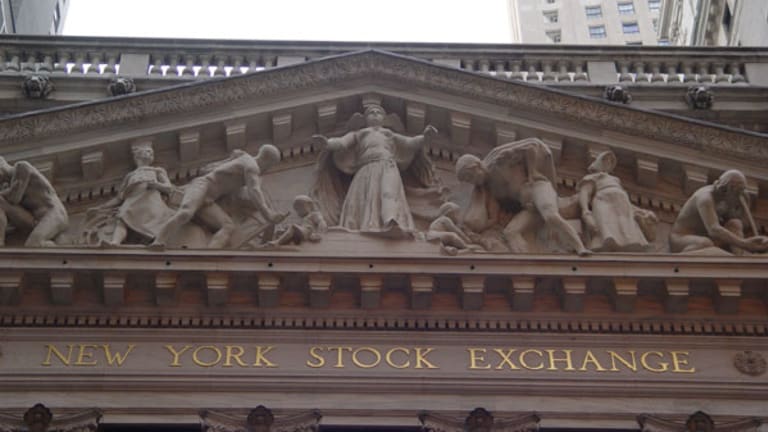 The Selling Feels Muted
Cramer says, considering the earnings misses and negative data, we should be down more.
Why don't people sell more here? I have written endlessly about the seller's remorse issue -- that you can't get back in, that you watch the averages go by without you, and you feel terrible, so you just go buy something, anything.
But would it really surprise anyone to be down 2% today, considering
Cisco Systems
(CSCO) - Get Free Report
,
Oracle
(ORCL) - Get Free Report
,
Airgas
(ARG)
and the terrible European purchasing managers index numbers, on top of the
Caterpillar
(CAT) - Get Free Report
and
FedEx
(FDX) - Get Free Report
situation from yesterday?
Don't you think it is logical to sell? The market isn't made up of homebuilders and things that go into homes, even as
KB Home
(KBH) - Get Free Report
-- which was up big before the opening, was down big when we opened and is now creeping back -- says things are great.
I am puzzling over this, because in any other market that we have been in since the beginning of this millennium, let's face it, we would be down huge.
We haven't seen this "everything is one-off" behavior since the days when the market used to shrug off a U.S. Robotics downgrade, for heaven's sake. Everything is being viewed as a company's own fault, and then it is being viewed that the company will fix it by the next quarter.
This article originally appeared on March 21, 2013, on RealMoney. To read more content like this + see inside Jim Cramer's $3 Million portfolio for FREE Click Here NOW.
This isn't forgiveness.
It is get out of jail free.
Now I have been a believer that the U.S. economy is getting stronger. But I am also a believer that we are not ready for the sequester firings.
I am a believer that our markets are strong, aided by Ben Bernanke's bond buying.
But I am also a believer that Europe is horrendous, and for all I know, a lot of what's ailing Oracle really is Europe -- the company was pretty silent on it -- plus a cutback in government spending here.
I am not a believer that Cyprus is Lehman. I am a believer that Cyprus will color next week's trading.
I guess I am just marveling like everyone else. It should be down hard.
Where are the darned sellers?Action Alerts PLUS, which Cramer co-manages as a charitable trust, is long CSCO and ORCL.
At the time of publication, Action Alerts PLUS, which Cramer co-manages as a charitable trust, was long CSCO and ORCL.