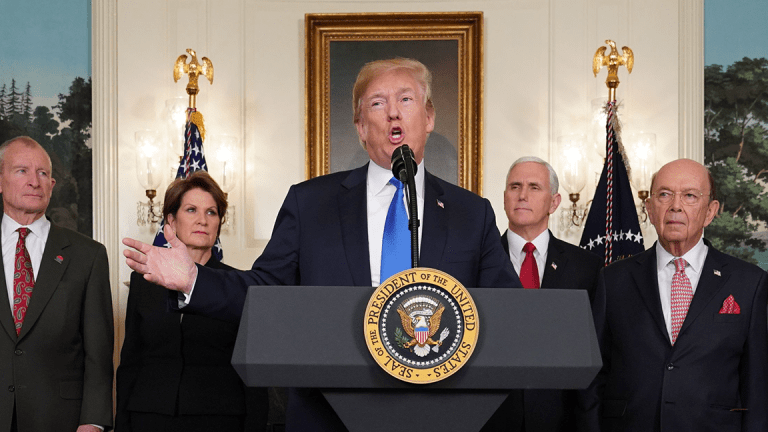 World's Biggest Industrials Suffer From U.S.-China Trade Spat
With few specifics on the tariffs on Chinese imports, trade war fears loom. But aerospace but get a reprieve.
President Donald Trump's announcement to impose tariffs on as much as $60 billion worth of Chinese goods came with few details, similar to the recently announced tariffs on steel and aluminum imports, leaving most industrial companies waiting to assess the effects of this move, even as trade war fears persist.
After the Trump administration concluded that China unfairly acquired U.S. intellectual property for decades, the president unveiled tariffs of up to 25% on as much as $60 billion of imports from China. The tariffs will be targeting high-tech sectors, "including aerospace, information, communication technology and machinery, all sectors where China is looking to take the global lead," said Mitual Kotecha, a senior emerging markets strategist for TD Securities.
During Trump's announcement, executives from the aerospace and defense industry stood beside the president, praising the tariffs.
"This is a very important moment for our country, in that we are addressing what is a very critical area for the aerospace and defense industry, and that is protecting our intellectual property," said Marillyn Hewson, the chief executive officer of Lockheed Martin Corp. (LMT) - Get Lockheed Martin Corporation Report . Hewson described intellectual property as the "lifeblood of our companies."
Still, following the China tariff announcement Thursday, Lockheed Martin and rival Boeing Co. (BA) - Get The Boeing Company Report stock came under pressure.
The Industrial Select Sector SPDR ETF (XLI) - Get Industrial Select Sector SPDR Report , which holds Boeing, Honeywell, Caterpillar, Lockheed and GE among other industrial companies, fell 0.9% to $73.14 around 3:30 p.m. New York time.
"Boeing's decline clearly reflects concerns that it may be a target for Chinese retaliation against Trump's recent raft of tariffs," Credit Suisse analysts, including Robert Spingarn, wrote in a March 23 research note.
Boeing hasn't commented about the Chinese tariffs, but the Chicago-based aerospace company does have a long-standing relationship with China and a healthy backlog of orders.
"Approximately 25% of Boeing's 2017 deliveries went to China, and 5% of Boeing's identified backlog are directly attributable to Chinese operators, with an additional 18% (>1,000 aircraft) coming from unidentified customers, many of which are thought to be Chinese. This brings total China backlog exposure closer to 20%," the Credit Suisse analysts said.
But if China were to retaliate against the defense and aerospace, "such a move would be damaging to China's national airlines and leasing companies, which due to strong domestic traffic growth (+13.3% in '17) are desperately in need of Boeing's aircraft," the analyst team at Credit Suisse said. "Additionally, we continue to take the view that Chinese airlines will have only a limited ability to cancel orders, as they have just one alternative to turn toward -- Airbus -- and that alternative has a backlog that stretches well into the next decade."
Meanwhile, beleaguered industrial conglomerate General Electric Co. (GE) - Get General Electric Company Report did not take a firm stance on the Chinese tariffs. A GE spokesperson told TheStreet that "with valued customers and employees in both the United States and China, we hope that the two governments can address the important issues raised by the Administration's order [Thursday], without ultimately resorting to the imposition of tariffs or other barriers to trade, investment or travel."
Fellow industrial giants, Caterpillar Inc. (CAT) - Get Caterpillar Inc. Report and Honeywell International Inc. (HON) - Get Honeywell International Inc. Report , do not have a statement on the Chinese tariffs at this time. Deere & Co. (DE) - Get Deere & Company Report did not immediately respond to TheStreet's request for comment.
While the administration is expected to release more details about the Chinese tariffs over the next two weeks, China has already responded to the trade tariffs. China's commerce ministry proposed a list of seven categories and 128 tax products as potential retaliation targets, without providing further details.
Earlier this month, however, Trump brushed off concerns of a trade war, tweeting that "trade wars are good, and easy to win."