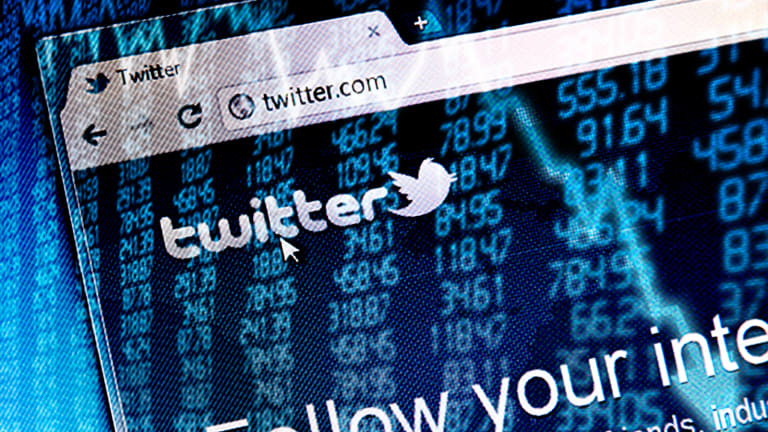 Twitter Trumps Traditional Media When it Comes to Investing
On Twitter, the information is timely and relevant. If people get it right, they receive accolades. If they get it wrong, they get pounded by true digital accountability.
NEW YORK (Real Money) -- Social media, Twitter  (TWTR) in particular, gives the public an unprecedented, unfiltered and nearly instantaneous way to communicate directly with the universe.
Self-directed, proprietary traders like me can now communicate to analyze, share, and act on breaking news without media lag time or spin. This played Tuesday, April 28 at 3:07 p.m. ET when Selerity, a self-proclaimed "financial intelligence platform" took center stage on Twitter and reported the company's earnings numbers a full 53 minutes ahead of the market close.
Within minutes of the tweet, Twitter's stock began to react violently. This gave interested traders an information time edge over the less tech savvy. Twitter's stock traded on this news for 20 minutes before being halted by the New York Stock Exchange (see below for a timeline of events and corresponding price action).
* Data taken from Think or Swim Platform set to 1-minute candlestick-style chart.
But this newfound free flow of information does have drawbacks. On April 23, 2014 at 12:07 p.m., the Associated Press Twitter account was hacked and a false terror attack report was posted stating: "Breaking: Two explosions in the White House and Barack Obama is injured."
Within seconds, automated algorithmic trading platforms used the report to send the S&P 500 index tumbling by 14 points, or 1%, temporarily erasing $136.5 billion in value before recovering swiftly once the report was dispelled. The recovery likely didn't make up for traders who use stop-loss orders that were triggered by the sudden price decline. Their financial loss was real.
We live in a rapidly advancing technology era. Information is literally in the palm of our hands and at our fingertips 24/7. The smartphone and social media era is in full swing and has changed things forever.
Long-term benefits and consequence of living in a real-time information world are unknown, but it has ushered in a new level of accountability via the timestamp. In the past, financial media guests were able to saunter onto financial networks and discuss their ideas or talk their books with little to no accountability for the outcomes. On social media, every post is indelibly timestamped and automatically and easily searchable.
In a world in the wake of the dot-com bust, Enron, the 2008 financial crisis and Bernie Madoff, the public has grown leery of Wall Street and the fortunes that once seemed effortlessly obtained. In today's market, the participants are the survivors of these modern disasters and they are tired of the charlatans that inevitably arrive with every bull market.
The accountability we have come to demand isn't being satisfied by traditional media any longer. The trading community on Twitter is more sophisticated and they demand actionable information.
The problem with the older line of media is that they report on what's already happened and little to none of it is actionable or profitable. On Twitter, the information is timely and relevant. If people get it right, they receive accolades. If they get it wrong, they get pounded by true digital accountability.
In 1999 every doorman, dentist and nurse appeared to have the scoop on Yahoo! (YHOO) or Cisco (CSCO) . In 2006, every New York cab driver seemed to own shares in Sirius Satellite Radio (SIRI) and claimed to know the financial merits of Howard Stern's contract with the platform.
Today, nobody I randomly meet ever discusses stocks with me. In fact, over the course of speaking with people, the level of public participation and interest in stocks in general is glaringly absent from such a bull market. What's most incredible is that the S&P 500 is at all-time highs, the Federal Reserve has been at a zero interest rate policy after years of QE and still nobody beyond an increasingly narrow subset of the public cares.
Even within this subset there's caution and a lack of euphoria. What's in vogue is skepticism and the endless search for a market top. With every down tick people are quick to call for a long overdue correction or crash. I do believe we do have a bubble, but it's not in the stock market. It's in bubble watchers! When the real market top will occur is anyone's guess, but what's certain to me is that it'll likely be evident by extreme sentiment on Twitter long before it's recognized by the traditional financial media.
This article is commentary by an independent contributor. At the time of publication, the author held a long position in Twitter.