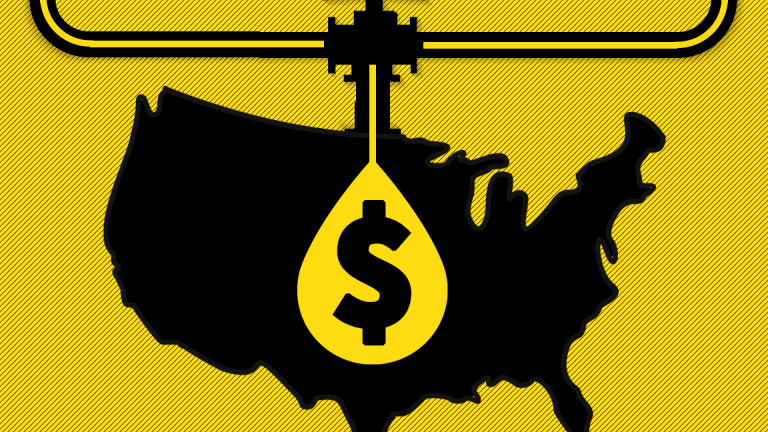 The Best Oil ETF to Own for Trump Ending Iran Nuclear Deal
Oil prices are hot right now for several reasons. Here's an analysis on drivers of oil prices and how investors should be thinking about investing in the space.
Time to put on those oil trades. 
In a few days, President Trump will most likely decertify the nuclear deal with Iran and reimpose sanctions. WTI oil futures are already anticipating that action and have surged to over $70 per barrel for the first time in over four years. Brent crude has crossed $75 per barrel.
Should President Trump indeed decertify the nuclear deal, hundreds of thousands of barrels of oil, potentially over a million, will come off the international markets, likely pushing oil prices over $80 per barrel by the peak summer driving season.
Global demand for oil is already exceeding supply due to the OPEC and Russia deal to limit production. Global oil inventories have reached a three-year low and are below the five-year average.
All you need to know about retirement planning here.
There is, however, a misperception among investors that oil is still in a glut. That perception is fueled by an (which I believe false) EIA projection that oil production will outpace demand later this year.
With the growing economy and still loose monetary conditions globally, even with the Fed taking baby steps to tighten, oil demand is surging. While EVs and hybrid vehicles will eventually take a bite out of oil demand, that day seems several years off at least.
If a large portion of Iran's production is not accepted by oil importers, then Saudi Arabia and others will have to quickly replace that supply as there is far less cushion in the oil markets today than a few years ago. The problem is that there is barely enough OPEC spare capacity to cover a decrease in Iran's exports due to sanctions.
The most likely scenario for making up a reduction of Iran's supply of oil to international markets would be an increase of production from Saudi Arabia. The Kingdom has said they can add a million barrels of oil per day to oil markets relatively quickly if needed. That would make Saudi Aramco a big winner on oil prices rising even further.
Russia would also be a big winner with higher oil prices, so their reaction to sanctions on Iran should be carefully monitored. Their conflict of interest of making more money versus supporting Iran is an interesting one.
Shale a Big Winner
The other big winner from sanctions on Iran is clearly also American shale. Short cycle oil produced in America's lower cost basins, such as the Permian, Eagle Ford and STACK/SCOOP stand to benefit significantly as production ramps up there to offset declines elsewhere.
Already, shale companies such as Encana (ECA) - Get Free Report , Occidental Petroleum (OXY) - Get Free Report and Pioneer Natural Resources (PXD) - Get Free Report , among others, are reporting higher cash flows and earnings on higher oil prices. As a result, they are paying down debt, increasing dividends and engaging in buybacks. This is a dramatic improvement in shareholder yield for the group.
As hedges for oil prices in the $50-55 range come off, companies will be able to hedge new production at significantly higher prices, guaranteeing cash flows at even higher levels next year. The surge in cash flows and earnings, with commensurate improvements in shareholder yield, should drive stock prices higher and close the gap with oil prices that have outpaced in recent quarters.
While many investors are heading to the oil majors for exposure to higher oil prices, their leverage is less attractive than the leaner shale plays. In addition, the long-cycle asset inventory of the oil majors is still at massive risk of write downs, as much of that development is unlikely to ever be economic due to the high upfront costs and long payback periods.
For quick asset allocation exposure to American oil and gas plays, the SPDR Oil & Gas Production & Exploration ETF (XOP) - Get Free Report . This ETF is nearly equal weighted across 69 American oil plays. The equal weighting plays favorably as midsize and large independent producers, with lean profiles, garner a larger share of the fund.
By: Kirk Spano
Spano is an investment advisor and founder of Bluemound Asset Management, LLC - a fee-only Registered Investment Advisor acting as a fiduciary. He is the publisher of the Fundamental Trends investment and retirement letter which is designed as an "advisor replacement" service for self-directed investors. Follow Kirk on Twitter @KirkSpano and on his Kirk Spano's Fundamental Trends channel on YouTube.