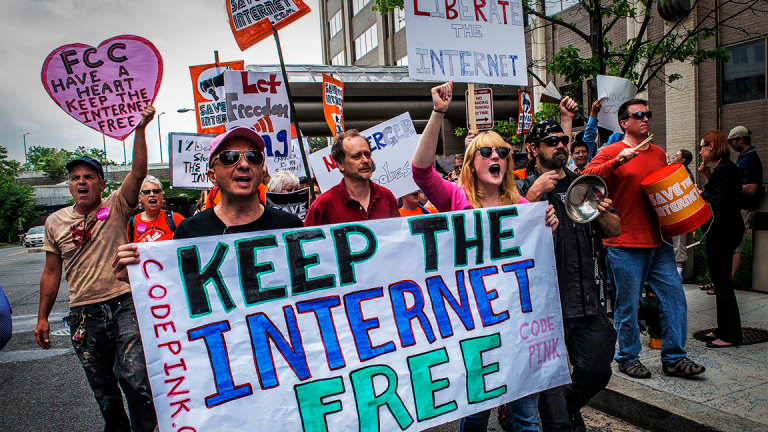 Democrats' efforts to preserve net neutrality will move to the House after a Senate vote Wednesday. The final showdown will likely come in the mid-term elections, however, rather than on Capitol Hill.
Sen. Charles Schumer (D-NY) urged voters to take note of who voted for and against the Congressional Review Act resolution, which is designed to unwind rules that Federal Communications Commission passed last year. FCC Chairman Ajit Pai's Restoring Internet Freedom order of 2017 eliminated prohibitions on blocking or throttling traffic and other measures.
"I say to every American who cares about an open and free Internet: today is the day. Contact your Republican Senator," Schumer said from the Senate floor. "See who votes for net neutrality and who votes against. And let them know how you feel about the way they voted."
The CRA passed by a vote of 52 to 47 as Republican Senators Susan Collins (R-ME), John Neely Kennedy (R-LA) and Lisa Murkowski (R-AK) joined 49 Democrats and independents to approve the motion.
Schumer was more blunt in a January press event. "Net neutrality will be a major issue in the 2018 campaigns and we are going to let everybody know where we stand and where they stand," Schumer said. Net neutrality is especially dear to younger Americans who have grown up on streaming and social media. "The Republican Party and the Trump Administration are on the wrong side of the issues and the millennials in this country know it," Schumer said. "They are mobilizing."
Sen. Ed Markey (R-Mass), who sponsored the CRA, cited the rise of Black Lives Matter and the Me Too movements as examples of how free speech online has led to activism and change, in his remarks Wednesday.
Senator John Thune (R-SD), who voted against Wednesday's resolution, said the CRA's proponents are looking ahead to the elections and are "perhaps interested in trying to use this as a political wedge issue."
Thune proposed legislation to enact net neutrality protections. He said he lacked a Democratic partner for the bill, and questioned the motives of his opponents. 
"Make no mistake, the campaign behind this Congressional Review Act resolution has been primarily driven by fear mongering, hypotheticals, misdirection and outright false claims," he said.
While Democrats won the battle in the Senate they face a more daunting challenge in the House, where Republicans hold a 235 to 193 seat advantage. And then President Trump would have to sign the CRA for it to take effect.
"It isn't going anywhere (in the House) and of course it would be vetoed by the president even if it did," Thune said.
When Pai's Internet rules kick in June 11, expect the rhetoric to heat up in campaign ads, episodes of HBO's "Last Week Tonight with John Oliver" and, of course, on the Internet as the mid-term elections approach. 
Editor's note: This article was first published by The Deal, a sister publication of TheStreet that offers sophisticated insight and analysis on all types of deals, from inception to integration. Click here for a free trial.
TheStreet presents on May 22: "How to Stomach Market Volatility." Hosted by Fisher Investments, the exclusive live webinar will give you the tools to successfully navigate market volatility and discuss why having a wealth manager is more critical than ever before. Quickly register for the event here [hyperlink over the word here]: https://webinar. thestreet.com/20180522/index. html