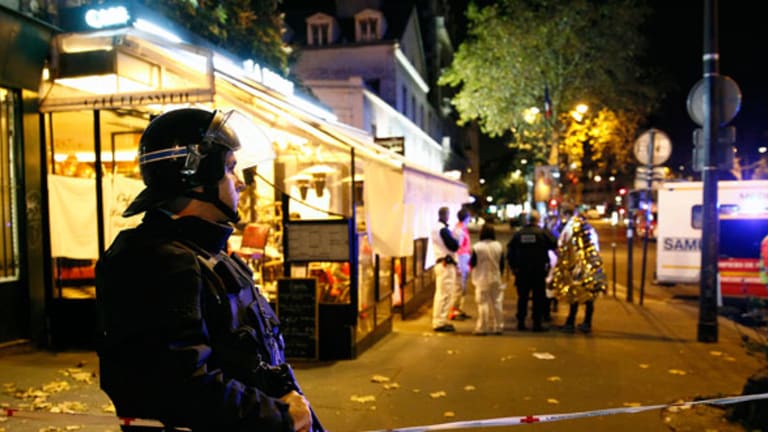 The horrible events in Paris have stunned and frightened the world. But already, people are asking what effect these monstrous crimes will have upon the financial markets, and want to know what impact a new, more aggressive offensive against ISIS might have upon oil prices. As stunning as the murders in France and the likely response to them might be, I don't believe there will be much change to the trajectory of oil because of the attacks.
There will be a lot of added pressure to make a unified military response to the Islamic State strongholds in northeastern Syria as a result of the Paris attacks. Even though the United States has been engaged in a bombing campaign in northwestern Iraq, and the Russians have begun to attack other ISIS targets in Syria, there will undoubtedly be a call to put soldiers on the ground to directly combat ISIS forces.
In addition, a more directed campaign against the oil resources that have been funding ISIS fighters and their networks will be undertaken, to cut the financial support of the group. But ISIS' oil supplies have already resisted most of these efforts -- their operations are run in small-market, "cash-and-carry" arrangements, using pickup trucks and oil barrels. There is not much of a centralized marketplace or infrastructure to target. When one nexus point of delivery is shut down, three more pop up in its place. As with much of the history of Middle East oil, it is practically impossible to stop the flow of petrodollars.
And ISIS control of oil is extremely limited, perhaps as little as 30,000 barrels a day, not a significant amount to global production. Most of it remains to be locally used, although some refined barrels slip into Turkey and Lebanon. And it is in refining that ISIS really makes most of its revenue -- but mostly these are mobile units that are difficult to attack.
Despite a strong effort to shut this important source of revenue already, it is now widely acknowledged that completely stopping the flow of oil in Syria is impossible.
Nor does it seem likely that new military action against ISIS will have a geopolitical effect on oil elsewhere in the region. Iran and Russia are not about to abandon their production plans for the coming year; neither are the Saudis.
One possible effect on oil could be the simple decline in growth projections in Europe and elsewhere, as people refrain out of fear or restrictions from travel and entertainment. This idea, I think, is taking its toll today on the oil markets, as the price of oil again nears $40 a barrel. But in the long term, that is unlikely to have a significant effect either. Since 9/11, the 2004 Spanish train attack, the London 2005 bombings, the Charlie Hebdo massacre and the thwarted Paris train attack in August, there has been an increasing, if unfortunate realization that Islamic fundamentalist terrorism -- whether from Al-Qaeda, ISIS or other splinter groups -- is a lasting threat.
Today's dropping oil prices are being coerced by the Paris attacks, but seem to me more related to the downwards momentum of still-increasing stockpiles and lowered demand forecasts.
However, commercial selling of oil, despite the still-increasing surplus, will, I believe, cease again as oil nears this $40 handle, just as it did the last time it approached this level in late August. Despite the economic pall that has been cast over the markets because of the Paris attacks, I still believe that oil finds its boundaries between $40 and $50 for a while yet to come.
We cannot ignore the horrific acts of ISIS in Paris -- but I believe that the oil markets mostly will.
At the time of publication, Dan Dicker had no positions in the stocks mentioned.