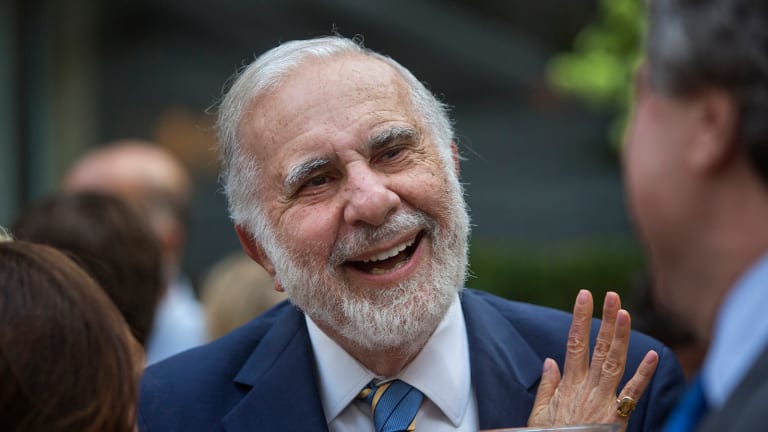 The Not-so-Secret Obstacle to Carl Icahn's Plan for AIG
Carl Icahn's plan to split up AIG looks good on paper, but it may not provide all the benefits he expects, especially in a presidential election cycle.
Carl Icahn's plan to free AIG's (AIG) - Get American International Group, Inc. Report bank accounts from stricter regulatory oversight overlooks one thing: politics.
On Wednesday, the activist investor announced via Twitter that he had taken a large position in AIG and would use his shareholder rights to urge the company to break up into three smaller and more manageable businesses.
Doing so, Icahn argued, would likely free the insurer from the reserve requirements that some big banks and insurers have been under since the 2008 financial crisis. This "too big to fail" policy, formally known as a systemically important financial institution (SIFI), forces big companies like AIG to hold more cash in reserve, which often hurts profits.
"The company continues to severely under-perform its peers and is now facing an increasingly onerous regulatory burden, which will only further erode its competitive position," Icahn wrote in his letter to AIG CEO Peter Hancock. "We believe there is no more need for procrastination; the time to act is now."
But deregulating AIG might be easier said than done. Even if the company opts to break itself apart and its successors meet the technical standards, regulators may be reluctant to reduce their oversight.
Of the 956 companies that received bailout funds during the financial crisis, AIG got $67.8 billion, the most after Fannie Mae and Freddie Mac, not counting additional government help that brought the New York insurer's grand total to $182 billion. 
With the voting public still nurturing bitter memories of the bailouts, and a presidential election campaign well under way, making such a decision would be even tougher. Already, candidates from Donald Trump to Carly Fiorina and Hillary Clinton are facing questions from voters and the news media about how they would regulate Wall Street if elected.
"It's going to be very hard for them to not have to come under some sort of oversight given the extent and degree to which they needed federal assistance during the credit crisis," said Cathy Seifert, an analyst with S&P. 
Ben Bernanke, the Fed chairman who helped engineer AIG's bailout, still remembers the backlash. 
"We knew it was going to be a political disaster and it was," Bernanke said in a conference earlier this month. "AIG was the gift that kept on giving. After the bailout there were bonuses and all of these other things that happened that really hurt the Fed, and hurt the bailout and the stabilization effort." 
It wouldn't be a leap to say that the SIFI designation, imposed by the Financial Stability Board, exists because of companies including AIG and Citigroup, which got $45 billion.
To be sure, the break-up of AIG isn't an inherently bad idea. Investors seem to like it, after all: On Wednesday, the stock gained 4.4% on speculation that Icahn's plan would succeed.
AIG wouldn't be the first to try to free itself from the stricter oversight. That's exactly what motivated General Electric (GE) - Get General Electric Company Report  to shed most of its GE Capital lending business. When GE announced plans to focus more on its industrial business, it said that the move away from finance could ultimately return $90 billion to stockholders.
"We have a constructive relationship with our regulators and will continue to work with them as we go through this process," GE CEO Jeff Immelt said of the company's efforts to have its SIFI designation removed.
Whether or not AIG and regulatory bodies yield to Carl Icahn's desires remains to be seen.
"I think it's an interesting catalyst for the shares," Seifert said. "I don't necessarily think he's going to get everything he's asking for, and I don't think he thinks he's going to get everything he's asking for."