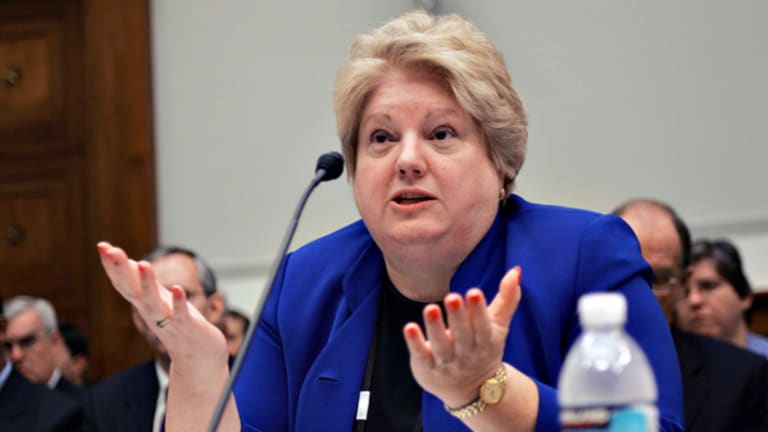 The Most Important Woman on Wall St. No One Knows About
Susan Bies, a former Fed governor, may deserve more prominence on Bank of America's board.
NEW YORK (TheStreet) -- She's a former Federal Reserve Governor who now sits on the board of Bank of America (BAC) - Get Bank of America Corp Report and appears to have grasped risks to the subprime mortgage market ahead of both Alan Greenspan and Ben Bernanke: so why have so few people heard of Susan Bies?
Prior to the crisis, Bies was one of the highest placed officials at the Federal Reserve warning that a subprime mortgage boom was inflating a soon-to-bust housing market. Transcripts released by the Fed show Bies warned early-and-often of the risks that shoddy 'teaser rate' mortgages posed to consumers, and the multitude of ways banks could get burned in the securitization process.
Now, as a member of Bank of America's Board of Directors, Bies is an overseer of one of America's largest lenders. Bies also stands out as a possibly unheralded part of Bank of America's still-muddled recovery strategy, as the firm tries to recover from billions in subprime mortgage losses, lawsuits, and a newly unveiled probe by the U.S. Department of Justice.
"You would think she would have a little more responsibility given her background," Daniel Marchon, a Raymond James banking analyst, said in a telephone interview.
Quietly, Bank of America is undergoing a revamp of its lending operation that appears, on the surface, consistent with Bies' most significant work and commentary as a Fed governor.
At a Fed that was generally inattentive to the risks building in the housing market during the boom years, Bies created committees inside the Central Bank to prepare comparative system-wide analysis of banks' mortgage underwriting practices, the scope of their derivatives trading and the quality of their daily operations.
Initial committee reports in 2006 and 2007 showed that while the housing market was performing solidly, a wave of "teaser" and "no-doc" adjustable rate mortgage (ARM) loans faced payment shocks that were likely to undermine the housing market and financial system.
"Issues are getting more troublesome the further we dig into these products," Bies warned at the time. While subprime ARM's represented just 8% of the overall mortgage market, she saw reason for systemic concern.
Bies also noted that subprime mortgage pools were making their way into the nation's largest banks through the process of mortgage securitization and servicing.
"We do need to pay more attention to where the mortgage-servicing exposures are. The servicing of these mortgages that are securitized is concentrated in certain institutions. Clearly, when you have such a high level of delinquencies and potential defaults, all profitability in servicing is gone. So there could be some charge-offs in these securitized mortgages. Also, I think all of you have noticed the number of mortgage brokers that have closed up shop in the past six months because they couldn't get enough liquidity or capital to repurchase the early defaults of these recent pools," Bies said in January 2007, her last Fed meeting.
Bies told the Financial Crisis Inquiry Commission (FCIC) her proposals received push back from a senior person at the New York Fed. Media reports name then-New York Fed President Timothy Geithner as objecting to Bies' work.
In March 2007, Fed chairman Ben Bernanke famously said that losses on subprime mortgages were "contained." A year after those comments, the Fed was forced to broker the bailout of Bear Stearns, one of the biggest buyers and poolers of subprime morgtages. Within months of Bear's rescue, the Fed bailed out the entire banking system.
Anyone following the plight of Bank of America through the mortgage boom and bust would, in retrospect, have wanted the prudence of someone like Bies. Instead, Bies was brought to the bank's board in 2009 amid its $45 billion tax-payer supported bailout, and was installed during a board reshuffle that included other former regulatory officials such as Donald Powell, former chairman of the Federal Deposit Insurance Corporation.
"I think she understood the whole lending market and the types of risks lenders were taking with low-doc loans and no-doc loans in expanding the housing bubble," Jonathan Finger, a Bank of America investor, said in a telephone interview.
According to some media reports, turnover at Bank of America's board was influenced by the government.
"If the government demanded that, it did Bank of America a big favor," Richard X. Bove, a banking analyst at Rafferty Capital Markets, said in a telephone interview. Now, after continued board turnover, Bies stands out as having the deepest banking industry experience on Bank of America's board. "She is the exception," said Bove, who has criticized other Bank of America board members as "sycophants ."
As Bank of America prepares to ramp-up its lending to win back market share in the mortgage origination business, the question is whether Bies is being utilized properly.
Bies is on Bank of America's enterprise risk committee, however, she was passed over for the committee's chair role by Jack Bovender, the former CEO of HCA Hospitals. Bank of America's enterprise risk committee oversees its credit and audit committees and is responsible for building a so-called 'living will' for the bank. It also certifies the bank's liquidity, stress testing and plans for emergency capital.
Other large banks have former Fed officials placed in more prominent board roles. Anthony Santomero, a former Philadelphia Fed President, was recently nominated as chair the board that oversees Citigroup's (C) - Get Citigroup Inc. Report main banking subsidiary.
"As a former president of the Philadelphia Federal Reserve, Dr. Santomero has a deep understanding of the regulatory system governing financial institutions, making him an excellent chairman for the Citibank NA board," Citigroup Chairman Michael O'Neill, said in a 2012 statement. Santomero also chairs the bank's enterprise risk committee.
Bies could have a similarly large influence on Bank of America's board. However, her lack of a chairmanship is worrying.
Nevertheless, some recent developments at Bank of America indicate the firm is moving in a direction that Bies would have advocated as a Fed governor.
In 2011, Bank of America shuttered its correspondent lending business, a unit that would buy and repackage mortgage loans underwritten by third parties. Because such loans were made by now defunct mortgage lenders, Bank of America wound up saddled with billions in liability, as Bies had warned was likely to happen in the transcript of the Fed's January 2007 meeting.
Whether current CEO Brian Moynihan exited the correspondent business at Bies' behest is unclear. Other large changes at Bank of America also are in accordance with the thinking of Bies when she was a regulatory official.
In a 2010 deposition with the FCIC, Bies strongly criticized the mortgage servicing businesses of large banks. In that business, banks receive fees for collecting monthly mortgage payments oftentimes on loans that they did not originate. If a loan goes into default, a servicer is tasked with arranging loan modifications or conducting the foreclosure process.
"Mortgage servicing to me is a market failure," Bies said of the business. Specifically, Bies noted it was unfair for home buyers to take a loan from one lender, but potentially have to deal with a third party to pay down the mortgage. "You have disenfranchised the borrower and when you do it outside of bankruptcy, who is looking out for the borrower?" she added.
At the time of Bies' comments to the FCIC, Bank of America was the largest mortgage servicer in the U.S. with over $2 trillion in residential mortgage servicing rights (MSRs), according to Bloomberg data. Now it is the industry third-player after cutting its MSR portfolio by over 50%.
In the first quarter of 2013, Bank of America sold over $300 billion in MSR's and settled a so-called 'robo-signing' suit filed by states attorney generals against large banks for improper foreclosure practices. Overall, the bank has whittled its MSR portfolio to $988 billion, the data show.
Bank of America said in a recent earnings call it hopes to build on recent mortgage market share gains. This time, the firm says it will rely on existing depositors and wealth management customers to grow its mortgage business, a contrast to the pre-crisis days when the bank was buying loans made by reckless brokers. The bank expects to get to a high single digit mortgage market share after seeing its share fall below 4%, in 2012.
There are areas where Bies, by the nature of her role on Bank of America's board, has a significant influence.
Bies sits on the enterprise risk committee that would decide how to shutter Bank of America if it were ever to find itself at the precipice of collapse and in need of another bailout. Bank of America's board, like those at other large banks, is also ultimately responsible for ensuring the firm's liquidity and contingency funding, all of which are now tested by the Federal Reserve annually.
In both instances, Bies' ties to the Federal Reserve may be helpful to Bank of America. The question remains, however, whether the bank will give Bies further prominence on its board. As it currently stands, she is the most powerful former Fed official on Wall Street that no one knows about.
Lawrence Di Rita, a Bank of America spokesperson declined to comment or make Bies available for this article.
-- Written by Antoine Gara in New York