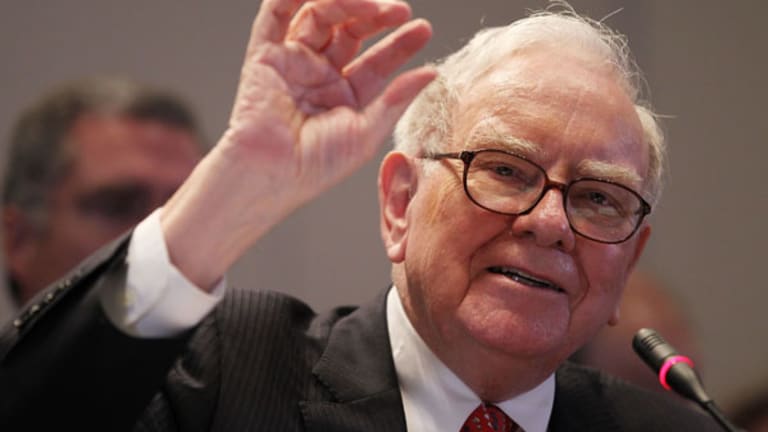 What Buffett's Goldman Stake Means For Wall Street
Why Berkshire Hathaway's expected stake in Goldman shares has big ramifications for Wall Street.
Updated from 1:12 p.m. to reflect Bank of America warrants, Goldman CEO statement and closing share prices.
NEW YORK (
) --
Berkshire Hathaway's
(BRK.B)
deal
to convert a profit on a large warrant in
Goldman Sachs
(GS)
for roughly 2% of the company's common shares may be a subtle turning point in Wall Street's emergence from the financial crisis.
Following Berkshire CEO Warren Buffet's preferred investments in the likes of Goldman and
General Electric
(GE)
during the financial crisis and a similar deal with
Bank of America
(BAC)
in 2011, the 'Oracle of Omaha' is exercising a warrant contract with Goldman that will make the investment bank Berkshire's first Wall Street common stock holding in over two decades.
"We intend to hold a significant investment in Goldman Sachs, a firm that I did my first transaction with more than 50 years ago," Buffett said in a Tuesday press release announcing amended terms to the warrant, which will allow him to take a profit on the crisis-time contract in Goldman shares.
"I have been privileged to have known and admired Goldman's executive leadership team since my first meeting with Sidney Weinberg in 1940."
Under the amended deal, Berkshire will roll its profit on a previously agreed 43,478,260 warrant contract into a stock holding of about $1.35 billion at current share prices. The deal will give Berkshire an equal value in shares to the difference between the price of the Goldman's shares in the 10 trading days preceding Oct. 1 2013, and a previously agreed exercise price of $115, without the investment conglomerate putting up any cash.
Berkshire's earlier agreement allowed the company to put up up to $5 billion to buy Goldman shares at $115. To be seen is whether Berkshire will spend additional money on Goldman shares given Buffett's statement of a 'significant' holding.
The terms of Buffett's Goldman Sachs warrant agreement appear to be pressuring shares of Bank of America, given Berkshire's ability to buy up to 700,000,000 shares in the lender at a price of $7.14 a share. Berkshire is up about $3.6 billion on the warrant at current prices, indicating the 'Oracle of Omaha' might ask for a large stake in Bank of America shares.
To understand why Berkshire's conversion of warrants to a shareholding may be a game-changer, investors need to consider Buffett's well communicated investing criteria as well as the work Goldman has done to change its earnings profile in the wake of the credit crunch.
Simply put, Goldman Sachs is quietly turning into a classic Buffett investment,
.
The investment bank is growing its earnings through net share repurchases that increasingly make its financial metrics comparable to other large Berkshire holdings such as
IBM
(IBM)
,
American Express
(AXP)
,
Coca-Cola
(KO)
and to a lesser extent,
Wells Fargo
(WFC)
.
Share buybacks and relatively consistent post-crisis earnings may make it easier for prospective shareholders like Buffett to invest in firms such as Goldman.
When taking a position in IBM at the end of 2011, Buffett outlined why range-bound share prices and a $50 billion share buyback would benefit Berkshire in the long-run.
Goldman's current share price below post-crisis highs may present
a similar opportunity
, given the investment bank's authorization to repurchase 46 million shares and a seeming stabilization of its earnings.
Buffett's warrant amounts to about 2% of Goldman's shares at current prices and his statement of a "significant" investment indicates a growing long-term position. Such is currently the case with Wells Fargo, now Berkshire's largest investment.
Were Buffett to give further detail on why he's now excited about becoming a large Goldman Sachs shareholder, it could have big ramifications on Wall Street as a whole.
For instance, a focus on leverage-induced return on equity metrics could turn to
of growing earnings-per-share that are easier for the ordinary investor to understand.
Buffett, after all, kept away from Wall Street in the wake of a failed investment in
Solomon Brothers
.
Currently, annual
Federal Reserve
stress tests are an exercise in trying to moderate the dividends banks pay to investors, which could allow the nation's largest lenders to pay out their capital and engineer return on equity figures at pre-crisis levels.
Given the size of bailouts during the financial crisis and the industry's apparent undercapitalization at the time, the Fed has kept dividend payouts at roughly 30% of overall profits for the largest U.S. banks, a modest figure when compared to
.
While dividends are an easy way to purge retained earnings and grow return on equity, smartly executed share repurchases can bolster long-term earnings-per-share metrics. They also provide banks more flexibility during times of crisis.
In contrast to Wall Street peers such as
Morgan Stanley
(MS)
, Goldman is on a trajectory to report earnings-per-share figures near pre-crisis highs, even as new regulations and tepid economic growth cast a pall on overall revenue.
A Jan. 14 analysis by Keefe, Bruyette & Woods shows that among large banks submitting capital plans to the Fed, there are just five that have been able to consistently reduce their share count through repurchases in the wake of the crisis, including Goldman, American Express,
U.S. Bancorp
(USB)
,
Wells Fargo
(BK)
and
State Street
(STT)
.
"Looking forward, capital management will be critical in a slow-growth, highly regulated, banking world, in our view, and the most successful banks will need to be reducing shares outstanding to achieve strong EPS growth," KBW analyst Fred Cannon wrote.
Stress
test results
in March reconfirmed those projections.
Goldman Sachs shares rose less than 0.5% in Tuesday trading to $146.58, while Bank of America fell slightly to $12.28 underperforming broad market gains.
Given what could be an increasing focus on EPS, Goldman Sachs
as one of the lenders best positioned for growth.
Among its primary Wall Street competitors Morgan Stanley, Bank of America, Citigroup and JPMorgan, only Goldman Sachs is a net buyer of shares.
During the
fourth quarter
of 2012, Goldman bought back $1.53 billion in shares, exceeding the $1.2 billion forecasted by Morgan Stanley analyst Betsy Graseck prior to earnings.
For all of 2012, Goldman bought back nearly $5 billion in stock, or a total of 42 million shares.
Goldman was one of the few disappointments in the March stress tests, however, as it resubmits a buyback and dividend increase plan to the Fed later in the year. Such a delay could benefit Buffett and his warrant conversion.
As Warren Buffett circles the shares of Goldman Sachs, investors would be wise to consider the contrast between the investment bank and its competitors when it comes to share buybacks and EPS growth.
Buffett's prospective investment might indicate a new post-crisis path for Wall Street's largest players.
"We are pleased that Berkshire Hathaway intends to remain a long-term investor in Goldman Sachs," Goldman Sachs CEO Lloyd Blankfein said in the statement.
Andrew Williams, a Goldman Sachs spokesperson declined to comment. Messages left with Berkshire Hathaway weren't returned.
-- Written by Antoine Gara in New York