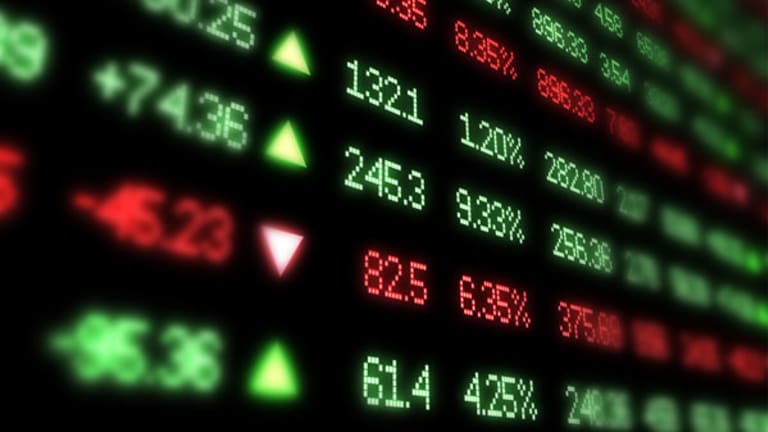 The Lowdown on This Week's Big Earnings
Futures are mixed as quarterly results begin to obscure Greece.
NEW YORK (TheStreet) -- Stock index futures opened mixed Sunday evening after an equally up-and-down session Friday. The Nasdaq surged to new highs to end last week on the back of Google's (GOOGL) blowout earnings report.
Tonight, Dow futures were up 4 points, or about 0.02% in New York and S&P 500 E-mini futures were down 0.02%. Nasdaq 100 E-mini futures were higher by 0.04%. The euro rose 0.02% against the dollar.
Looking ahead, the second-quarter earnings season heats up, which should divert some of the attention from the ongoing Greek drama.
Even with negotiations on a third bailout program for Greece in the works, the international community will still be watching the beleaguered nation as Greek banks reopen tomorrow. On Monday, Greece is due to make its 3.5 billion-euro-plus-interest payment to the European Central Bank.
For earnings on Monday, Morgan Stanley (MS) reports before the opening bell. Earlier in the quarter some executives in the industry warned that trading activity was muted, but increased market volatility toward the end of June and a number of big mergers could have a material impact for the better on Morgan Stanley's institutional business performance.
IBM (IBM) also reports. According to Thomson Reuters' survey, the more analysts than not expect a number below the current consensus estimates. Revenue losses from divestitures amid its effort to transform and adapt its business have weighed on the company's results. Currency headwinds could also impact the numbers.
Halliburton (HAL) and Hasbro (HAS) report, too. A sharp decline in drilling could hamper Halliburton's report and toy maker Hasbro has more analysts betting on it coming up short on the top and bottom lines as it continues to work through issues like weaker performing brands and less demand for traditional toys.
On Tuesday, we'll hear from Apple (AAPL), a core holding of Jim Cramer's charitable trust Action Alerts PLUS. The iPhone continues to drive sales and this quarter should be no different, as consumers continue through upgrade cycles into the latest iterations of what some consider the smartest phone around. Investors will also be curious to gauge the uptake on the demand for the Apple Watch, the latest product addition to the Apple ecosystem.
We also hear from the other side of the computer world on Tuesday when Microsoft (MSFT) reports. A strong dollar could weigh on results on top of an already struggling core Windows business. Investors will be keen to see how the company is taking or maintaining share in the cloud space with its Office 365 platform.
United Technologies (UTX), a holding of Trifecta Stocks, reports Tuesday. Earnings and revenue are expected to come in just under analysts' estimates and investors will be listening for any details on the sale or spinoff of its Sikorsky helicopter unit.
Verizon Communications (VZ) reports on Tuesday as well and is expected to meet analysts' estimates. Competition has been fierce in the wireless industry and investors will be watching the ongoing fight for market share with rival AT&T (T), which reports on Thursday.
Travelers (TRV) earnings face headwinds, as low interest rates continue to limit net investment income.
Yahoo! (YHOO) posts second-quarter results on Tuesday. Yahoo!'s core online search and advertising business is in focus, as always, but its acquisition activity has been the most interesting activity of late. And special attention will be given to any details on the U.S. tax regulations pertaining to the planned spinoff of its stake in Alibaba (BABA).
Chipotle (CMG) is expected to report second-quarter sales slightly above the average estimate on Tuesday, and we'll see if there is any meaningful update on the nationwide return of carnitas, the pork that the chain cut back on after an animal welfare issue with a key supplier.
We hear from the card companies when AmericanExpress (AXP) reports on Wednesday and Visa (V) reports on Thursday. AmEx has lost some important partnerships but is cutting jobs to improve margins, so expectations for the company are muted. Visa should fare better, as they leverage their wider network and also reap the benefits of lower gas prices and higher consumer spending.
On Wednesday, chipmaker Qualcomm (QCOM) is expected to miss after losing a key customer and delays in product launches. On the same day, Texas Instruments (TXN) should beat on the top line as it focuses on its higher-margin embedded chips business, even as weaker demand for PCs looms over the business.
Also on Wednesday, Coca-Cola (KO) should beat, even amid its transition year, as it works towards boosting soda sales.
Data storage products maker SanDisk (SNDK) is a possibility to miss as the company continues to struggle with lower pricing, which has forced downward revenue revisions.
Trifecta Stocks holding Boeing (BA) should beat on the bottom line as the commercial aircraft business should still show strong underlying growth.
We get results from Growth Seeker core holding Amazon (AMZN) on Thursday.
The e-commerce company could beat on the top line thanks to growth in Amazon Web Services and sales in North America, but is expected to continue to report a loss as it invests in products and services.
Cost-cutting and new treatments for cancer and diabetes are expected to help Eli Lilly (LLY) on Thursday and Bristol-Myers Squibb (BMY) is expected to report lower earnings and sales after ending an agreement that allowed it to sell its schizophrenia drug Abilify in partnership with Japanese drugmaker Otsuka Holdings.
Analysts expect mostly flat results as Caterpillar (CAT) deals with the downturn in the mining sector.
General Motors (GM), another AAP holding, will report on Thursday and China will be in focus as car sales in the nation have slowed.
On Thursday, Growth Seeker holding Under Armour (UA) reports. The majority of analysts surveyed by Reuters expect sales above the consensus number thanks to higher demand for Speed Form and Curry One shoes.
Trifecta Stocks name Union Pacific (UNP) reports on Thursday and the bottom line is a concern as coal freight volumes continue to weigh on the railroad.
On Thursday and Friday we'll hear from U.S. airlines, which are expected to post much better profits in the second quarter than they did a year earlier, even while market sentiment remains low for the industry as the stronger dollar has weakened demand abroad. American Airlines (AAL),United Continental (UAL) and Southwest Airlines (LUV) report.
Xerox (XRX) reports on Friday and could be in trouble as the company continues to transition out of the printer business. About a third of its revenue is from outside the U.S., so the strong dollar could also take a toll.
Separately, Barron's cover story looked east this weekend, saying it's time to buy Japan's blue chips. Japanese heavyweight stocks like Hitachi (HTHIY), Nippon Telegraph & Telephone (NTT), and Toyota (TM) are reforming and now offer possible gains of 30% or more, Barron's said. And for a domestic stock pick of the week,they featured Old Dominion Freight Line (ODFL). The trucking company's shares have stalled lately, but the carrier is cheap and growing profitability, Barron's noted.
For even more information and analysis on data and reports in the week ahead, you can read this article from fellow Real Money contributors Chris Versace and Lenore Hawkins and reference The Street's weekly earnings calendar.