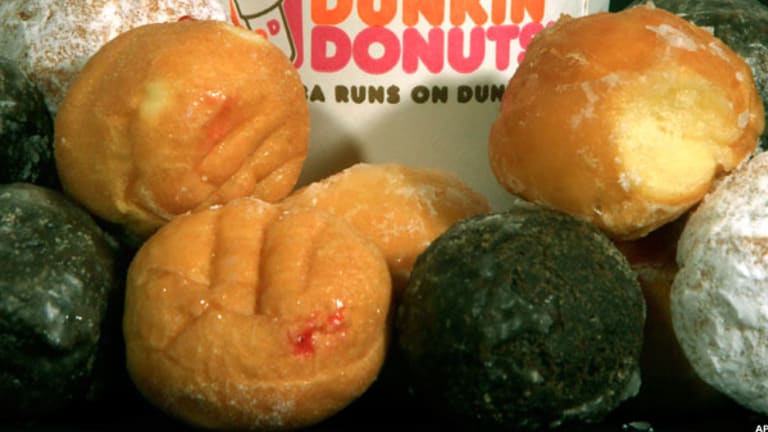 The Hole in Dunkin' Donuts Unappetizing Stock -- and Even a 'Cronut' Can't Help
More stores do not equal faster growth.
NEW YORK (TheStreet) -- Everybody has an opinion on why Dunkin' Brands (DNKN) - Get Dunkin' Brands Group, Inc. Report has become an unappetizing stock.
On Twitter (TWTR) - Get Twitter, Inc. Report , my friend Jim Cramer says it's because "people have turned on doughnuts."
Others say its menu is too narrow. Still others say outside of doughnuts, Dunkin's menu is mediocre at best. 
To which I say: yes, they're all right, but in truth, nothing has really changed at Dunkin' Donuts. Not even the public's attitude toward doughnuts. Even if they had blips of renewed interest during the Krispy-Kreme (KKD) fad and surrounding the Dunkin' IPO, they've been losing market share for 15 years.
What's changed is that, by going public, Dunkin' couldn't help but put itself in the position it's in now. It has forced itself to convince investors it can grow faster than it realistically can or should. 
Let's not forget: the story of Dunkin' -- or the story Dunkin' uses to sell itself to Wall Street -- is the "white space" of the country it doesn't have stores in, which is pretty much everything west of the Mississippi. This was the story behind its 2011 IPO, and remains a big part of the story today. 
Back in 2012, in a critical piece I wrote, a spokeswoman stressed:
"We have a strong, multi-year domestic development pipeline for Dunkin' Donuts. We opened 206 net new Dunkin' restaurants in the U.S. in 2010. We opened 243 net new Dunkin' restaurants domestically in 2011 and have said we intend to open 260 to 280 net new Dunkin' locations domestically in 2012. Globally, we have said we expect to open 550 to 650 net new Dunkin' and Baskin restaurants in 2012."
As we all know, or should know, any retail or restaurant growth story worth its salt (or sugar) is fueled by new store growth. On Wall Street, the mantra (in theory, at least) is: as long as there are new stores, the growth will follow.
Trouble is (in practice), that forces retailers and restaurants to put up stores for the sake of putting up stores, to meet Wall Street expectations -- not necessarily because they're the best locations or they're being put up at a pace that can generate sustainable growth.
Just because Dunkin' has a big a recognizable name doesn't guarantee it has the keys to the growth kingdom. 
The proof is in same-store sales, which have disappointed for the better part of a year.
In the first quarter, reported last April, the company -- like almost everybody but Chipotle (CMG) - Get Chipotle Mexican Grill, Inc. Report -- blamed the "severe" weather. The next quarter it used "macroeconomic challenges facing consumers" as a scapegoat. The quarter after that, Dunkin' tossed in the "highly competitive QSR breakfast and coffee environment."
And with its warning on Thursday, as it guided down on same-store sales and earnings growth for this year and next, it blamed nothing in particular beyond the "challenging" nature of the current business environment. (My favorite part was that apparent relief that same-store sales were, at least, positive.)
In my opinion, Dunkin's woes boil down to this: While it's doing a lot of things right, trying to convince investors that new store growth will drive new sales isn't one of them. From Thursday's release: 
"We expect to finish the year near the top end of our Dunkin' Donuts U.S. development growth target of 380 to 410 net new restaurants..."
Even with the new stores, sales growth is sliding, up just 3.4% a quarter ago versus 8.5% a year earlier. 
Worse, same-store sales are, well, barely positive. And as San Diego restaurant consultant John Gordon of Pacific Management Consulting Group notes, that's after peaking in 2012 -- a year after Dunkin' went public. And then they were likely helped by the novelty of the introduction of Dunkin' coffee K-Cups, which were rolled out in the summer of 2011.
Truth, for Dunkin': as much as the name on the sign is "Donuts" and more than half its revenue, it's battling in a world of blended beverages, breakfast and lunch, and much of that in markets (including its own) where there are better and more established competitors. "Baked goods are in a secular decline," Gordon says.
And as for all of that untapped territory? As Gordon says, it took the company 20 years to double sales in the Chicago market.  
"We can speculate if Wall Street will give them 20 years or not" for the other markets.
I go with not. 
At the time of publication, Herb Greenberg had no position in any of the securities mentioned.
Herb Greenberg, editor of Herb Greenberg's Reality Check, is a contributor to CNBC. He does not own shares, short or trade shares in an individual corporate security. He can be reached at herbonthestreet@thestreet.com.