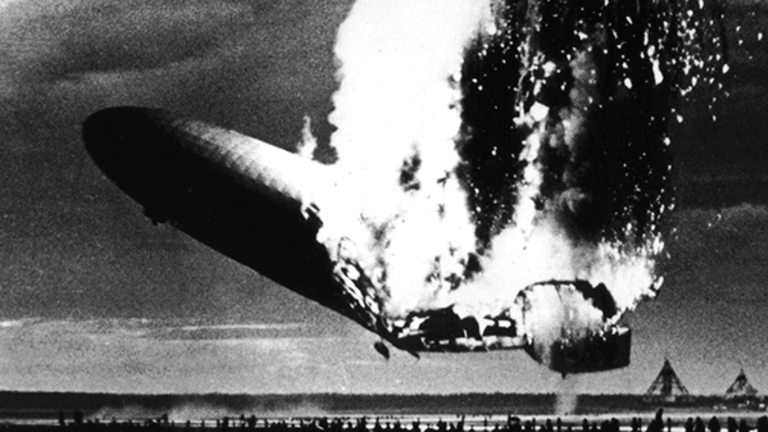 This Terrifying Stock Market Indicator Is Flashing Major Warning Signs
The Hindenburg Omen flashed a warning again.
The Hindenburg Omen flashed a warning again.
"Be vigilant, for nothing one achieves lasts forever." --Tahar Ben Jelloun
Despite some political drama, the action is mixed and there is no clear edge right now. The dominating theme is that the last two weeks of August are one of the slowest times of the year, as folks wrap up vacation and prepare for the start of school.
Luckily for the news media, Donald Trump has given them much to cover. There is endless supply of political pundits willing to express their outrage about what is happening, but the market doesn't seem to care much. There was some reaction yesterday as Trump's business counsels were terminated, but the market isn't yet buying the argument that this is an indication that the Trump Administration will be unable to make any progress on fiscal matters.
Ford's New CEO Says While the Future Is Now, He Won't Forget Classic Cars
The bears have been waiting for a Trump-driven decline and they are more convinced than ever that it is going to start soon, as Trump loses support among Republicans who are growing tired of the self-inflicted political wounds he keeps creating. While that argument is an easy one to make, the market has not been willing to embrace the pessimism. The price action is mixed and there are some warning signs, but support keeps popping up as needed.
Speaking of warning signs, one interesting indicator to watch is the Hindenburg Omen. This is a complex calculation, but the gist is that it flashes a warning when there are high levels of stocks hitting both 12-month highs and lows. Yesterday there were 177 new 12-month highs and 226 new 12-month lows. The theory is that this bifurcated action is an indication of increased uncertainty and foreshadows corrective action.
Usually, you want to see the Omen flash a few times before taking it seriously, but it definitely is indicating that there is an increased amount of uncertainty in the market.
Alibaba (BABA) - Get Report posted a very good report this morning and is gapping up on the news. The move there reminds me of what happened on the very good reports this quarter from both Facebook (FB) - Get Report and Apple (AAPL) - Get Report . Both reports by these Action Alerts PLUS holdings triggered some frothy action and pushed the indices higher, but in both cases, it triggered strong intraday reversals and short-lived tops.
The intraday reversals have become more frequent since the start of earnings season, and it will be interesting to see how the market reacts to this good news from BABA.
Overall, the market is in a trading range and the setup favors very slow and dull action, but there are some warning signs to consider. Stay vigilant and be ready to move as the price action continues.
This article originally appeared at 08:00 ET on Real Money on Aug. 17, our premium site for active traders. Click here to get great columns like this from Jim Cramer and other writers even earlier in the trading day.
More of What's Trending on TheStreet:
Apple Should Be Terrified By How Much Samsung Is Spending on Its Future
At the time of publication, Rev Shark had no positions in the stocks mentioned.