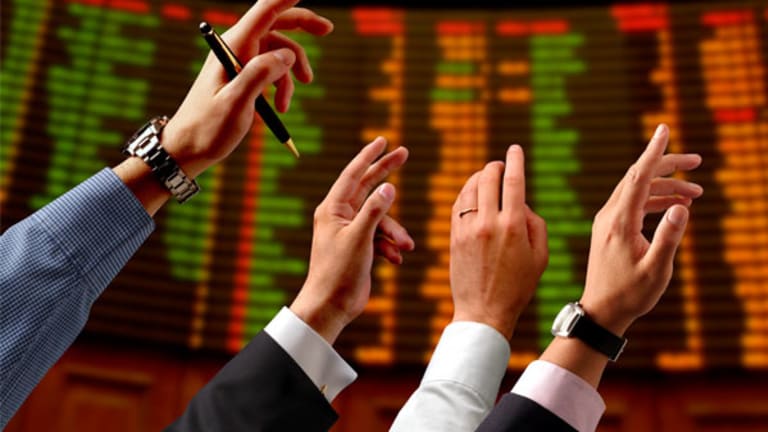 The Good, Bad and Ugly; A Reason to Give Up POT: Best of Kass
In highlights from this week's trading diary and posts, Kass tells us about the good, the bad and the ugly.
Doug Kass fills his blog on RealMoney every day with his up-to-the-minute reactions to what's happening in the market and his legendary ahead-of-the-crowd ideas. This week he blogged on:
How Facebook got unfriended.
How old tech cooled after Intel's close on Wednesday.
Click here for information on RealMoney, where you can see all the blogs, including Doug Kass'--and reader comments--in real time.
Originally published July 29 at 2:39 p.m. EDT
Friday's Good, Bad and Ugly

"It's not a joke, it's a rope, Tuco. Now I want you to get up there and put your head in that noose."
--Blondie, "The Good, the Bad and the Ugly"
Strange references often jump off of the page as I write my diary and my mind wanders and free-associates.
What I usually think of is a song (particularly from the Grateful Dead), but I often come up with sports references (especially related to my cousin, Hall of Famer Sandy Koufax) or other pop cultural influences.
Such was the case earlier in the week, when for some strange reason I was humming the iconic theme song to "The Good, the Bad and the Ugly." Starring Clint Eastwood and the late Eli Wallach, the 1966 film is my favorite spaghetti Western.
With that in mind, let's look at the good, the bad and the ugly (my new and regular daily feature) so far in Friday's trading session:
The Good
Market continues to run like the Energizer Bunny, completing a very strong month of July.
Gold continues to shine following the weak second-quarter GDP print, which implies "lower for longer" and more cowbell from the world's central bankers. .
Staples, excluding Coca-Cola (KO) - Get Report , that are benefiting from a weak currency have revived today.
The two pillars of technology -- Amazon (AMZN) - Get Report and Alphabet (GOOGL) - Get Report -- ring the register for investors.
This is aiding PowerShares QQQ ETF's (QQQ) - Get Report absolute and relative strength vis a vis the other indices.
Herbalife (HLF) - Get Report continues to rally after its agreement with authorities. Or maybe Ackman/Pershing Square is just getting squeezed by Carl Icahn!
Schlumberger (SLB) - Get Report , despite only a modest rise in crude oil Friday (after crude was down 17% for month of July) , is a standout.
To many, Twitter (TWTR) - Get Report is showing surprising strength --up 2% today -- following Thursday's drubbing. I added small on Thursday and in the after-hours on Wednesday. I like the upside/downside but I have no illusion that the near-term outlook is promising as management's heavy lifting lies ahead, and it will take time.
A multi-month high for Blackstone/GSO Strategic Credit Fund (BGB) - Get Report despite a nearly 20% drop in the price of crude oil this month.
The Bad
Domestic growth is weak, with 2Q real GDP up 1.2% -- well short of expectations.
Gilead Sciences (GILD) - Get Report , a favorite value play in biotech, continues to fall, breaking $80 a share. Talking head "carpet sweepers" are nowhere to be seen on this one!.
Life insurance stocks, plagued by the absence of investing alternatives in a low-rate setting, continue to weaken.
Potash (POT) continues to sell off after weak top-line performance and poor forward guidance. I reviewed the quarter Friday morning.
The Ugly
My long Hartford Financial Services Group (HIG) - Get Report , my project this weekend, is stinking up the joint after an earnings shortfall caused by catastrophe losses and a weak auto book. My preliminary read is that there is value being created, book could cushion any further share price drops and the company is now ripe for an activist. More to come on Monday.
An earnings shortfall at Cigna CI.
In contrast to Schlumberger, Exxon Mobil's (XOM) - Get Report shares are lower. The company missed earnings relative to expectations.
Position: Long HIG, TWTR; short MET, LNC, QQQ small, KO.
Why I Quit POT

Originally published July 29 at 9:20 a.m. EDT
As I noted previously, Potash Corp. (POT) Thursday reported in-line earning per share for the second quarter, but weak sales.
It looks like the fertilizer cycle is bottoming out later than I had previously expected (just as I feared when I sold my POT shares at a loss months ago). As a result, management has cut the company's dividend for a second straight time, dropping it to $0.10 per quarter from a previous $0.25.
That said, the fact that Potash Corp. is paying a dividend at all is probably a slight positive. It's apparently a signpost management sees a cyclical bottom coming to fertilizer prices, as well a "channel restocking" from delayed contracts with India and China. (Potash prices are now below most cash costs, and POT is among the industry's lowest-cost producers.)
Of course, the negative here is that fertilizer prices probably won't recover any time soon. So, I expect Potash's earnings per share and cash-flow trajectory to disappoint for a long time to come.
Net/net EPS should be in the 60 cent to 90 cent range for several years -- well below the company's halcyon 2013 period. And given farmers' current state, I don't see a breakout coming any time soon.
At the same time, POT's valuation is in line with "trough" profitability. So, there's no "valuation case" to be made for the stock absent a better-than-expected recovery in fertilizer prices and profit margins.
The bottom line: Potash Corp. looks to me like it's "dead money" at best for the foreseeable future. That said, I'd be interested in the stock if it falls to around $12 to $14 a share from Thursday's $15.91 close.
Position: None.
At the time of publication, Kass and/or his funds were long/short XXX, although holdings can change at any time.
Doug Kass is the president of Seabreeze Partners Management Inc. Under no circumstances does this information represent a recommendation to buy, sell or hold any security.