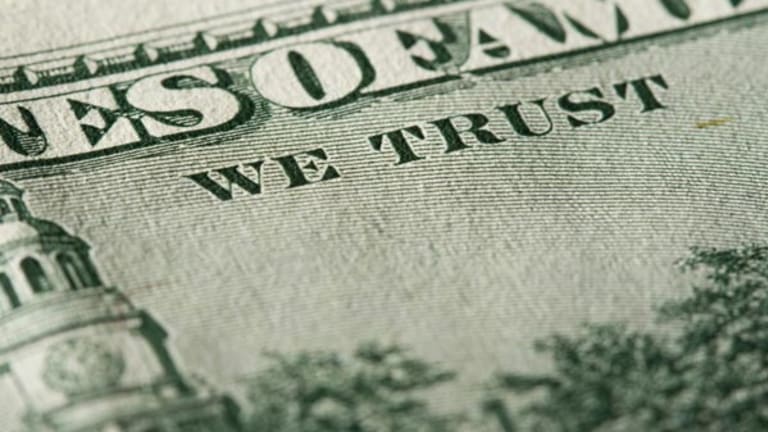 The Gap vs J. Crew: Analyst's Toolkit
Disregarding fashion, an analytical look at The Gap and J. Crew shows the larger retailer is better run -- and perhaps a better investment.
Disregarding fashion, an analytical look at The Gap and J. Crew shows the larger retailer is better run -- and perhaps a better investment.
BOSTON (
) -- Conventional wisdom suggests that, during a recession, cash-strapped shoppers trade down from pricier shops such as
J. Crew
(JCG)
and
The Gap
(GPS) - Get Report
to discount retailers like
Wal-Mart
(WMT) - Get Report
and
Target
(TGT) - Get Report
.
Those companies' share prices haven't borne that out. Over the past year, J. Crew and The Gap have jumped 19% and 18%, respectively, beating the
S&P 500 Index's
decline of 12% and surpassing Wal-Mart and Target, which have fallen by 14% and 1.9%, respectively.
Investors may have avoided J. Crew and The Gap based on sound reasoning: Counter-cyclical stocks are the best bet in a downturn. Recent performance, however, makes J. Crew and The Gap worthy of a second look.
Drilling down into key metrics will provide a stable foundation for an investment decision.
P/E Ratio
J. Crew: 51.7; The Gap: 16.7.
By looking at the price-to-earnings ratio, it's clear J. Crew is overvalued. At 51.7, J. Crew's P/E ratio is three times that of The Gap. Much of the disconnect may have arisen during the stock's steep run-up starting in March, fueled by a big earnings surprise for the quarter ending in April. The Gap, on the other hand, has been steadily beating analysts' expectations throughout the recession but has lacked a quarter with the same surprise shock. By this measure, The Gap looks far more reasonably priced, making it the better investment.
Beta
J. Crew: 1.58; The Gap: 1.27.
The Gap is also much less volatile than J. Crew. With a beta of 1.27, The Gap will move far less dramatically than J. Crew, which has a beta of nearly 1.6. (A perfect correlation with the overall market is 1.) Investors looking for a stable investment should give the edge to The Gap, since the lower volatility will be more in line with conservative investors' comfort levels. J. Crew, however, has shown more possibility to pop on strong economic news, making it a more attractive investment for those looking for the higher returns that sometimes come with higher risk.
Cash Conversion Cycle
J. Crew: 37.8; The Gap: 22.8.
Here again, The Gap looks like the stronger choice. With a cash conversion cycle of only 22.8 days versus 37.8 for J. Crew, The Gap shows that it's able to generate cash far more quickly than J. Crew is. That allows it to use less working capital, since it can turn over its cash at a much faster rate. Such operational efficiency suggests management at The Gap is doing a better job overseeing day-to-day activities, which should lead to better results. Again, this metric also points to The Gap as the superior investment.
Free Cash Flow to Equity
J. Crew: $26.7m ($0.44/share); The Gap: $870m ($1.23/share).
Operating activities look good at The Gap again when considering free cash flow. Because The Gap is much larger, it's important to look at the per-share figures. Even after this adjustment, The Gap is the clear favorite. With free cash flow of $1.23 per share, The Gap has nearly three times the cash flow of J. Crew, making its operating decisions much easier since capital is easier to come by. This flexibility should allow The Gap to take advantage of more projects that can add value for shareholders.
Present Value of Growth Opportunities
J. Crew: $30.94 (85.7%); The Gap: $10.82 (48.9%).
Finally, by looking at the present value of growth opportunities, we can determine how much of the share price is based on actual earnings as well as the potential for future gains. A whopping 85.7% of J. Crew's stock price is tied to potential growth. For The Gap, it's only 48.9%. This could be viewed as a plus for J. Crew if there were explosive gains. However, a more likely scenario is that J. Crew has more to lose, should it fail to meet lofty expectations. The Gap has more reasonable goals and can more easily satisfy investors, creating a smoother investment.
The Gap clearly looks like the more sensible investment. Even though J. Crew has outpaced The Gap over the past 52 weeks, there's no guarantee that pattern will continue. The Gap appears to be more stable and have better operational statistics, which should lead to superior investment performance. TheStreet.com Ratings gives The Gap a "buy" recommendation with a grade of B, while J. Crew is a "hold" with a grade of C-minus.
-- Reported by David MacDougall in Boston.
Prior to joining TheStreet.com Ratings, David MacDougall was an analyst at Cambridge Associates, an investment consulting firm, where he worked with private equity and venture capital funds. He graduated cum laude from Northeastern University with a bachelor's degree in finance and is a Level III CFA candidate.