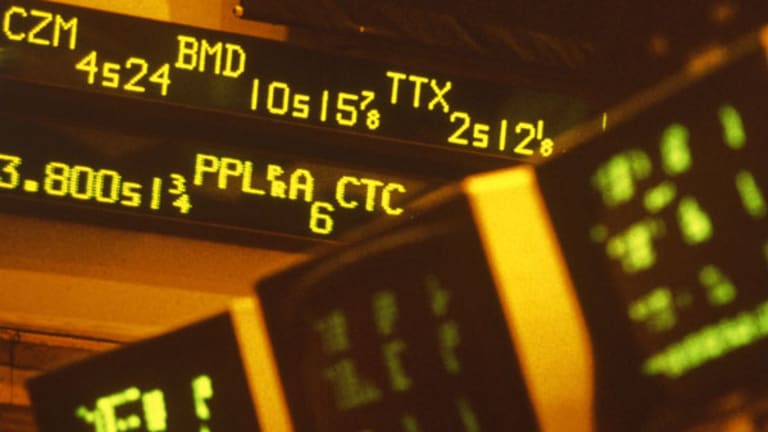 The Festering Weakness
Fewer stocks are at new highs, a warning sign for investors.
NEW YORK (
) -- The S&P 500 is little changed from March 15, yet it feels much worse than that. If you're wondering why that is, take another look at all those statistics showing fewer stocks at new highs, which I've been harping about for a while now. In short, this is finally starting to matter.
Let's take everyone's favorite group, the financials. In February, I highlighted a measured target of $18 to $19 in the
Financial Select Sector SPDR
(XLF) - Get Free Report
, and the fund reached just shy of $18.50 last week on the stress-test results. While the XLF does seem to be rolling over, it really hasn't done a thing wrong yet. It hasn't made a lower low, and it hasn't broken the uptrend line.
Now let's check in on one of the stocks tracked by the ETF,
Goldman Sachs
(GS) - Get Free Report
. The stock made its high almost a month ago, and shortly thereafter it broke its first uptrend line. It saw another rally in early March -- to a lower high -- then sold off, and followed by another rally, last week, to another lower high. This means Goldman regularly appeared on the new-highs list until mid-February, but it has failed to do so for the past five weeks. In that time, the XLF has nonetheless rallied another 4%.
Goldman has now made its first lower low by breaking the late February low. That now gives it two lower highs, one lower low and two broken uptrend lines. It won't become three broken trendlines until the stock sees an oversold rally -- but, as long time readers will recall, the first one is a small warning; the second is a big yellow flag; and the third is akin to "three strikes and you're out." It essentially completes the top.
This article originally appeared on March 22, 2013, on RealMoney. To read more content like this + see inside Jim Cramer's $3 million portfolio for FREE, Click Here NOW.
So, while I realize everyone is keen to play the ETFs and indices, realize that you must also to look at what these underlying stocks are doing -- because ultimately they will either weigh on or bolster the ETF. That is why I fuss so much over the new-highs statistic. I am sure that, as you go through your charts, you will start to see some of the early signs of that pattern I have shown in the Goldman chart.
For example, once the Philadelphia Semiconductor Index (SOX) hit 430-ish in mid-February, I thought it had gone far enough. It then came down to tag the uptrend line and went on to make a higher high, and it's finally broken the uptrend line -- as you can see -- and has a potential head-and-shoulders top in place. If you review many of the individual stock charts in the semiconductor group, I am sure you'll see how many failed to make higher highs within the SOX in mid-March.
The number of stocks making new highs does matter. Over time, a decline in this statistic means lower highs, and that points to the formation of tops.
At the time of publication, Meisler had no positions in the securities mentioned.
Helene Meisler writes a daily technical analysis column and TheStreet.com Top Stocks. For more information,
. Meisler trained at several Wall Street firms, including Goldman Sachs and SG Cowen, and has worked with the equity trading department at Cargill. Under no circumstances does the information in this column represent a recommendation to buy or sell stocks. She appreciates your feedback;
to send her an email.