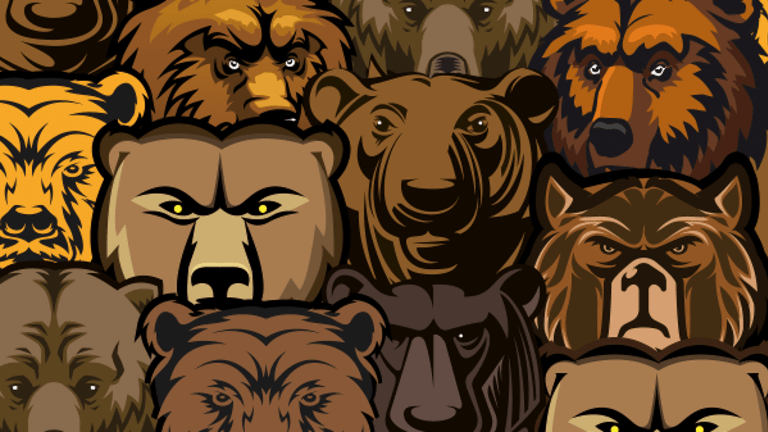 The FANGs Could Soon Lose Their Bite
Facebook, Amazon, Netflix and Alphabet/Google have long operated with little government regulation ... but the times they are a changin'.
My concerns keep growing for the FANG stocks -- Facebook (FB) , Amazon (AMZN) , Netflix (NFLX) and Alphabet/Google (GOOG) , (GOOGL) .
In fact, I've recently turned more negative on Facebook and Amazon, as well as the Nasdaq and technology in general. That's why I'm shorting AMZN and FB and have gone long on both the ProShares UltraShort QQQ (QID) and the ProShares UltraPro Short QQQ (SQQQ) , which are 2x and 3x inverse plays on the Nasdaq 100.
Here are my current views and game plans for each of the four FANG components:
Facebook. I see more government intervention and regulation ahead. Recommendation: Short on a trading basis.
Amazon. AMZN's growth plans might be stifled going forward by government regulation. Political and antitrust forces represent an existential threat to the company's horizontal- and vertical-expansion plans. Click here and here to see more of my views. Recommendation: Short on an investment and trading basis.
Alphabet/Google. Alphabet's dominance in the search-engine space (coupled with consumer reliance on Google) leaves the company vulnerable to government interference. I'm negative on the stock, but not short. Recommendation: Avoid.
Still, as Jim Cramer wrote in a thoughtful piece on Monday, it's possible that the FANGs are simply falling back to Earth (as they have in the past) and might be poised to rebound. Others opine that different sectors or stocks might pick up the slack for the market if the FANGs don't.
In fact, there's a growing view that even if I'm correct on the FANG being vulnerable, that won't impact the overall market. This reminds me of something my fellow columnist Helene Meisler recently wrote: "TV folks say the market is healthy without the FANG names. Of course, they said it was healthy when it was just the FANGs."
However, I suppose that's a subject for another day. Suffice to say, the consensus sentiment on the market and the FANG remains very upbeat.
But remembering that consensus market views need not be wrong (as the crowd usually outsmarts the remnants), let me outline my deeper concerns for the FANGs.
Existential Threats Abound
Amazon is the titan of 21st century commerce. In addition to being a retailer, it is now a marketing platform, a delivery-and-logistics network, a payment service, a credit lender, an auction house, a major book publisher, a producer of television and films, a fashion designer, a hardware manufacturer and a leading host of cloud-server space.

Although Amazon has clocked staggering growth, it generates meager profits, choosing to price below-cost and expand widely instead. Through this strategy, the company has positioned itself at the center of e-commerce and now serves as essential infrastructure for a host of other businesses that depend upon it. Elements of the firm's structure and conduct pose anticompetitive concerns -- yet it has escaped antitrust scrutiny.

-- Lina M. Khan, Amazon's Antitrust Paradox, Yale Law Journal
I used to make presentations to CFA societies in various cities, and the one chart I always presented was called "Characteristics of a Good Stock." These included growth, free cash flow, barriers to entry and the hope that the government would leave the firm alone. This is pretty much "Buffett 101," with the caveat that you had to buy a good stock on the cheap.
Now, while Amazon and Netflix have had free-cash-flow and valuation issues, they and the other FANGs have had consistently dynamic top-line growth -- and steadily produced deepening competitive "moats" that have expanded the barriers to entry in their markets. And until recently, government interference wasn't a major concern.
But that might be about to change. The FANGs' profound innovation and pervasive influence over the economy have rendered a lot of antitrust laws antiquated. Stated simply, these companies are ahead of the regulators -- but that, too, might be about to change.
Moreover, the FANGs have no friend in the White House, as seen most recently by this tweet Wednesday from President Trump:
After meeting with several politicians and bureaucrats more than three decades ago, I wrote in a research note that Washington "is too pessimistic a place for one person to follow." That probably still applies.
When Uncle Sam gets involved, it's impossible to predict an outcome or its magnitude. But one thing is certain -- with rare exceptions, government involvement with an industry won't be positive for the companies that are impacted.
(A longer version of this column originally appeared at 8:53 a.m. ET on Real Money Pro, our premium site for active traders. Click here to get great columns like this from Doug Kass, Jim Cramer and other writers even earlier in the trading day.)
At the time of publication, Kass was long QID and SQQQ and short AMZN, FB and QQQ, although positions may change at any time.